PISTACHIO PESTO RUBBED PORK TENDERLOIN WITH PESTO ROASTED POTATOES AND PESTO DRIZZLE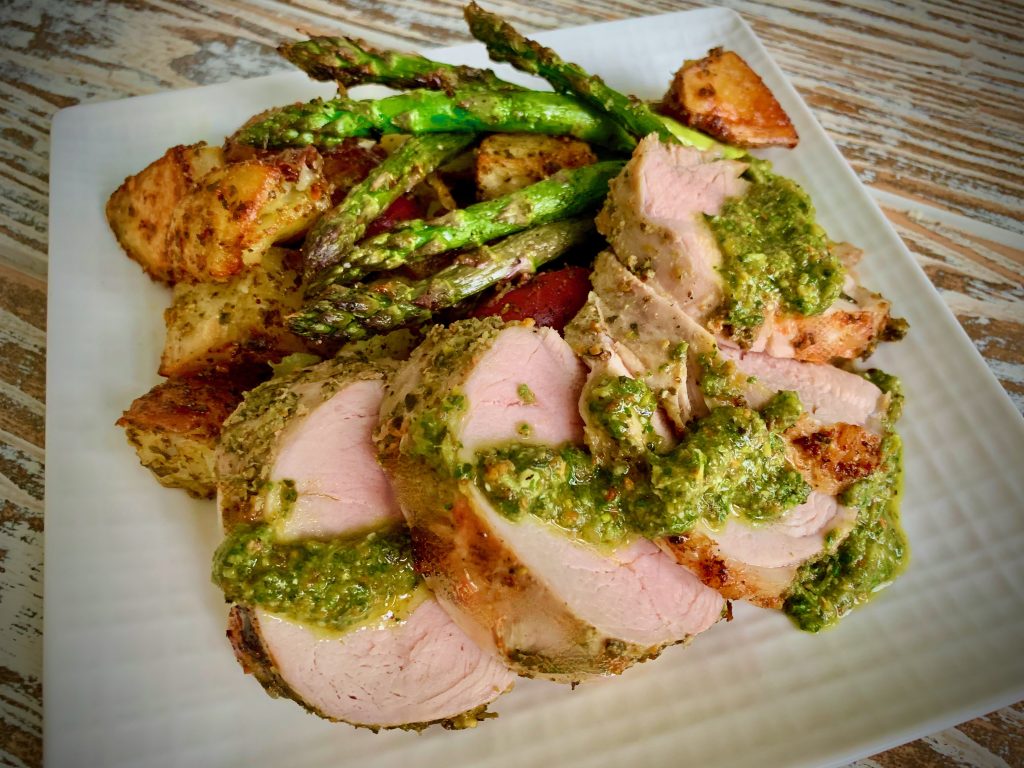 2 cups basil leaves, packed
4 garlic cloves, peeled and rough chopped
½ cup grated parmesan cheese
⅓ cup pistachios, shelled
¼ teaspoon salt
1-1 ¼ cups extra virgin olive oil
2 teaspoons salt
2 teaspoons black pepper
2.5-3-pounds pork tenderloins (usually 2 tenderloins per package)
2-pounds potatoes, quartered (or cut into 1-1 ½ chunks if large)
1-pound asparagus spears, woody ends cut off (about ⅓ of the bottom of the spears)
2 tablespoons olive oil
To make the pesto, place all of the pesto ingredients, except the olive oil, in the bowl of a food processor.  Pulse several times to combine ingredients and chop basil.  Put the processor on low speed and slowly drizzle the olive oil in the top of the lid until a creamy paste forms.
Season the tenderloins with 1 teaspoon each of the salt and pepper.  Massage ⅓ cup of the pesto all over the meat, cover, and place in the refrigerator for at least 2 hours or overnight.
Preheat grill to medium high and heat oven to 400 degrees.
Toss the potatoes in another ⅓ cup of the pesto, massaging to coat and place on a greased, rimmed baking sheet or in a 9 x 13" pan.  Do not crowd potatoes so they can get crispy and evenly browned.  Season liberally with the remaining teaspoon of salt and pepper. Place in the oven and bake for 35-45 minutes, tossing every 10-15 minutes so they do not stick and get golden brown on all sides.  They are done when outside is crispy and inside is tender and soft when pierced with a knife.
When there is about 10-15 minutes left for the potatoes to cook, spread the asparagus spears on the pan, around and between the potatoes and drizzle with olive oil and season with salt.  They should be perfectly cooked in 12-15 minutes.
While potatoes are cooking, place the tenderloins on the very hot grill and cook for 10-15 minutes turning every 3-4 minutes to sear on all sides until internal temperature is 140 degrees.  Let rest for 20 minutes covered with foil before cutting.  Cut the pork on the bias into ½" thick slices.
Make a sauce combining the 2 tablespoons of olive oil with 2 tablespoons of the pesto.
Serve the pork medallions over the potatoes and drizzle with sauce.  YUM!
Select multiple categories to narrow your search! Want appetizers made with chicken? Just select both Appetizers and Chicken!