BUTTERNUT AND BACON NAAN PIZZAS WITH GOAT CHEESE AND HONEY DRIZZLE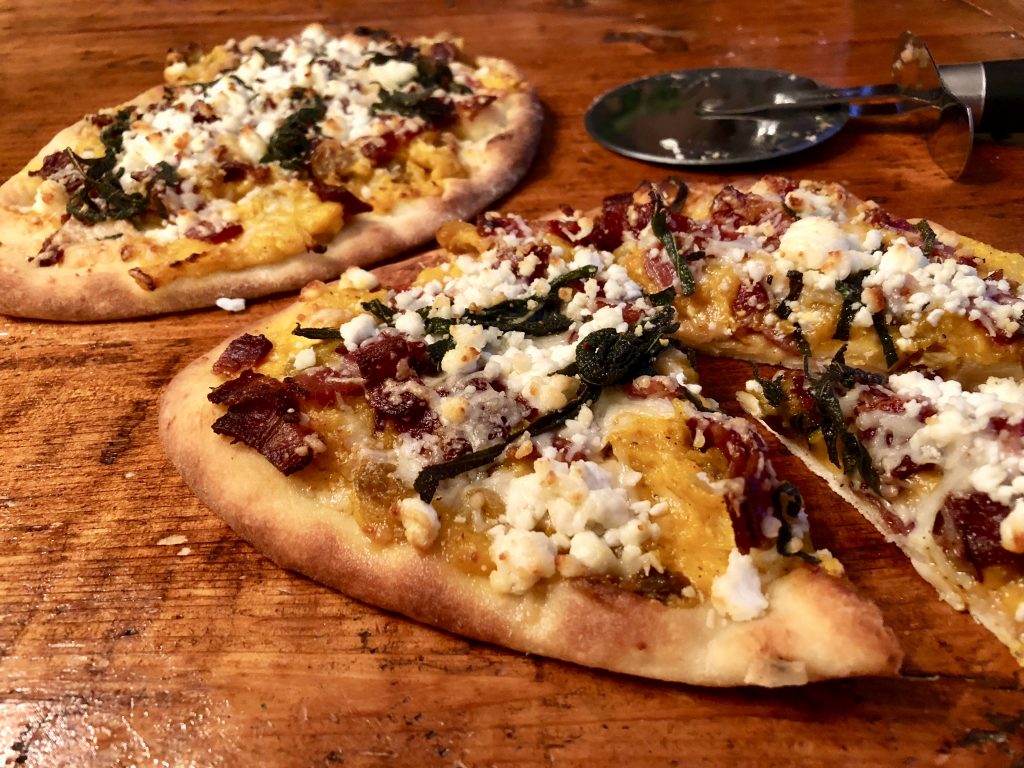 1 small butternut squash
1 small onion, chopped (about ¾ cup)
8 tablespoon butter (1 stick, divided)
¼ cup mascarpone cheese
½ cup golden raisins
1 egg (yolk and white separated)
½ teaspoon salt
½ teaspoon pepper
4 naan flatbreads
1 ⅓ cups bacon, chopped
8 tablespoon shredded parmesan
1 ⅓ cups crumbled goat cheese
6 tablespoon butter
½ cup sage leaves
⅓ cup honey
Preheat oven to 400 degrees.  Cover a cookie sheet with tin foil and spray with non-stick cooking spray.  Cut butternut squash in half and scoop out the seeds.  Place both halves, flesh side down, on the baking sheet and bake until tender when pierced with a fork, about 20-30 minutes (depending on size of squash (leftover squash is great in this recipe too!).  Set aside until cool enough to touch.  Peel off the skin and place in a bowl and mash with a potato masher until creamy.
While squash is cooking, melt 2 tablespoon of the butter in a small non-stick skillet and cook onions over low heat until soft and they begin to caramelize.
In a medium bowl, combine 1 cup of the mashed butternut squash, onions, mascarpone, raisins, egg yolk, salt and pepper.  Spread ¼ of this mixture on each naan bread.  Top with ⅓ cup of the bacon, 2 tablespoon of the Parmesan and ⅓ cup of the goat cheese.
Place a pizza stone in the 400 degree oven to heat.
Bake the naan pizzas on the hot stone for 8-10 minutes until the parmesan is melted and the goat cheese is lightly browned.
In a small skillet, melt the butter until frothy.  Stack the sage leaves and roll tightly.  Cut crosswise into thin strips.  Add to the butter and cook until safe is fried and butter is a golden brown, about 5 minutes.  Top the naan pizzas with fried sage and drizzle with brown butter.  Top with a honey drizzle and devour!
Select multiple categories to narrow your search! Want appetizers made with chicken? Just select both Appetizers and Chicken!