A couple of years ago my friend Mandy's future daughter-in-law, Cori Semple, came to our Christmas Eve open house. As we noshed on the seven fishes and sipped on wine, she told me about her annual family Christmas party and cooking competition. Cooking competition?! You know, I am a sucker for a 'food fight' and couldn't wait to hear more.
Every year the Semple family and extended relatives (her mom is one of 10!) and friends partake in a competition they call "TOP CHEF." There are prizes given for 5 categories:
1. TOP CHEF (best overall dish)
2. Best Appetizer
3. Most Creative
4. Children's Choice (a creative way to keep a lot of little kids from skewing the vote due to picky eaters, etc…)
5. Best Dessert
You can enter as many dishes as you like, but there is a $3 entry fee for each which goes into a pot and is presented to the TOP CHEF when the winner is announced. There are also small prizes of cookbooks and kitchen gadgets for the winners in each category.
The competition is heated and is taken very seriously. There is a lot of cultural diversity in their family which makes for some amazing flavors including Korean, Hawaiian, and Peruvian as well as people from Cape Cod with access to the freshest seafood and people who have mastered the art of 'smoking' meats and fishes… This is the real deal…
So, as we continued to sip and nosh, Cori, knowing my love of cooking, asked if I had an award winning ideas for her? UMMMMM YES! STUFFIES!! Already having won multiple awards, how could she go wrong?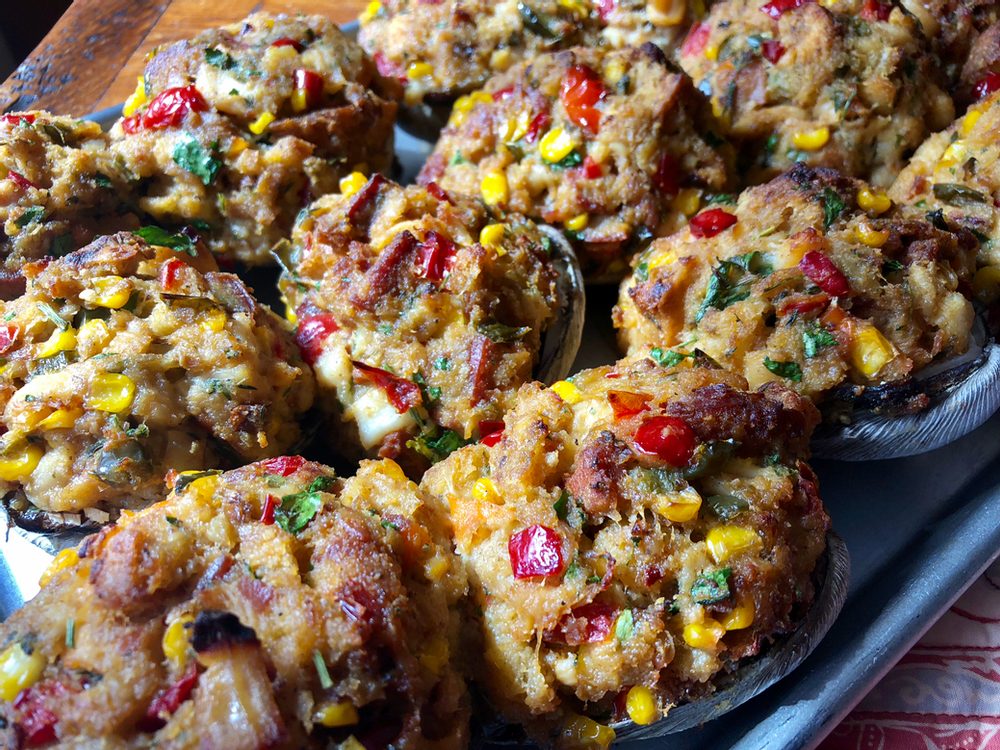 She couldn't lose!! In 2016, Cori took home the coveted prize of TOP CHEF with my Block Island Stuffie recipe! I couldn't have been more thrilled… but now I had the Semple fever. We did not collaborate in 2017 due to scheduling but we got serious for this year's competition.
Cori and Harry were married in August of this year and Harry has become as passionate about the competition as anyone else. We decided to plan a night and have a
cooking lesson to try some options for this year's competition. I offered some options to try that I felt were sure winners and they decided on Cajun Scallop Tostadas (Cori) and Bacon Wrapped Tater Tots (Harry)..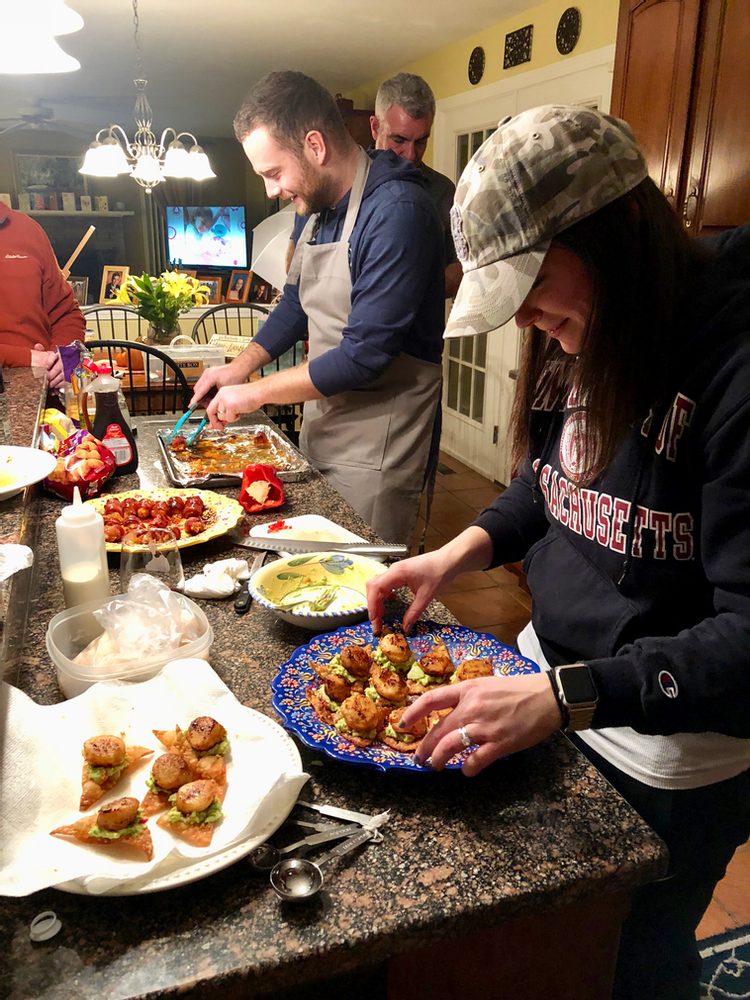 Both were excellent students and mastered their dishes seamlessly on the first go!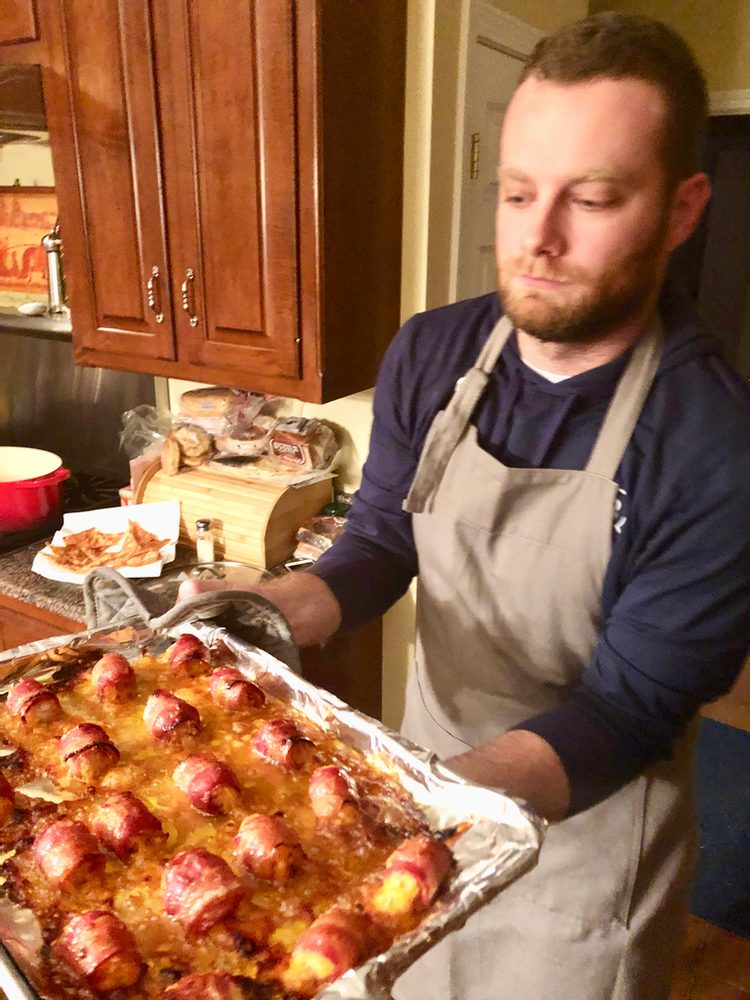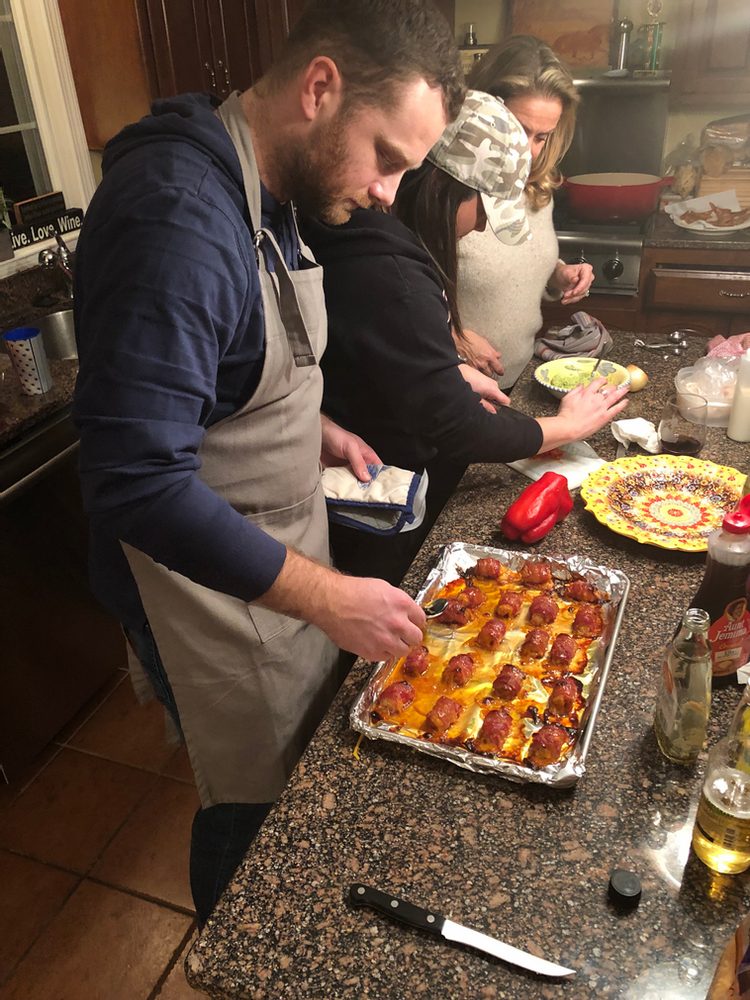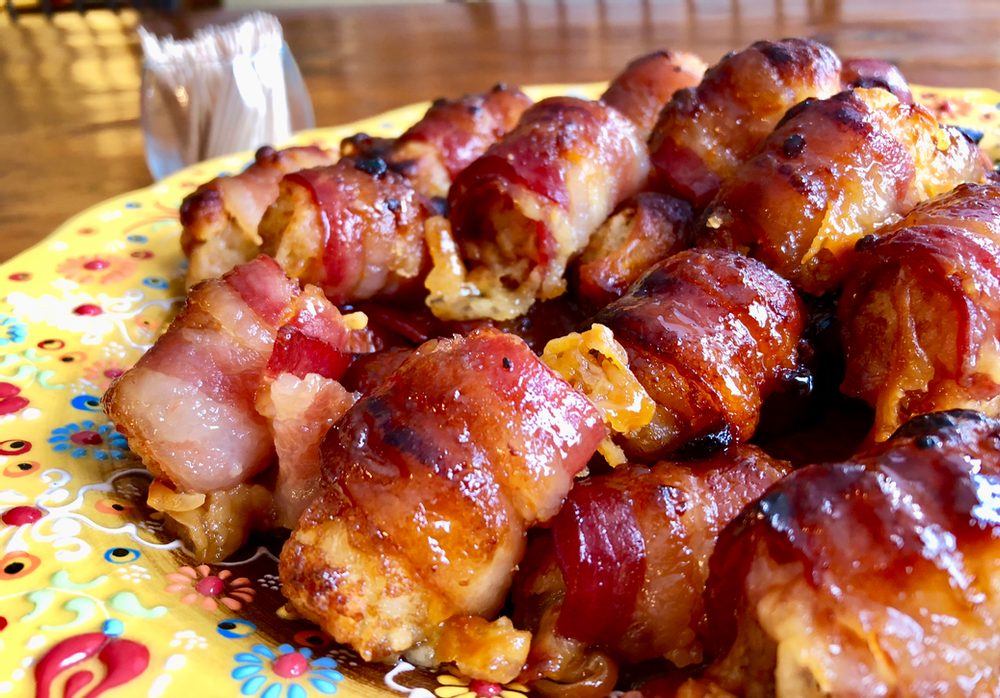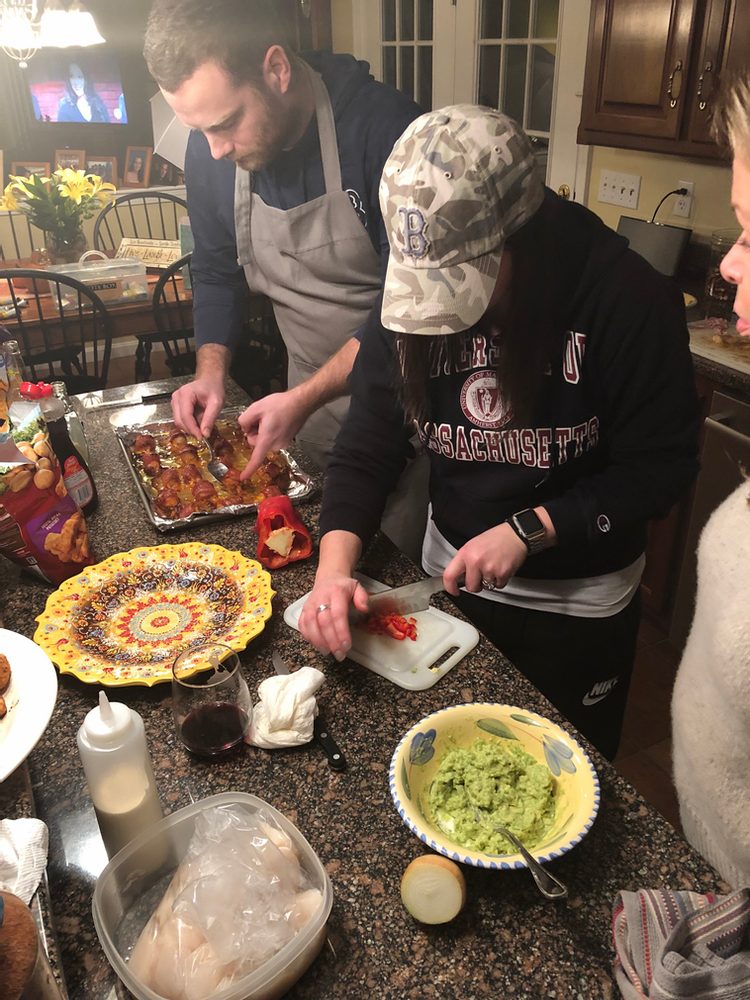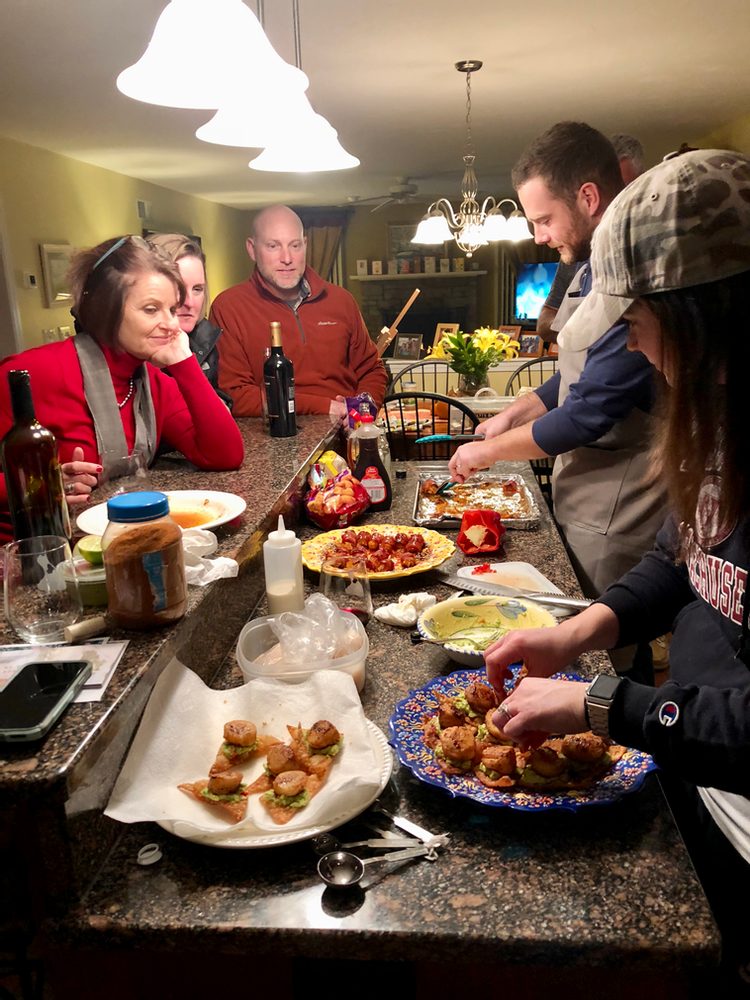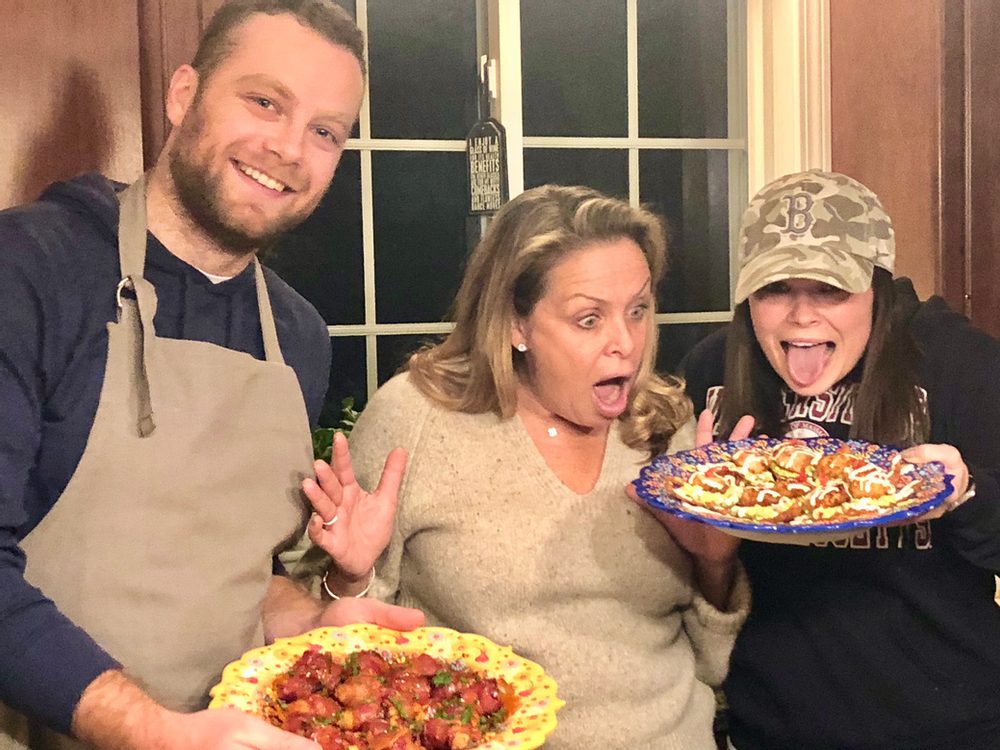 So after tasting these yummy treats, my friend Mandy – that lady in red, looked at me and said, 'What about my appetizer????'. She would be a new entrant to the competition this year as a result of the Semple-Washington family union…
One of her favorite recipes from the blog is my Spicy Grilled Corn and Pepper Dip… but how to make this something that could be divided up into individual 'bites'?? We decided on making wonton cups and filling them with the delectable dip! And so she did… and coined them "Kikkin Korn Kups"!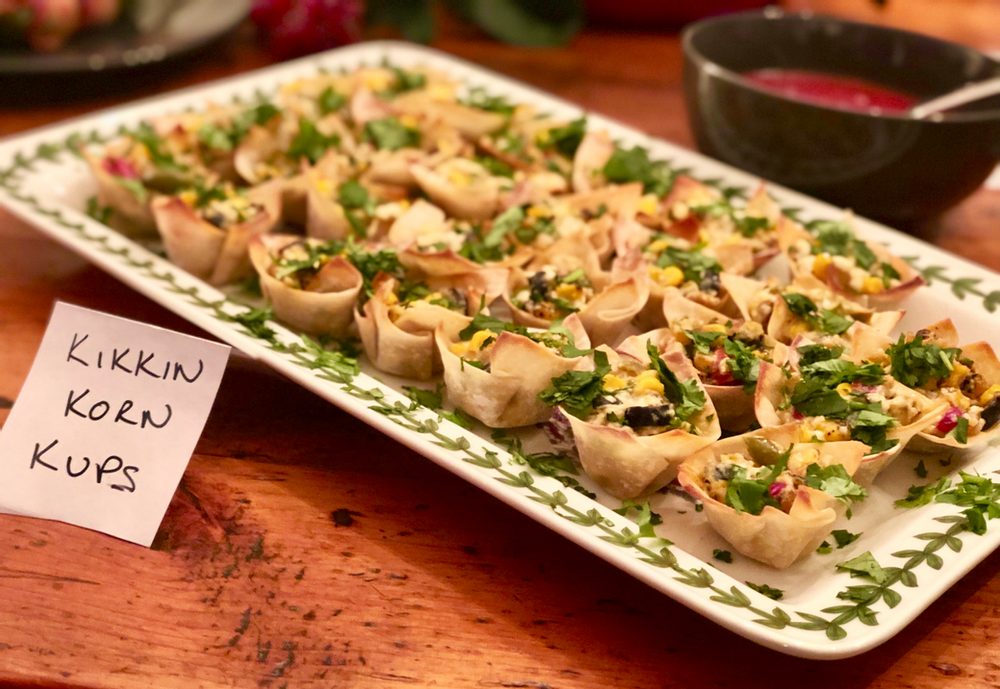 Harry also decided, last minute, to enter my arancini balls after seeing my recent blog post….
So, the big day arrived and the air was tense. I am told 'real estate' is also key and everyone vies for a spot for their dish that will see the most traffic. In addition, quantity is key, this a big event and if everyone can't taste your food, you can't get their votes! People also do crazy presentations, such as dressing in a hula skirt to pass out their apps or dressing their kids up in theme with their dish.
Each person gets 4 votes to disperse amongst their favorite dishes in each category. Tasting commences… votes are tallied… and then the winners are announced: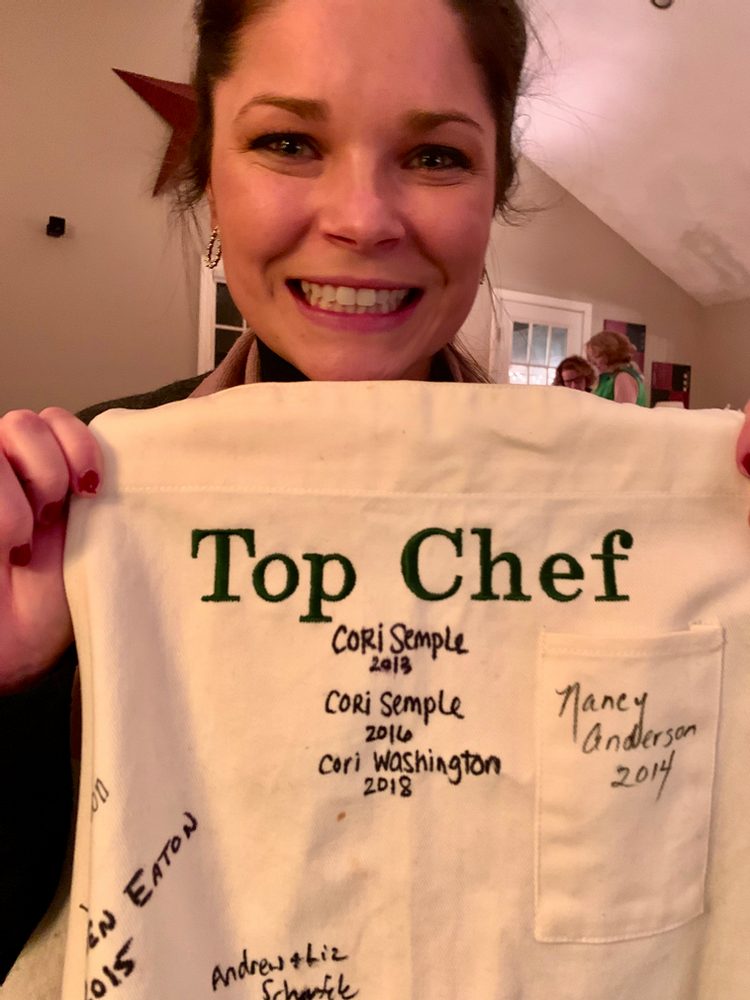 You guessed it!! Cori took home TOP CHEF prize for the Cajun Scallop Tostadas with Guacamole and Cream!! Mandy took home Best Appetizer prize for the Kikkin Korn Kups!! We took the top 2 out of 4 categories (we didn't enter a dessert)!! Wooo hoooo!!!
Harry's dishes were also really well received, but quantity might have been an issue on the arancini balls. All in all, an awesome showing and great props to the DOTB yums!! We are already 'noodling' some ideas for next year….