CAJUN SCALLOP TOSTADAS WITH GUACAMOLE AND CREMA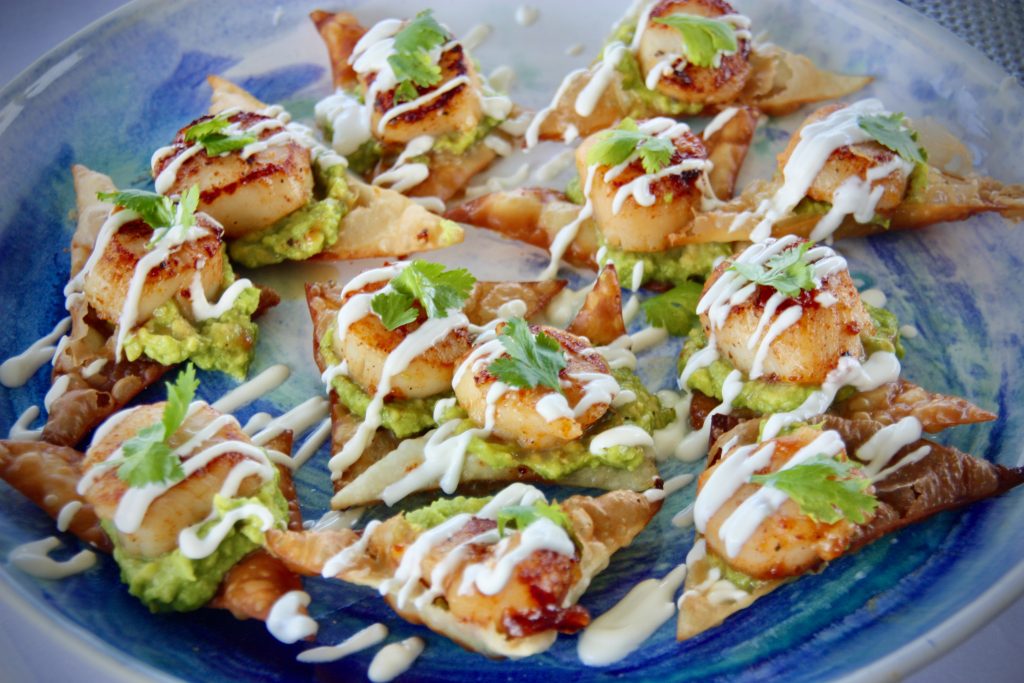 12 large sea scallops (about 1-pound)
1 tablespoon Dish off the Block Ragin' Cajun Spice Blend
2 tablespoons butter
2 tablespoons olive oil
1 ripe avocado, scooped out of the shell and seed removed
1 tablespoon sweet onion, minced
½ teaspoon salt
1 tablespoon olive oil
1 tablespoon lime juice
6 wonton wrappers
1 cup vegetable oil for frying
½ cup sour cream
½ cup heavy cream
½ teaspoon salt
½ cup cilantro leaves
Lay scallops out on paper towels dry thoroughly.  Sprinkle Cajun seasoning on both sides and lightly massage.
Heat butter and oil in a large skillet until smoking hot.  Add the scallops in one layer, careful not to crowd or they will steam.  Cook for about 2 minutes per side until golden brown and caramelized.  Remove from heat and tent with foil to keep warm.
In a small bowl, combine the avocado, onion, salt, olive oil, and lime juice.  Mash all of the ingredients together with a fork until smooth.
Cut the wonton wrappers in half, creating triangles.  Heat vegetable oil in a large cast iron pot (or deep fryer) to 350 degrees.  Drop wonton triangles into the oil and lightly brown on both sides.  This happens quickly and you will need to turn them with tongs after the first side browns.  Remove from oil and place on a plate covered with paper towels to drain.  Lightly salt them as soon as they come out of the oil.
Whisk sour cream, heavy cream, and salt together in a measuring cup until smooth.  Transfer to a squeeze bottle if you have one or you can just drizzle from the measuring cup.
To assemble, place about 1 tablespoon of guacamole mix on each fried wonton.  Top with a scallop, drizzle with cream and garnish with cilantro leaves.  Devour!
Select multiple categories to narrow your search! Want appetizers made with chicken? Just select both Appetizers and Chicken!