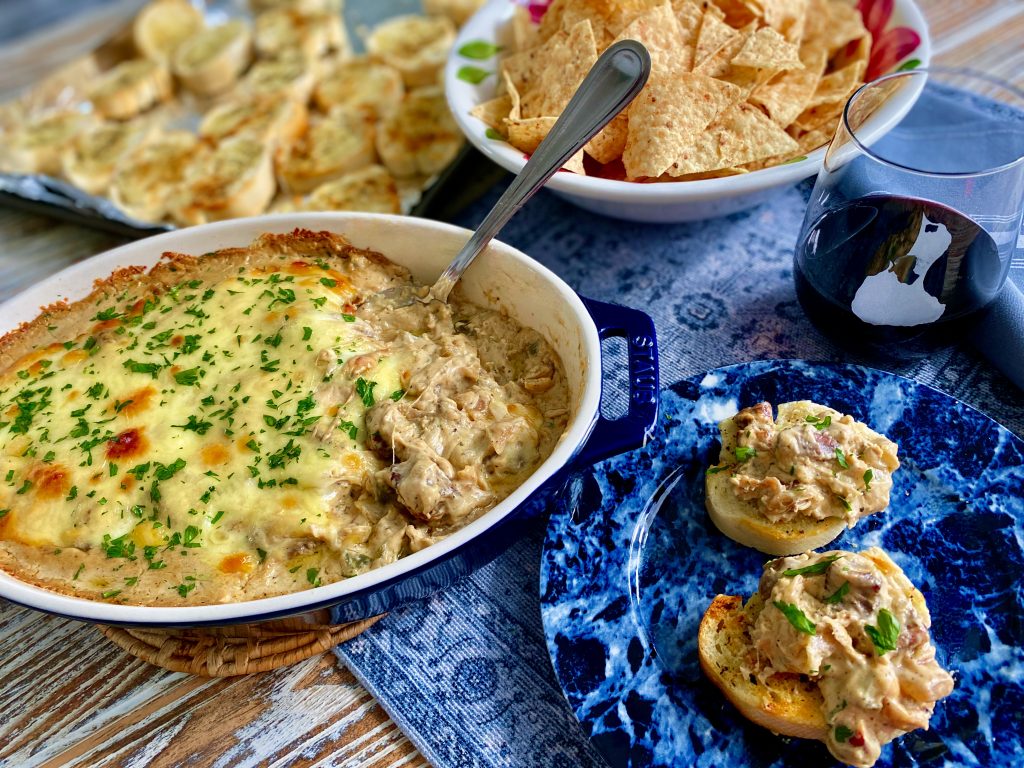 The Crostini:
1 baguette, cut into ½" thick slices
¼ cup olive oil
1 tablespoon Dish off the Block Ciao Bella Italian Spice Blend
The Dip:
2 tablespoons olive oil
1 ¼ – pound ribeye steak
1 ½ teaspoons salt, divided
1 teaspoon black pepper divided
1 large onion, chopped into 1" pieces (about 2 cups)
4 cloves garlic, chopped
1 small green pepper, chopped (about 1 cup0
1, 8-ounce bar cream cheese, softened
½ cup Hellmann's Light Mayonnaise
½ cup sour cream
1 teaspoon Dish off the Block Ciao Bella Italian Spice Blend
1 cup shredded mozzarella cheese
6 slices American cheese torn into small pieces
6 slices provolone cheese
1 tablespoon fresh parsley, chopped
Tortilla chips
Preheat oven to 350 degrees.
Line a baking sheet with foil and place the bread slices on the foil in a single layer.  Combine the olive oil and Italian seasoning in a small jar and shake to combine.  Brush both sides of the bread with the seasoned oil and bake for 8-10 minutes until toasty and golden.  Set aside.
Heat the olive oil in a large skillet over medium high heat.  Liberally season the steak on both sides with 1 teaspoon of the salt and ½ teaspoon of the black pepper.  Place the steak in the hot oil and sear on each side for 4-5 minutes, until the temperature in the center reaches 130-135 degrees.  Then sear the edges to render the fat.  Set aside to rest.
Reduce the heat to medium and add the onions and garlic to the pan drippings.  Cook the onions, stirring frequently, until they begin to soften.  Add the peppers to the pan and continue cooking until the onions are golden and caramelized, about 10 minutes.
Turn off the heat, and add the cream cheese, mayo, sour cream, Italian seasoning, and remaining salt and pepper to the pan and stir until well blended.  Add the mozzarella and American cheese and stir until cheeses are melted.
Cut the steak into ½" pieces and add it into the dip and mix so that it is evenly distributed.
Coat a pie plate or small baking dish with non-stick spray.  Transfer the dip to the prepared dish and top the dip with the provolone slices.  Bake for 25-30 minutes until hot and bubbly.  Garnish with parsley and serve with the herby crostini and/or tortilla chips.
Select multiple categories to narrow your search! Want appetizers made with chicken? Just select both Appetizers and Chicken!