SPANAKOPITA PUFF PASTRY BRAID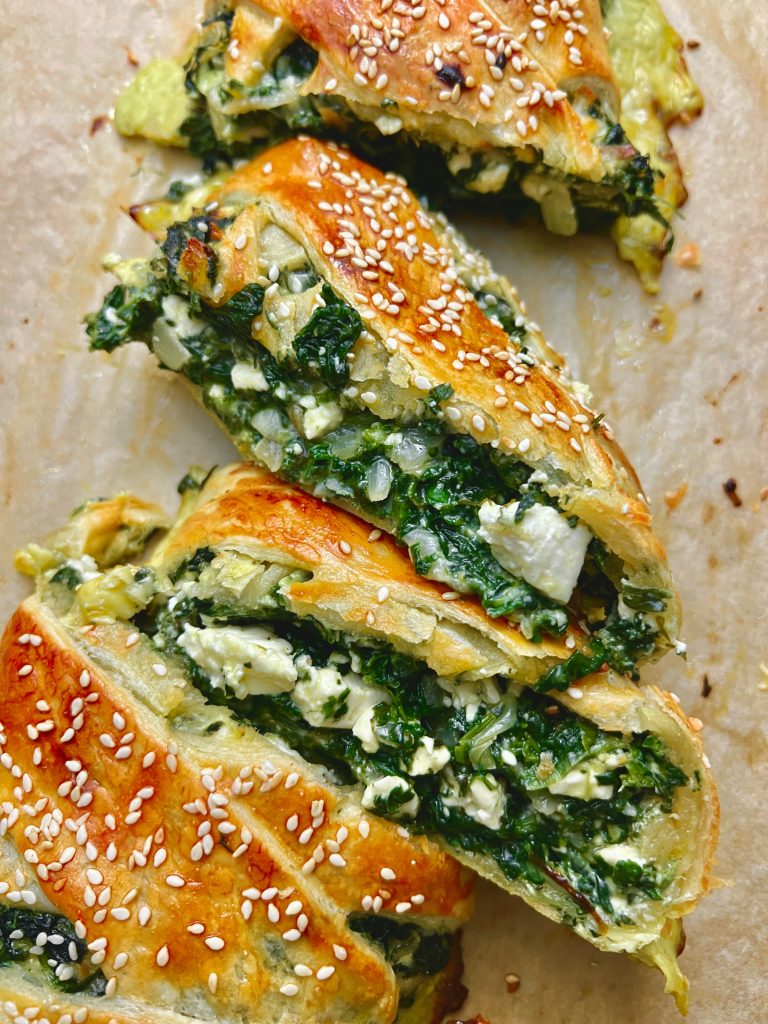 ½ cup olive oil
1 medium onion, chopped
1 cup scallions, chopped
½ cup fresh dill, chopped fine
2, 10-ounce boxes frozen chopped spinach (defrosted and squeezed dry)
1 teaspoons salt
¼ teaspoon black pepper
8-ounces feta block cheese, crumbled by hand
½ cup mozzarella cheese, shredded
2 eggs, beaten
1 sheet frozen puff pastry dough, defrosted
1 egg yolk
1 teaspoon water
1 teaspoon sesame seeds
Heat the olive oil in a large deep skillet.  Cook the onions, scallions, and dill in the olive oil until the onions are soft and translucent, about 3 minutes.  Stir in the spinach and season with the salt and pepper.  Let cool to room temperature and then mix in feta, mozzarella, and eggs.
Preheat oven to 350 degrees.  Cover a large rimmed baking sheet with parchment paper.
Place your puff pastry on a lightly floured countertop and, using a rolling pin, roll into a rectangle approximately 12" x 14".  Place the dough on your baking sheet with the short side facing you.
Using a sharp paring knife, cut diagonal slits 3" long and 1" wide down each 'long' side of the pastry, leaving 3" of the dough in the center, uncut.  As a result, the top 2 corners will be cut completely off and you will cut 2 notches at the bottom of the dough to create the last 2 strips. (see my recipe and video for Oceans 97 Spicy Shrimp Puff Pastry Braid on how to fold the pastry).
Place the spinach mixture in a 'log' shape down the center of the pastry leaving about 1" of pastry exposed on both the top and bottom of the pastry sheet.
Starting at the top, fold the top left strip of the pastry diagonally over the filling and press the end to adhere to the second strip on the right side.  Then, take the first strip on the top right and fold it over the filling (and the first strip) and adhere to the second strip on the left.  Then, take the second strip on the left and fold over to the third strip on the right… Continue this process, alternating sides, all the way to the bottom of the pastry, creating a beautiful braid design.
Place the egg yolk in a small bowl with the teaspoon of the water and mix with a pastry brush.  Dab some of the egg wash on the exposed pieces at the top and bottom of the braid and fold them into the braid, sealing the filling inside, and pressing to adhere.  Brush the rest of the egg yolk all over the braid.  Sprinkle the sesame seeds evenly over the braid.
Bake for 20-25 minutes until puffed and golden brown.  Let rest for 10 minutes.
Cut into slices and devour.
Select multiple categories to narrow your search! Want appetizers made with chicken? Just select both Appetizers and Chicken!