There is no more traditional New England dish than a 'stuffie'. Ask anyone outside of New England and they will have no idea what a stuffie even is. Every Nor'east cook has their own twist on a recipe for clams that are removed from the shell and mixed with breading, peppers, onions, and various other secret ingredients… and then stuffed back in the clam shell and baked.
I tackled this traditional treat and added my own twist… a little corn for sweet pop of flavor and color. It was clearly a good idea because after the very first attempt, mine were deemed winners of the Block Island Stuffie Contest in 2015…. Although, I will say that there are other ingredients in my stuffies that worked together in concert to contribute to my victories… like a little heat from chorizo and jalapeño and the sweet smoky punch from bacon. The breading comprised of bacon soaked ciabatta bread, Ritz crackers, Italian breadcrumbs and parmesan cheese added both flavor and texture without overpowering the clammy essence. A delight in every bite that just won the 2018 Irish American Club Stuffie SmackDown in Newport too!!
Check out the recipe:
BLOCK ISLAND STUFFIES
20 large quahog clams
1 bottle beer
½ lb. bacon
1 small loaf Italian or Ciabatta bread, day old (about 4 cups 1" cubed breadcrumbs)
3 Tbs. olive oil
1 ¼ sticks butter
2 medium onions, chopped
5 large garlic cloves, chopped
2 jalapeños, finely chopped
1 red bell pepper, chopped
1 green bell pepper, chopped
½ lb. chorizo links, pre-cooked and chopped into ½" dice
½ tsp. red pepper flakes
1 tsp. black pepper
1 lb. fresh chopped clams
2 Tbs. fresh thyme, chopped
⅓ cup fresh parsley,
2 cups Italian flavored breadcrumbs
30 Ritz crackers, crushed
2 cups grated parmesan cheese
2 cups frozen corn, thawed (or fresh, lightly steamed and removed from cob)
2 lemons, juiced (about ½ cup)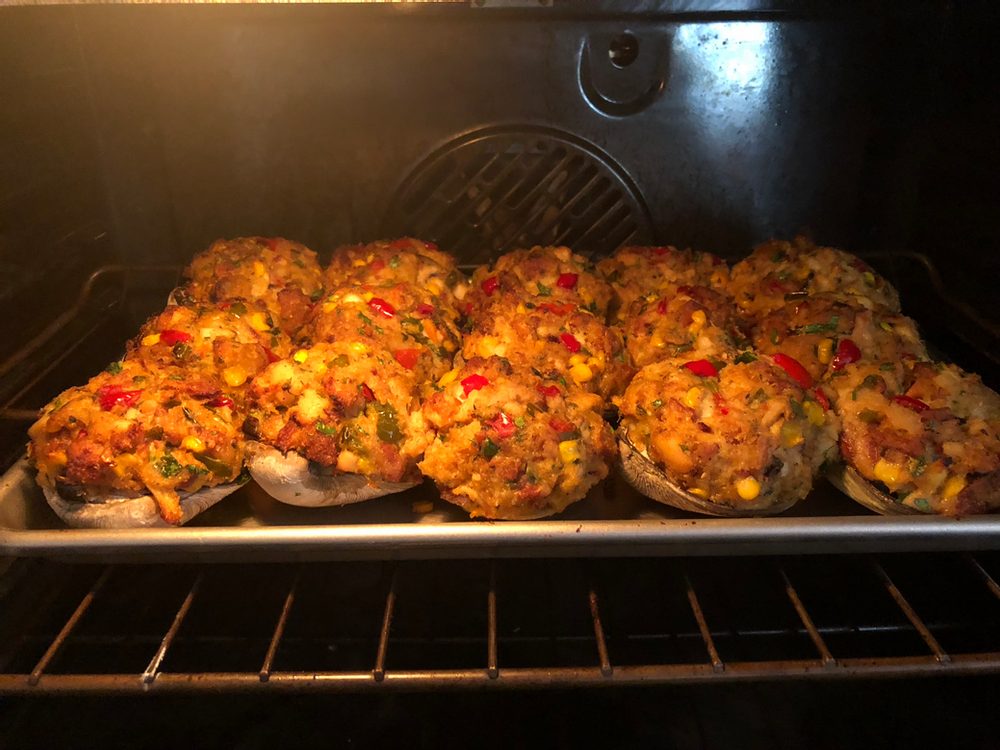 In a large shallow pot, over medium high heat, steam the clams in beer until just opened (cover the pot and vent slightly to avoid boiling over). Strain the cooking liquid through a fine sieve and set aside. Remove clam meats from the shells and line empty shells up on a baking sheet covered with tinfoil. Rough chop clam meats into bite size pieces and set aside. If the clams are very large, chop them in a food process so they are not tough.
Arrange the bacon on a foil covered sheet and bake at 425 for 10-15 minutes until crisp. Do not discard the bacon fat. Chop the bacon and set aside. Cut the bread into ½" cubes and spread out on the baking sheet with bacon grease. Toss to coat and toast in the oven at 350 for 10 minutes until lightly toasted. Place in a large bowl and set aside
In a large skillet with sides heat olive oil and butter over medium high heat. Sauté the onions, garlic, and jalapeños and cook for 5 minutes more until the onions are translucent and fragrant. Add red and green peppers, red pepper flakes and black pepper to the skillet. Cook for another 7-10 minutes until peppers are tender. Add chorizo and cook for another 5 minutes until veggies begin to lightly brown and caramelize. Remove from heat and add to the bowl with bread pieces.
Add chopped clams (both from the shells and the additional pound), thyme, parsley, Italian breadcrumbs, crushed Ritz, Parmesan, corn and lemon juice to the bowl and mix well. Add as much of the reserved cooking liquid as needed to create a moist, but not wet, stuffing that holds together nicely. Fill each shell with a mound of stuffing and bake at 350 degrees for 20-25 minutes until hot and lightly browned and crusty on top. Drizzle and garnish with more lemon wedges and fresh parsley.
Eat and Enjoy!