Fear of charred cakes is not something many people encounter in their daily lives, but during the Spring of 2018, thoughts of burnt cornbread kept me up at night.
Weird. I know. But it's not so bizarre when you consider that a year had passed since that fateful day in South Pittsburg, TN, when I had competed at the National Cornbread Festival Cook-Off in my first live food sport competition. I was up against some of the most talented recreational chefs from across the country who come together once a year, armed with cast iron pans and creative concepts, to compete for the cornbread crown. I didn't place last year. But, considering only 10 cornbread dishes are chosen to compete, it was an honor to be one of the finalists. And a privilege to have met so many wonderful chefs, whom I now call friends.
It was because of that awesome experience that I entered the contest once again. (And, let's face it, I'm a competitor by nature, so I wanted to go back and this time, with some experience under my belt, hopefully place as a top three contender.) So, when my phone lit up with a number from South Pittsburg, I squealed with delight! I was so excited to go back for another cornbread battle!
As in previous years, the challenge was to create a recipe using Martha White Cornbread mix and Lodge cast iron cookware. Lodge Manufacturing is a 122 year-old family-owned company that takes tremendous pride in its cast iron—and for good reason. The quality and durability of the products stand the test of time, as proven by the many contest audience members who proclaimed to have had Lodge skillets in their kitchens for decades. I was even lucky enough to meet Harold Henry, a celebrated cast iron collector who was a guest of the Lodge family at the festival. Harold, who started working on a farm for Mr. James Cash Penney (J.C. Penney) when he was 11 years old, and now owns a cattle ranch in Hamilton, Missouri, has over 5,000 pieces of vintage cast iron in his collection.
But I was focused on what was going to sizzle on my two personal Lodge skillets. I landed on smoky gouda cheese, pancetta, scallops, shrimp, and a touch of heat from jalapeño. I called it 'Too Gouda to be True Cornbread Cakes with Pancetta Laced Seafood Cream Sauce,' and it was a winner. Literally. (Spoiler alert: It won!)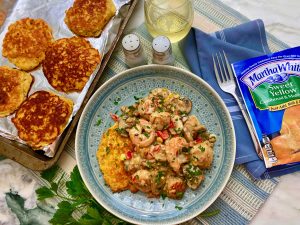 You can find the recipe on the Dish Off The Block website, but here are a few pointers on how to master this meal: Manipulate the cornbread mix by adding the gouda and some corn kernels into the mix and make 'cakes' to serve as the base of the dish. The decadent heavy cream-based sauce has to draw the "diner" in with their eyes first, so use red and green bell peppers along with some corn that creates a great color pop. Make sure to use fresh shrimp and scallops. For the contest, I had the seafood flown in directly from Legal Sea Foods, and my shrimp and scallops were perfectly plump and sweet!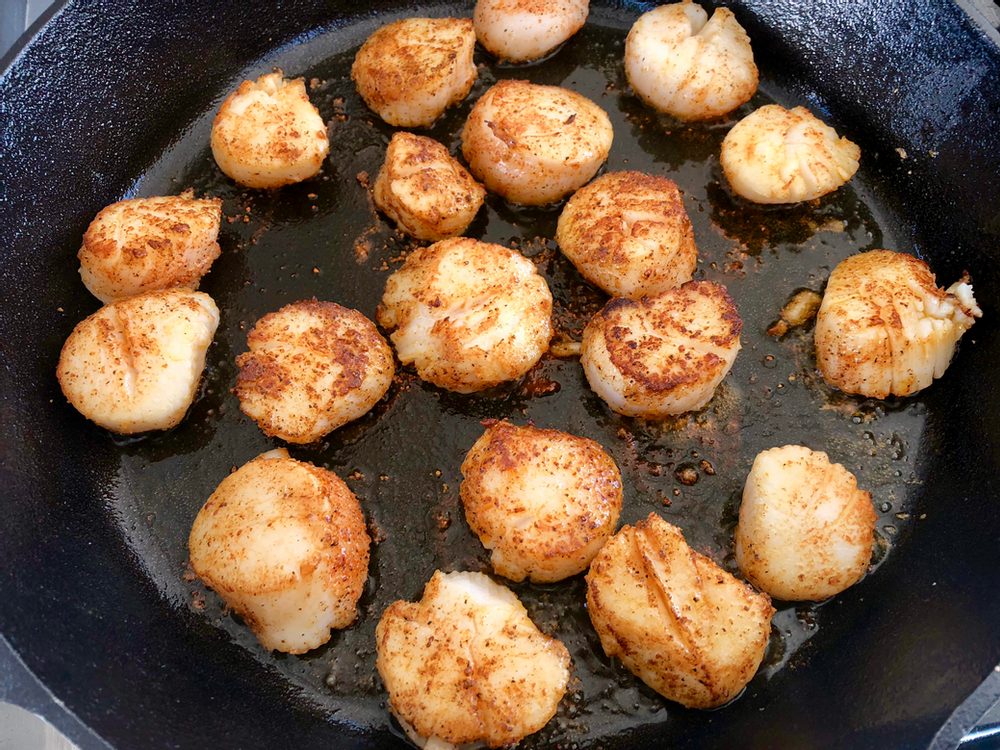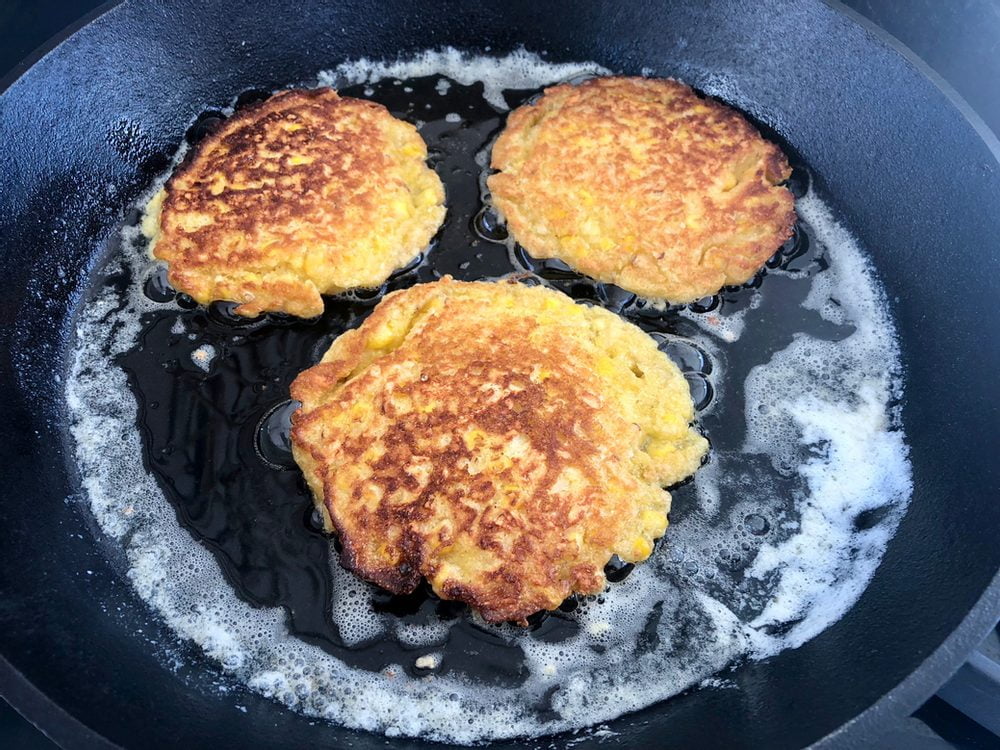 In the recipe, take care to sear the seafood off in a Cajun spice mix, being cautious not to overcook… The pancetta and gouda in the sauce, with a hint of Dijon, pulls all of the flavors together in a smoky, slightly spicy flavor that will dance on the tongue!
During the cook-off, which was conducted in heats with a new cook starting every 15 minutes, I had exactly one hour to make my dish. And, this is when that fear of burnt corn cakes really kicked in. I had to time everything perfectly. I heated the skillets, mixed up the cornbread cake batter, dropped the first three cakes into the skillet and said a quiet prayer to the corn cake gods. Then I got to work on my sauce. Everything came together beautifully. The corn cakes where a gorgeous golden brown and the sauce had a perfect balance of flavor with a rich creamy consistency.
When the winners were announced later that day, I was thrilled to hear Amy Fossett (who made Cajun Crab Corncakes with Pickled Okra Maque Choux) and Lidia Haddadian (who made Cheesy Chorizo Tamale Pie with Cilantro Lime Crema), called as the 3rd and 2nd prize winners respectively, as they both made amazing dishes and they are amazing people! Wondering, once again, if I would make the top three, I was completely ecstatic when they announced my name for 1st place!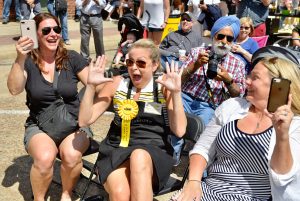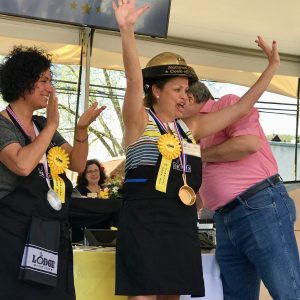 Who knew this Boston girl had a chance at winning a cornbread competition in the Tennessee mountains? But may I say, I'm delighted to share with you the award-winning Too Gouda to be True Cornbread Cakes with Pancetta Laced Seafood Cream Sauce. Enjoy!