VIETNAMESE NUOC CHAM CHICKEN SALAD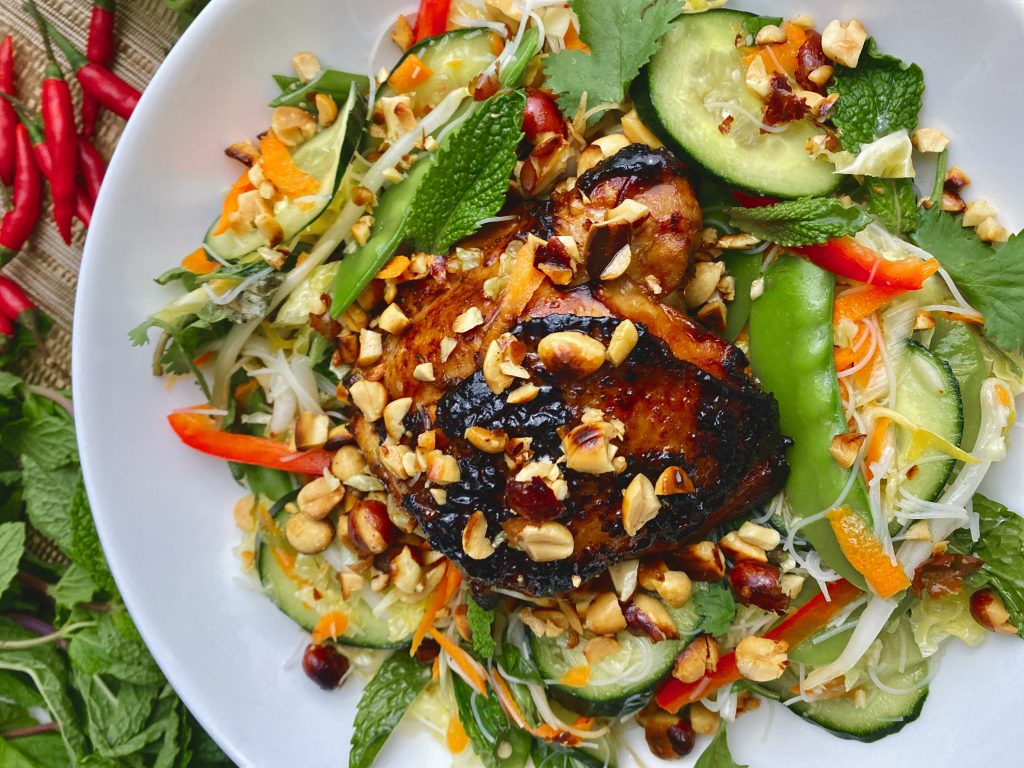 The Nuoc Cham Marinade/Dressing:
1 cup warm water
½ cup sugar
2 teaspoons lime zest
½ cup fresh lime juice
1/3 cup fish sauce
2 cloves garlic, minced
1 Thai chili, finely chopped
The Chicken:
2-pounds chicken thighs, bone-in and skin on
½ teaspoon salt
3 tablespoons olive oil
The Salad:
4-ounces vermicelli rice noodles
1 cup pea pods, stringed
1 large carrot, peeled and grated
1 small red bell pepper, cut into thin strips
2 cups English cucumber, thinly sliced
2 cups bean sprouts
½ cup scallions, chopped
2 cups Napa cabbage, chopped
¼ cup mint leaves
¼ cup cilantro leaves
¼ cup Thai basil leaves
½ cup peanuts, lightly toasted and rough chopped
To make the nuoc cham, combine the warm water and sugar in a large jar and shake until the sugar is dissolved (you can also whisk in a small bowl if you don't have a jar).  Add the lime zest, lime juice, fish sauce, garlic, and chili.  Shake again to combine.
Season the chicken on both sides with the salt and place it in large ziplock bag.  Pour 1 cup of the nuoc cham into the bag and massage the marinade into the chicken.  Let marinade for 1 hour.
Heat the oil in a large skillet over medium high heat.  Place the marinated chicken in the oil, skin-side-down, reserving the excess marinade in the bag.  Cook for 4-5 minutes until the skin is mahogany brown and crispy.  Flip to the other side and pour the reserved marinade from the bag into the pan.  Cover the pan and let cook for another 4-5 minutes until the chicken is cooked through and internal temp registers 155-160 degrees.  Remove from the pan, tent with foil, and let rest while you prepare the salad.
Place the vermicelli noodles and pea pods in a large bowl.  Pour boiling water over the top of the noodles and pea pods to cover.  Swish them around lightly so the noodles don't stick together.  Let sit for 8-10 minutes until the noodles are soft and the pea pods are bright green.
Combine the remaining salad ingredients in a large bowl, reserving half of the peanuts.  Drain the noodles and pea pods well and add them to the bowl.  Add 1/3 cup of the nuoc cham and toss until everything is well coated.  Add more dressing as needed to taste.  Any extra nuoc cham will keep in the refrigerator for 2-3 weeks.
To serve, place the salad in a bowl and top with a chicken thigh and garnish with some of the reserved peanuts.
Select multiple categories to narrow your search! Want appetizers made with chicken? Just select both Appetizers and Chicken!