TURN UP THE HEAT RAINBOW VEGGIE AND LOBSTER CURRY YAKISOBA STIR-FRY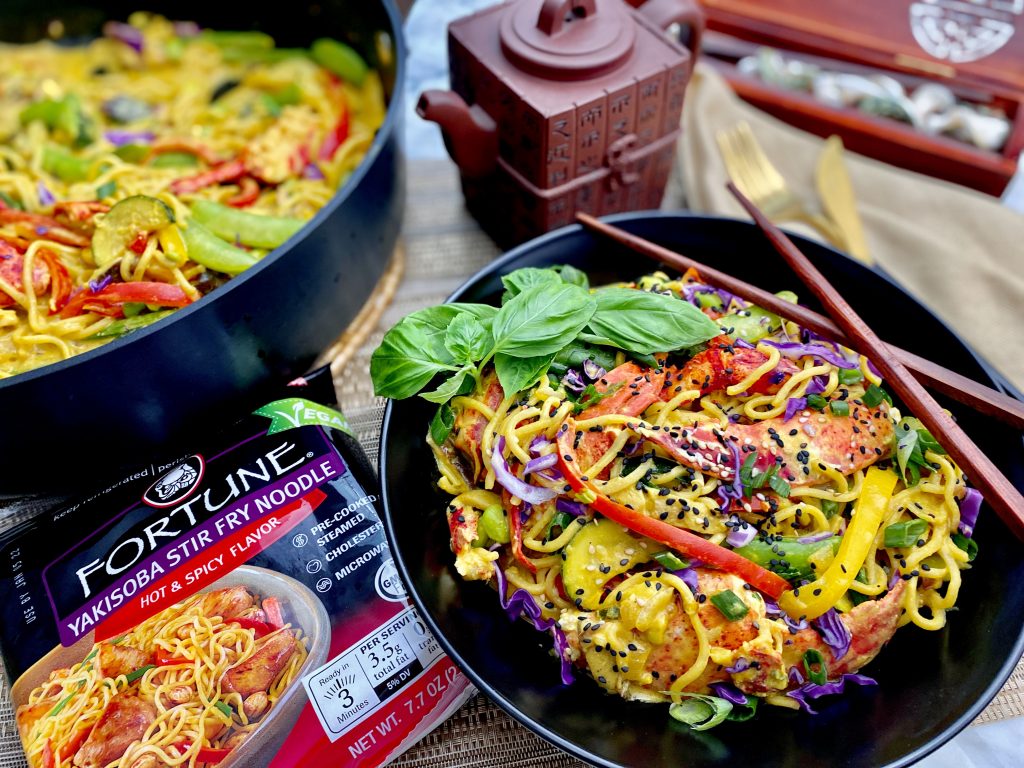 3 tablespoons olive oil
1 large onion, chopped
1 jalapeño, chopped
4 large cloves garlic, chopped
1 tablespoon fresh ginger root, peeled and minced
6-ounces shitake mushrooms, stems discarded and caps sliced
1 small zucchini, cut in half lengthwise and sliced into ½" thick half moons
1 medium red bell pepper, sliced into strips
1 medium yellow bell pepper, sliced into strips
1 tablespoon curry powder
1 ½ cups lobster or seafood stock
1, 13.5 ounce can unsweetened coconut milk
1 tablespoon corn starch
2 cups pea pods, strings removed
1 cup shelled edamame beans, shelled
1 cup sour cream
2, 7.7-ounce packages Fortune Yakisoba Hot and Spicy Flavor Stir Fry Noodles
2 cups cooked lobster meat, claws whole (cartilage removed) and tails cut into bite size pieces
¾ cup chopped purple cabbage
¾ cup basil leaves, chopped
½ cup scallions, chopped
1 tablespoon black and white sesame seeds
Chop and prepare all of your vegetables ('mis en place')e before you begin cooking.  The cooking process goes quickly and you want to have the proper texture on your veggies.  Preparing everything in advance will ensure the perfect stir-fry with the proper cook on all of your ingredients.
Heat the olive oil in a large deep skillet over medium high heat.  Cook the onions, jalapeño, garlic, and ginger for 2-3 minutes, stirring frequently, until they are soft and very fragrant.  Add the mushrooms and zucchini to the pan and cook for 2 more minutes until the zucchini are soft and begin to lightly brown.
Add the bell pepper strips to the pan along with the curry powder and 1 of the hot and spicy seasoning packets from the yakisoba noodles.  Cook for 3 minutes, stirring frequently, until the peppers begin to get soft.
Add 1 cup of the stock and the coconut milk to the pan.  Bring to a low boil.  Combine the remaining ½ cup of stock and the corn starch in a small bowl.  Stir until the corn starch is dissolved and add it to the pan.  Cook for 1-2 minutes stirring until the sauce is thickened and velvety.
Add the peapods and edamame and cook, stirring, for 2 minutes until the pea pods are bright green, but still crisp tender.  Stir in the sour cream.
Add both packages of the yakisoba noodles and the remaining seasoning packet.  Cook for 2 minutes, tossing to coat.  Add the lobster meat, half of the cabbage, and half of the basil to the pan and continue to cook, tossing so that everything is well-coated in the creamy curry sauce and the noodles are soft.  Serve hot in large bowls and garnish with the remaining chopped cabbage, remaining basil leaves, the scallions, and sesame seeds.
Check out Fortune Yakisoba Noodles at jslfoods.com and follow them at:
Website: http://www.jslfoods.com/
Facebook: https://www.facebook.com/JSLFoods/
Twitter: https://twitter.com/JSL_Foods
Instagram: https://www.instagram.com/jslfoods/
You can purchase Fortune products at:
Safeway, Fred Meyer, QFC, Albertson's, Associated Stores, Cub Foods, United Supermarkets, Roche Bros, Meijer, Shaw's, Stop N Shop, Price Rite, Shop Rite, Wakefern, Price Chopper, Giant, HEB, Walmart and Grocery Outlet
#cooklikeawokstar #norulestostirfry #fortunerecipechallenge
Select multiple categories to narrow your search! Want appetizers made with chicken? Just select both Appetizers and Chicken!