THE LOBSTER TRAP GRILLED CHEESE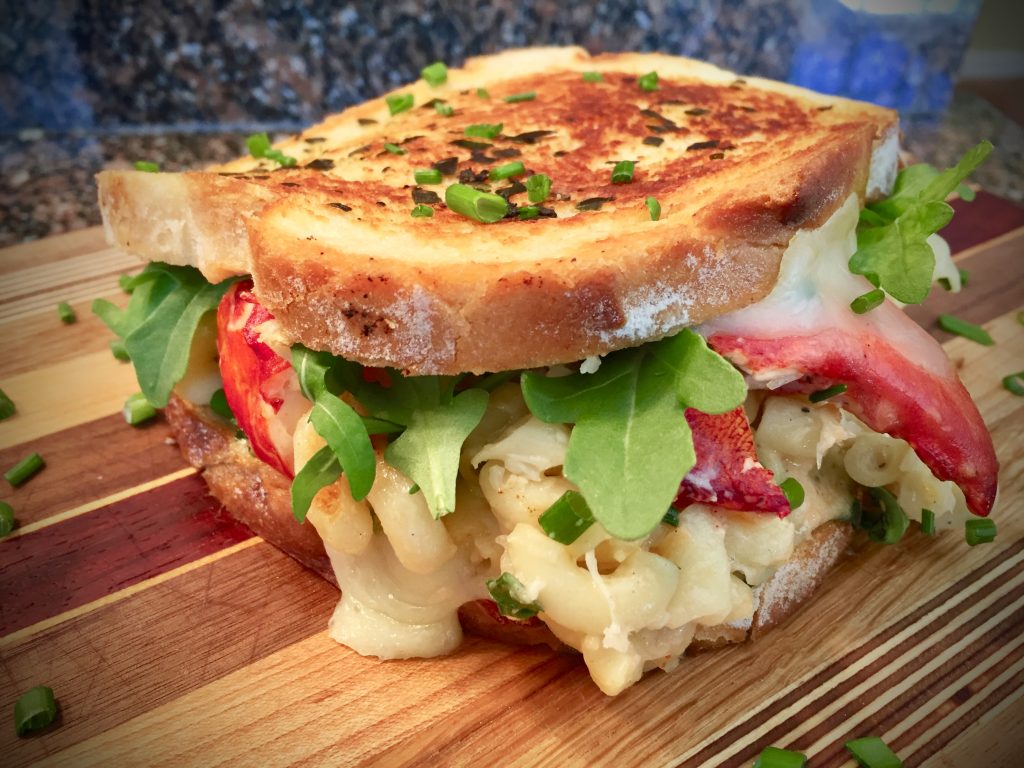 Lobster Mac & Cheese:
4, 1 ½ pound lobsters (about 3 cups lobster meat)
1 stick + 2 tablespoon butter
1 pound elbow macaroni, cooked according to package directions to 'al dente' doneness
2 tablespoon flour
1 cup light cream
1 ½ cups milk
1 teaspoon salt
1 teaspoon black pepper
2 cups shredded Monterey Jack cheese
⅓ cup grated parmesan cheese
4 slices of American cheese, torn into small pieces
2 tablespoon Sambuca liqueur
¼ cup chopped chives
Bread:
1 stick butter softened
¼ cup chopped chives
16 slices sourdough bread
16 slices provolone cheese
2 cups baby arugula
Put lobsters in a large pot of boiling water (enough to cover lobsters) and cook for 12 minutes.  Remove from pot and let cool.  Shuck the lobsters and chop the meat into bit size chunks.   Melt one stick of butter in a medium sauce pan and toss lobster meat in butter to coat.  Set aside.
In a large saucepan, melt 2 tablespoons of the butter and add flour.  Cook for 5 minutes until bubbly to create a roux.  Gradually add the cream and milk whisking constantly until a velvety béchamel forms.  Add salt, pepper, Monterey Jack, Parmesan, and American cheeses.  Continue whisking until the cheeses are melted and the sauce is smooth and thick.  Add Sambuca and ¼ cup of the chives.  Stir to combine.
In a large bowl, toss the cooked macaroni with the cheese sauce until coated. Then fold in the lobster and butter mixture.  Transfer to a 9" x 13" baking dish and place in the refrigerator to 'set' for 4 hours or overnight.  Bring to room temperature before assembling the sandwiches.
Cream together the last stick of the softened butter and the remaining ¼ cup of chives.  Spread each slice of bread on one side with the chive butter.
Heat 2 large skillets over medium heat.  Add 8 slices of the bread, butter side down and top each with 1 slice of provolone, followed by a wedge of the lobster mac and cheese similar in size to the bread, a second slice of provolone, and the other piece of bread, butter side up.  Cover the skillets and let brown for 3-4 minutes on the first side.  Then, gingerly flip the sandwich to brown the other side, pressing down gently.  Cover and cook for an additional 3-4 minutes.  Keep covered so the whole sandwich heats through and the cheeses melt.
Remove sandwiches from skillet and open the tops and add ¼ cup of the arugula leaves.  Place the top back on and devour!!
Select multiple categories to narrow your search! Want appetizers made with chicken? Just select both Appetizers and Chicken!