SHRIMP CAKES WITH LEMON AIOLI OVER BABY ARUGULA SALAD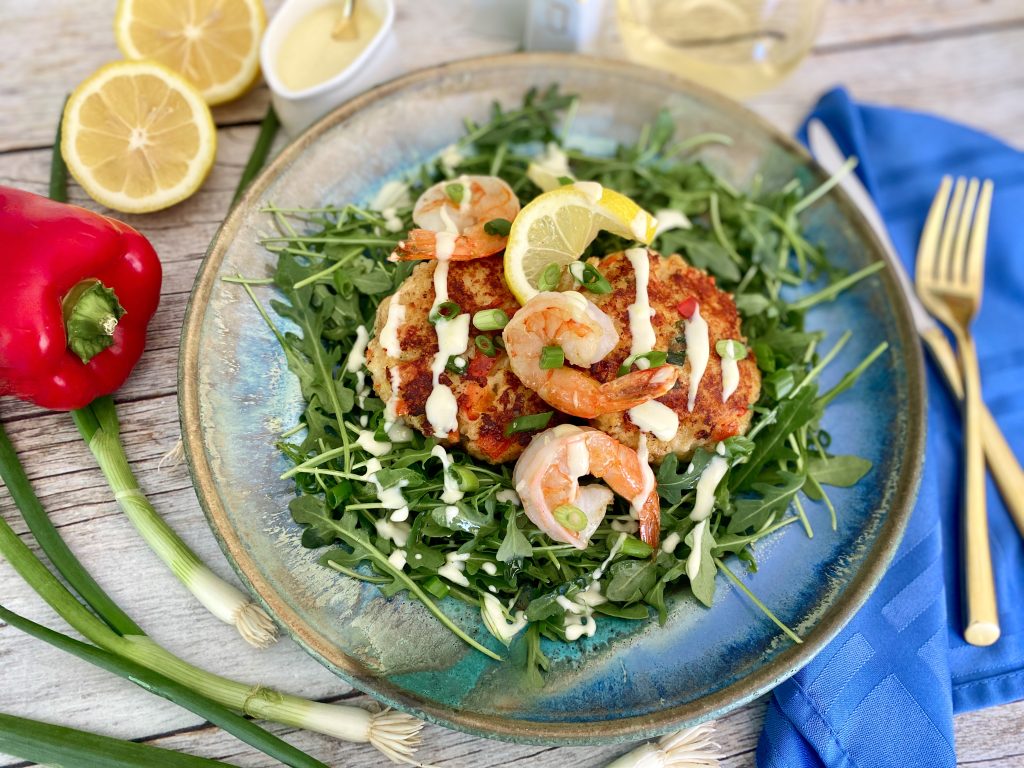 The Shrimp Cakes:
1-pound raw shrimp, peeled and deveined
¼ cup scallions, chopped
½ cup red bell pepper, chopped
1 egg, beaten
½ cup Hellmann's Light Mayonnaise
1 cup panko breadcrumbs
1 ½ cups shredded mozzarella cheese
1 teaspoon salt
½ teaspoon black pepper
¼ teaspoon cayenne pepper
1 teaspoon garlic powder
2 tablespoons olive oil
2 tablespoons butter
The Lemon Aioli
⅓ cup Hellmann's Light mayonnaise
2 tablespoons fresh lemon juice
1 tablespoon orange juice
2 tablespoons olive oil
The zest of one lemon
3 cups baby arugula leaves
Optional – 12 cooked shrimp and lemon slices for garnish
Pulse the shrimp several times in a food processor to break them up, creating a chunky paste.  Do not over mix as you still want some large pieces and texture in the cakes.
Combine the shrimp, scallions, red bell pepper, egg, mayo, panko, cheese, salt, black pepper, cayenne, and garlic in a large bowl and mix well with your hands.  Form into 6-8 patties.
Heat the olive oil and butter in a large skillet over medium heat.  Add the patties to the hot oil and cook about three minutes on the first side until golden brown. Turn them over, cover the pan, and cook another 2-3 minutes until golden and completely cooked through.  This will vary a bit depending on the size and thickness of your patties, so check by cutting into one to make sure they are completely cooked.  If your patties thick, you can also place browned patties on a baking sheet and place in a 350 degree oven for 5-10 minutes to finish.
To make the aioli, whisk the mayo, lemon juice, orange juice, olive oil, and zest together in a small bowl until smooth.
Serve the shrimp cakes over arugula drizzled with the lemon aioli.   Deeeeelissshhhh!
Note – you can also form the shrimp mixture into smaller patties or balls and serve as an appetizer with remoulade dipping sauce:
Remoulade dressing
Whisk all ingredients together in a small bowl until smooth.
Select multiple categories to narrow your search! Want appetizers made with chicken? Just select both Appetizers and Chicken!