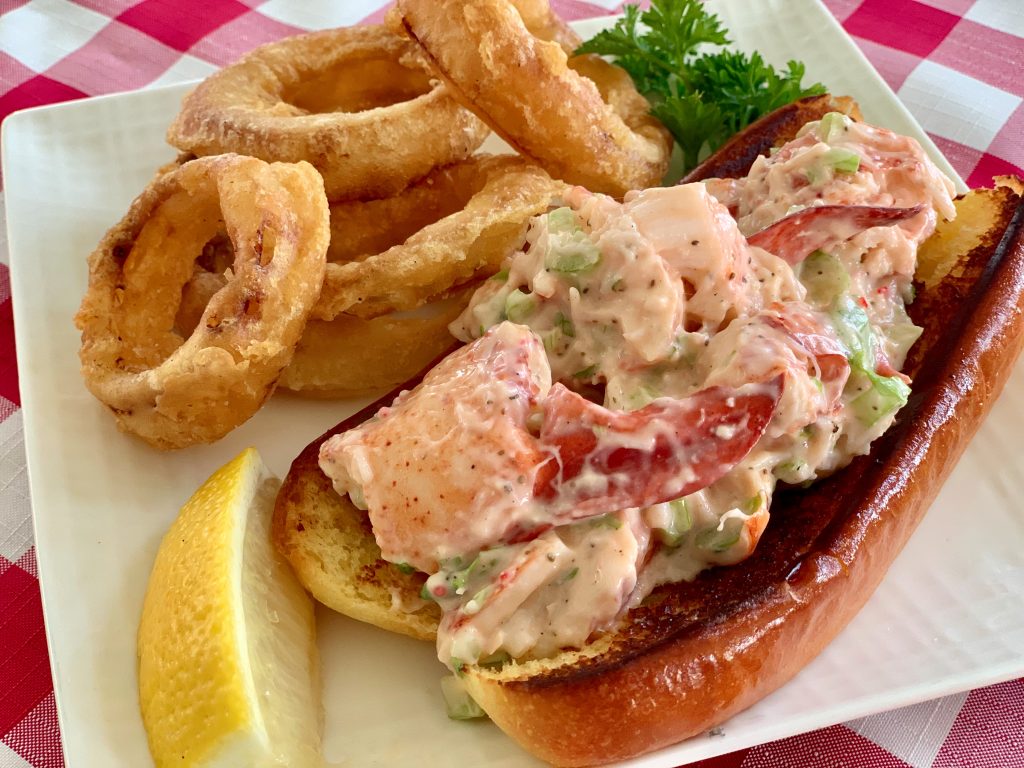 2 cups fresh cooked lobster meat, packed and chopped into bite size pieces
½ cup Hellmann's Light Mayonnaise
⅓ cup celery, chopped fine (including leaves if possible)
¼ teaspoon salt
⅛ teaspoon black pepper
¼ teaspoon celery seed
1 teaspoon lemon zest
4 brioche hot dog buns (or regular hot dog rolls)
4 tablespoons butter, softened
Combine the lobster meat, mayo, celery, salt, black pepper, celery seed, and zest in a large bowl and mix to fully combine and coat the lobster.  Refrigerate for 30 minutes to 1 hour, if possible, to let the flavors meld*.
Heat a non-stick frying pan over medium high heat.  Open the brioche rolls, keeping both sides intact.  Brush the insides with the softened butter.  Place the rolls, buttered side down in the hot pan and cook until golden brown and crispy, about 2 minutes.
Scoop the lobster salad into the rolls and prepare to groan because they are sooooo gooood!! Serve with onion rings, fries, or chips on the side.
*Do not let the salad sit overnight or the celery will release moisture and the dressing will get watery. If you do want to make it a day in advance, make the salad without the celery and add it in just before serving.
Select multiple categories to narrow your search! Want appetizers made with chicken? Just select both Appetizers and Chicken!