THAI-INSPIRED SPINACH AND SHRIMP NOODLE SOUP IN EGGY BROTH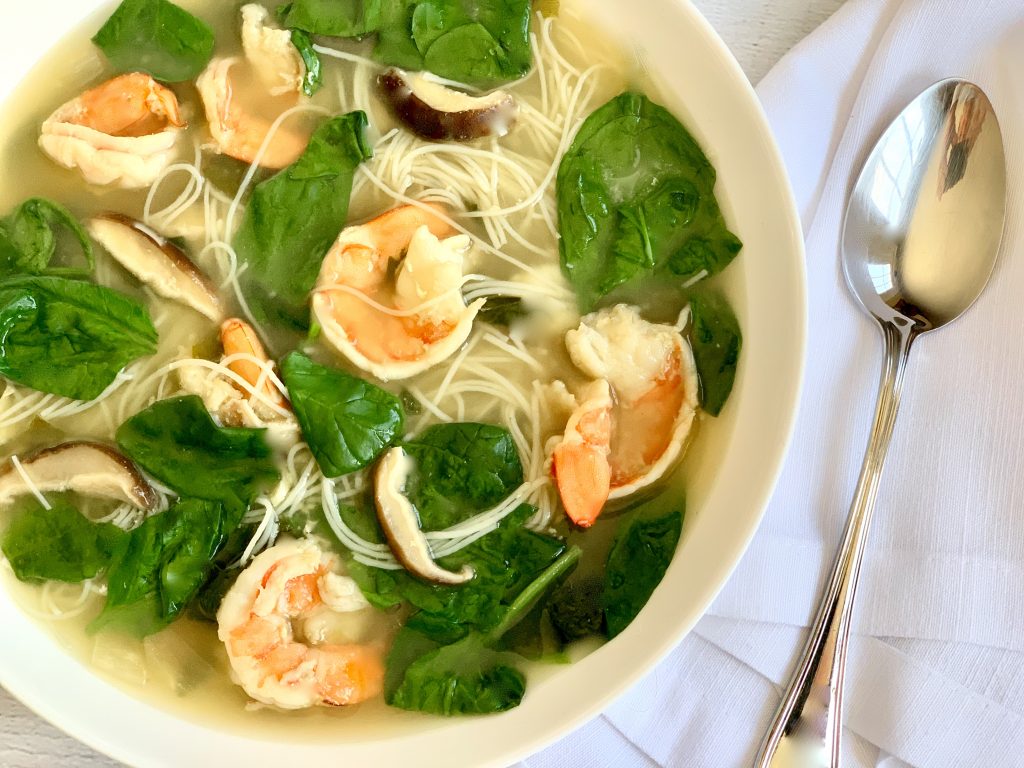 2 tablespoons olive oil
1 large onion, chopped
8 garlic cloves, chopped
2 tablespoons ginger root, minced
1 jalapeño, chopped
½ pound shitake mushrooms, stems discarded and caps sliced
8 cups chicken stock
2 cups water
2 tablespoons fish sauce
6 cups baby spinach leaves, packed
1 cup fresh basil leaves, rough chopped
3 large eggs
2 tablespoons lemon juice
1 pound large shrimp, peel and deveined
3 ounces vermicelli rice noodles
Heat the olive oil in a large Dutch oven over medium high heat.  Sauté the onions, garlic, ginger, and jalapeño under soft and fragrant, about 3 minutes.  Add the mushrooms and cook 2 minutes more, stirring frequently, until they release most of their moisture.
Add the stock, water, and fish sauce to the pot and bring to a boil.  Reduce heat to low and add the spinach and basil to the pot.  Simmer for 10- 15 minutes.  Keep heat on low.
Beat the eggs with lemon juice in a small bowl.  Take ½ cup of the hot soup stock and SLOWLY add it into the eggs, whisking.  This is to 'temper' the eggs so they don't scramble when you add them to the soup.
After whisking the hot stock into the eggs, add the eggs into the soup and stir constantly for 3-4 minutes until the soup thickens.
Add the shrimp and noodles to the pot and continue cooking for 8-10 minutes more until the shrimp is cooked through and pink and noodles are soft.  Serve hot in bowls.
I have traveled all over the world for my career and my cooking is inspired by the many cultures I have experienced.  My family now also has a deep love for foods from different countries, especially those of Southeast Asia.  This soup pays homage to those flavors.  The broth is thickened with 3 large eggs that make the soup luscious and creamy, but also packed with vitamins, minerals, and protein.  Exotic flavors explode in this immunity boosting dish!
Select multiple categories to narrow your search! Want appetizers made with chicken? Just select both Appetizers and Chicken!