TERIYAKI SALMON RICE BOWLS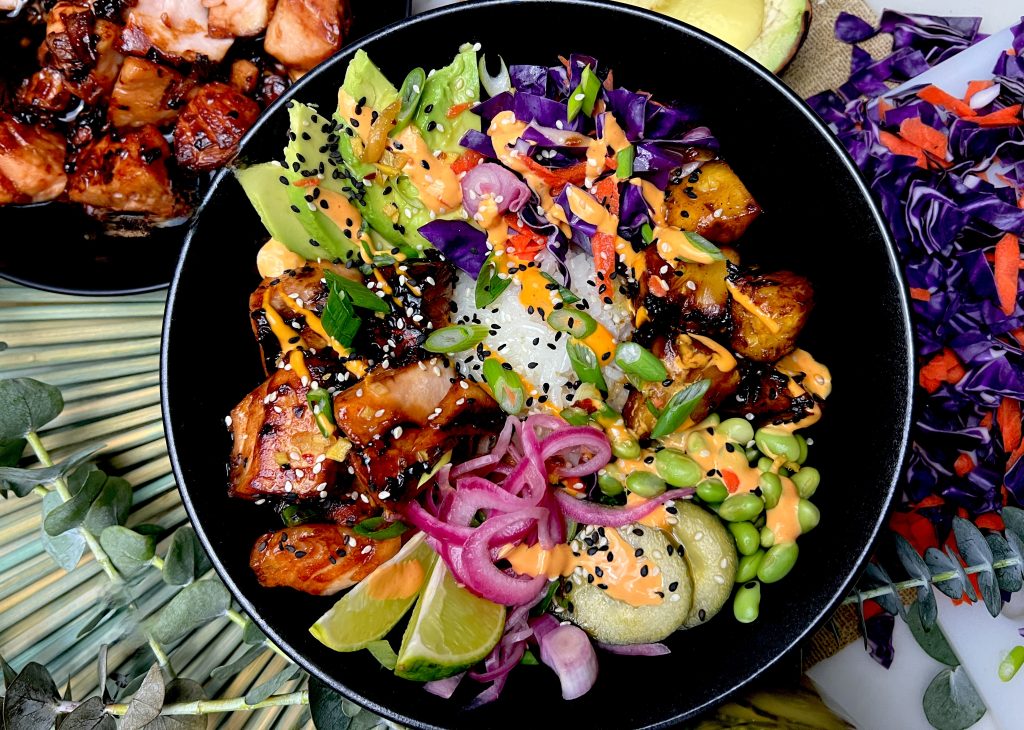 2 tablespoons rice wine vinegar
¼ cup brown sugar, packed
1 tablespoon fresh ginger root, grated or finely minced
1 teaspoon red pepper flakes
1 ½ pounds salmon filet, skinned and cut into 2" chunks
The Pickled Onions and Cucumbers:
1 small red onion, thinly sliced into rounds (about 1 cup)
1 small cucumber, very thinly sliced into rounds (about 1 cup)
1 cup pineapple, chopped into ½" chunks
3 cups cooked sushi rice, cooked to package directions
1 avocado, cut into slices
1 cup purple cabbage, chopped
1/2 cup carrot, peeled and grated on the large holes of a box grater (about ½ cup)
2-3 tablespoons sriracha mayonnaise
2 teaspoons black and white sesame seeds
To marinate the salmon, combine the soy sauce, rice wine vinegar, sesame oil, honey, brown sugar, ginger, garlic, and red pepper flakes in a large bowl and whisk to combine.   Add the salmon and toss to coat.  Refrigerate for 1-2 hours.
To make the pickled veg, combine the vinegar, water, sugar, and salt in a saucepan and bring to a boil.  Stir to dissolve the sugar and salt.  Place the sliced onions and cucumbers in a large jar and pour the hot liquid over them to cover.   Shake the jar occasionally to ensure the veggies are all coated in the liquid.  Let sit for 2-3 hours until the liquid is at room temperature.  Keep in the fridge for up to 2 weeks.
When you are ready to prepare the bowls, heat the olive oil in a large skillet over medium high heat.  Place the marinated salmon chunks in the hot oil, allowing any extra marinade to drip back into the bowl.  Reserve the excess marinade in the bowl and microwave for 2 minutes.  This will be your dressing.  Set aside.
Sear the salmon chunks in the skillet for 2-3 minutes until they are caramelized on the outside and translucent on the inside.  Note – the oil will spatter when the salmon hits the pan so be careful.  Do not overcook.  Salmon should be cooked to medium or medium rare for the best flavor and texture – it will melt in your mouth!
Remove the salmon and add the pineapple to the pan (this will also spatter).  Cook for 1-2 minutes stirring until the pineapple is lightly caramelized and coated with any marinade left in the pan.
To build your bowls, place about ½ cup of the rice in the middle of a wide shallow bowl.  Layer portions of the salmon, pineapple, pickled onions and cukes, edamame, avocado, and cabbage/carrots (mixed together) around the edges of the rice.  Garnish with scallions and sesame seeds. Drizzle with some of the dressing and sriracha mayo.  Serve with lime wedges.  Take a picture (it's so pretty!!) and DEVOUR (and so yummy!!)!
Makes about 4-6 large bowls.
Select multiple categories to narrow your search! Want appetizers made with chicken? Just select both Appetizers and Chicken!