SHRIMP CAKES BENEDICT WITH LEMON AIOLI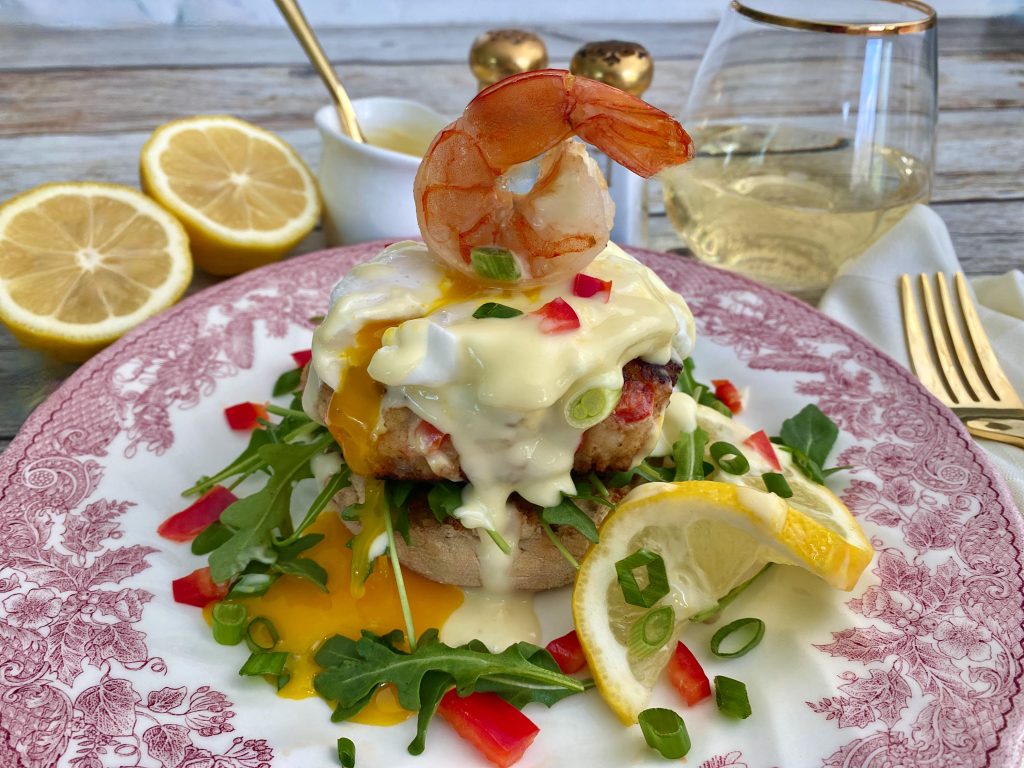 The Shrimp Cakes:
1-pound raw shrimp, peeled and deveined
¼ cup scallions, chopped (plus more for garnish)
½ cup red bell pepper, chopped (plus more for garnish)
1 egg, beaten
½ cup Hellmann's Light Mayonnaise
1 cup panko breadcrumbs
1 ½ cups shredded mozzarella cheese
1 teaspoon salt
½ teaspoon black pepper
¼ teaspoon cayenne pepper
1 teaspoon garlic powder
2 tablespoons olive oil
2 tablespoons butter
The Lemon Aioli:
⅓ cup Hellmann's Light mayonnaise
2 tablespoons fresh lemon juice
1 tablespoon orange juice
2 tablespoons olive oil
The zest of 1 lemon
The Benedict:
6 eggs
2 teaspoons white vinegar
2 teaspoons salt
3 English muffins, split in half
2 cups baby arugula leaves
6 cooked shrimp
Lemon slices for garnish
To make the cakes, pulse the shrimp several times in a food processor to break them up, creating a chunky paste.  Do not over chop as you still want some large pieces for texture in the cakes.
Combine the shrimp, scallions, red bell pepper, egg, mayo, panko, cheese, salt, black pepper, cayenne, and garlic in a large bowl and mix well with your hands.  Form into 6 patties.
Heat the olive oil and butter in a large skillet over medium heat.  Add the patties to the hot oil and cook about three minutes on the first side until golden brown. Turn them over, cover the pan, and cook another 2-3 minutes until golden and completely cooked through.  Timing will vary a bit depending on the size and thickness of your patties, so check by cutting into one to make sure they are completely cooked.  If your patties thick, you can also place browned patties on a baking sheet and place in a preheated 350 degree oven for 5-10 minutes to finish or keep warm while you poach the eggs.
To make the aioli, whisk the mayo, lemon juice, orange juice, olive oil, and zest together in a small bowl until smooth.
Boil 3 inches of water (just enough to cover the eggs) in a large non-stick saucepan with vinegar and salt.  Crack each egg into a separate ramekin.  When water is at a full rolling boil, turn off the heat, and gently pour each egg into the water.  Cover and let sit for 5-6 minutes until the whites are set.  These are best done in batches of 4.  Remove the eggs with a slotted spoon and gently place them on a double layer of paper towels to drain.
Toast the English muffins and lightly butter.
To assemble the bennies, place a small mound of arugula on each English muffin half, top with a shrimp cake, followed by a poached egg.  Drizzle with lemon aioli, top with a shrimp (use a toothpick to hold it in place), and garnish with chopped red pepper, scallions, and lemon slices.
Select multiple categories to narrow your search! Want appetizers made with chicken? Just select both Appetizers and Chicken!