FORTUNE FUSION YAKISOBA CARBONARA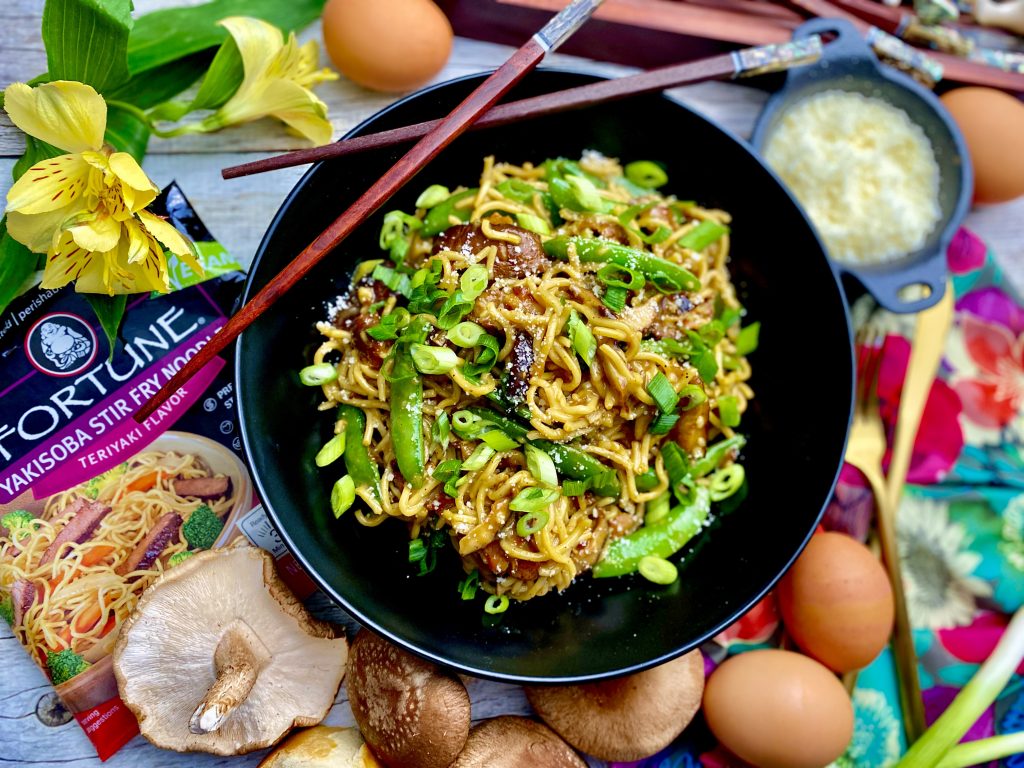 8-ounces bacon
1 medium onion, chopped
4 large garlic cloves, chopped
8-ounces shiitake mushrooms, caps sliced and stems discarded
2, 7.7-ounce packages Fortune Yakisoba Stir Fry Noodles – Teriyaki flavor
4 large egg yolks
2 large eggs
1 cup grated Parmigiana Reggiano cheese (plus more to sprinkle when serving)
¾ cup scallions, chopped
1 teaspoon fresh cracked black pepper
1 cup hot water, divided
2 cups snow pea pods, strings removed
2, 7.7-ounce packages Fortune Yakisoba Stir Fry Noodles – Teriyaki flavor
Place the bacon slices in a large skillet over medium high heat.  Cook until crisp, about 4-5 minutes, flipping the about halfway through.  Remove the slices to a plate lined with paper towels to drain.  Chop into ½" pieces and set aside.
Add the onions and garlic to the bacon drippings in the pan and cook until soft and fragrant, about 2 minutes.  Add the mushrooms and continue cooking until the mushrooms are soft.  Add the flavor packet from one of the packages of teriyaki yakisoba noodles and the chopped bacon back to the pan.  Cook for 1 more minute, stirring to fully coat everything in the seasoning. Turn off the heat.
Whisk the egg yolks and whole eggs in the bottom of a large bowl until well beaten.  Add 1 tablespoon of the seasoning packet from the other package of noodles, the parmesan cheese, ½ cup of the scallions, and the black pepper to the bowl.  Whisk vigorously to combine.  Set aside.  It is important that you do this step before cooking your noodles so that your pasta is hot when you mix in the eggs which will cook from the heat of the noodles and create a velvety sauce.
Place ½ cup of the water in a large deep skillet and bring to a boil.  Add both packages of the noodles to the pan and cook, stirring to loosen the noodles for 1 minutes.  Add the pea pods and continue cooking for 1-2 minutes until the water is all absorbed and the pea pods are bright green and crisp-tender.
Add about ¼ cup of the hot noodles into the egg mixture, vigorously stirring with tongs to temper the eggs so they do not scramble.  Gradually begin adding more of the hot noodles to the bowl, stirring constantly with the tongs, until they are all incorporated.  Toss continuously for 1 full minute.  Gradually add some of the remaining hot water to the bowl, ¼ cup at a time, constantly stirring, until a thick glossy sauce coats the noodles.
Serve with additional cheese on the side, garnished with the remaining scallions
Check out Fortune Yakisoba Noodles at jslfoods.com and follow them at:
Website: http://www.jslfoods.com/
Facebook: https://www.facebook.com/JSLFoods/
Twitter: https://twitter.com/JSL_Foods
Instagram: https://www.instagram.com/jslfoods/
You can purchase Fortune products at:
Safeway, Fred Meyer, QFC, Albertson's, Associated Stores, Cub Foods, United Supermarkets, Roche Bros, Meijer, Shaw's, Stop N Shop, Price Rite, Shop Rite, Wakefern, Price Chopper, Giant, HEB, Walmart and Grocery Outlet
#cooklikeawokstar #norulestostirfry #fortunerecipechallenge
Select multiple categories to narrow your search! Want appetizers made with chicken? Just select both Appetizers and Chicken!