TEMPURA SHRIMP PROSCIUTTO BITES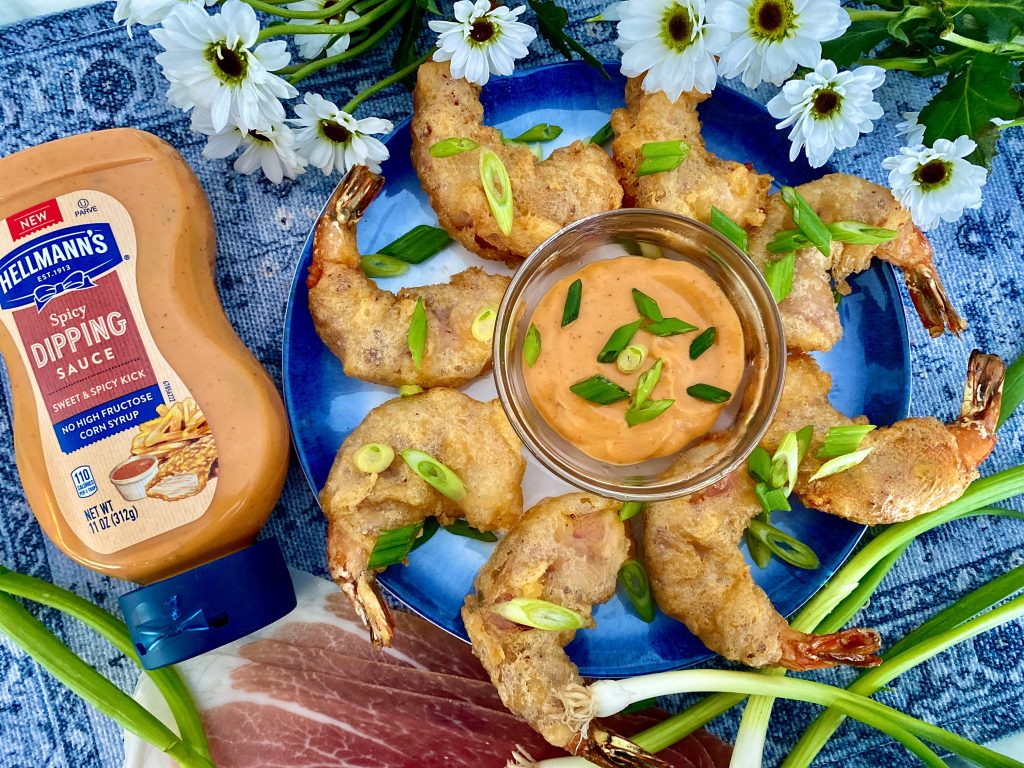 1-pound extra-large (U16/20 or larger) shrimp, peeled with tail left on and deveined
4-ounces prosciutto, very thinly sliced and cut into strips about 1-2" wide
½ cup flour
⅔  cup beer
2 tablespoons + ½ cup Hellmann's Spicy Dipping Sauce, divided
¼ cup scallions, chopped
Heat about 3-4 cups of vegetable or canola oil in a fryer or small Dutch oven (about 3" deep) to 375 degrees.  Line a baking sheet with foil and place a metal cooling rack on top of it to drain the shrimp when they come out of the oil.
Pat the shrimp dry with paper towels and then wrap strips of the prosciutto tightly around them to cover.
Combine the flour, beer, and 2 tablespoons of the Spicy Dipping Sauce in a small bowl and whisk until just combined and a pancake light batter forms.  Do not overmix, so your batter remains light.  It is ok if there are some small lumps of flour in the batter.
Using the tail as a handle, dredge the prosciutto-wrapped shrimp in the batter to coat.  Slowly dip the shrimp into the hot oil and hold for 5-7 seconds before letting go.  Let them cook for about 2 minutes until they are golden brown and crispy.  Fry all of the shrimp, working in batches, and letting the oil come back up to temperature between batches.  Remove them from the oil and drain on the cooling rack.
Serve hot with the remaining spicy dipping sauce on the side for dipping.  Garnish with the scallions and devour!
Select multiple categories to narrow your search! Want appetizers made with chicken? Just select both Appetizers and Chicken!