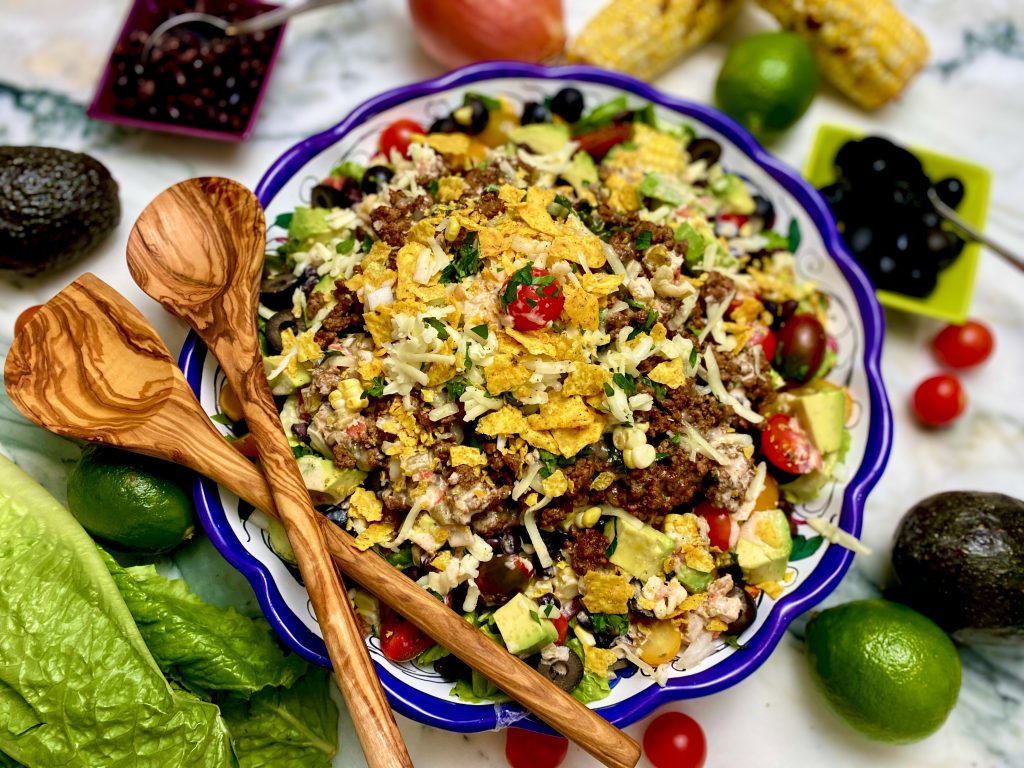 Salad:
2 tablespoons olive oil
1 – 1 ¼-pounds ground beef (85% lean)
1 envelope taco seasoning
2 teaspoons Dish off the Block Ragin' Cajun Spice Blend
½ teaspoon salt
2 cups freshly grated cheddar cheese, divided
2 heads romaine lettuce, chopped
1-pint grape tomatoes, cut in half
1 small sweet onion, diced
¾ cup frozen corn, thawed (or fresh corn on the cob, grilled – when in season)
1, 2.25-ounce can sliced black olives
1, cup black beans, drained and rinsed
1 avocado, chopped
1 ½ cups Cool Ranch Doritos (or any corn chips), crushed
Dressing:
1, 4-ounce can chopped green chilies
¼ cup Thousand Island dressing
¼ cup sour cream
½ cup jarred salsa, medium spicy
1 tablespoon sugar
1 teaspoon Dish off the Block Ragin' Cajun Spice Blend
½ teaspoon cumin
¼ cup fresh lime juice
Heat the olive oil in a large frying pan or Dutch oven over medium heat, and add ground beef, breaking it up with a spatula into small pieces.  Add the taco seasoning and salt.  Continue cooking until cooked through and set aside (drain any excess fat).  Sprinkle 1 ½ cups of the cheese over the meat to melt slightly.  Set aside.
In a large salad bowl (or individual serving bowls), layer the lettuce, tomatoes, onion, corn, olives, beans, and avocado. Top with the cheesy meat and sprinkle with the crushed Doritos and remaining ½ cup cheese. 
In a large jar, combine all of the dressing ingredients.  Shake, shake, shake until well combined.  If you don't have jar, you can whisk together in a small bowl.
Top salad with dressing just before serving and lightly toss.
Select multiple categories to narrow your search! Want appetizers made with chicken? Just select both Appetizers and Chicken!