SWEET PEA AND PROSCIUTTO CROSTINI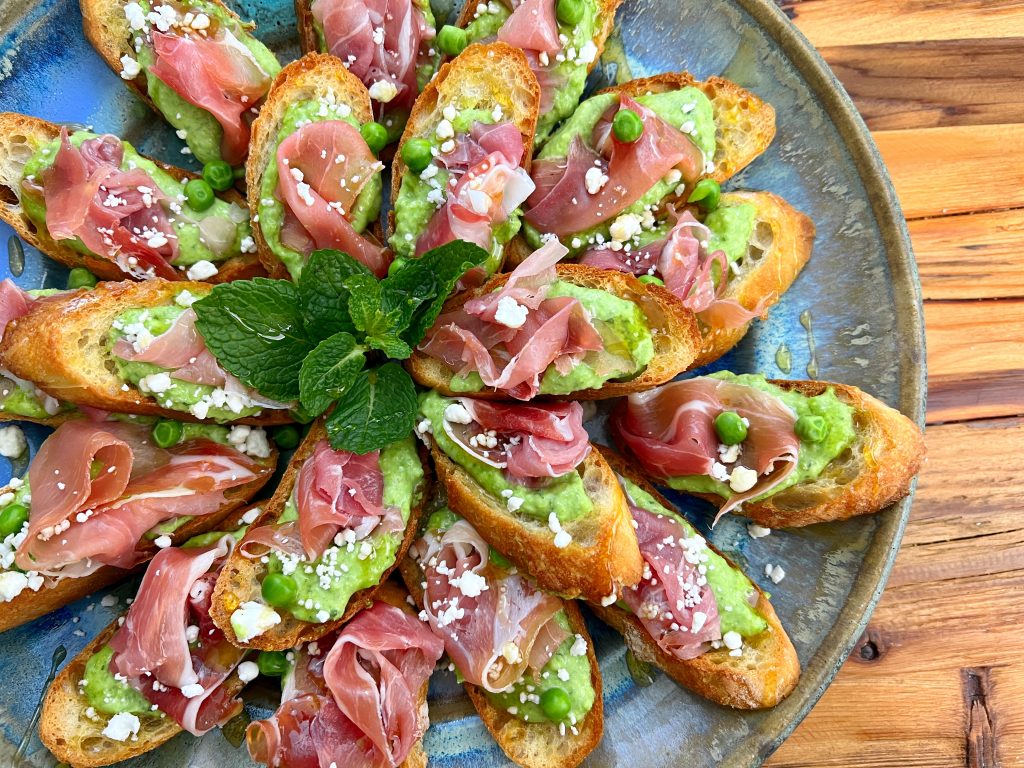 1 large baguette, cut into ½" thick slices
3 tablespoons olive oil
3 tablespoons butter
1 large shallot, chopped
1, 10-ounce bag frozen peas
½ teaspoon salt
¼ teaspoon white pepper
½ cup chicken stock
½ cup cottage cheese
¼ cup mint leaves, chopped (plus some leaves for garnish)
4-ounces prosciutto, very thinly sliced
¼ cup goat cheese crumbles
2 tablespoons honey
Preheat your oven to 375 degrees.
Spread the baguette slices in an even layer on a foil-lined baking sheet.  Drizzle the olive oil over the bread.  Bake for 5-7 minutes until toasty and lightly browned.  Set aside.
Melt the butter in a large skillet over medium high heat.  Add the shallot and cook for 2 minutes until soft and fragrant.  Add the frozen peas, salt, white pepper, and stock to the pan.  Bring to a boil and cook just until the peas are warm, about 1-2 minutes.  Remove from heat and let cool for 10 minutes.
Reserve ¼ cup of the peas for garnish and pour the remaining pea mixture into a food processor.  Add the cottage cheese and mint leaves.  Process until smooth.
Optional – you can push the puree through a mesh sieve for even smoother texture, but delicious either way.
Spread about a tablespoon of the puree on each piece of toasted bread.   Top with a piece of prosciutto (you will need to rip the slices into several pieces) and arrange the crostini on a platter.  Sprinkle the reserved peas over the top, followed by the crumbled goat cheese, and drizzle very lightly with the honey.  Garnish with mint leaves.
Select multiple categories to narrow your search! Want appetizers made with chicken? Just select both Appetizers and Chicken!