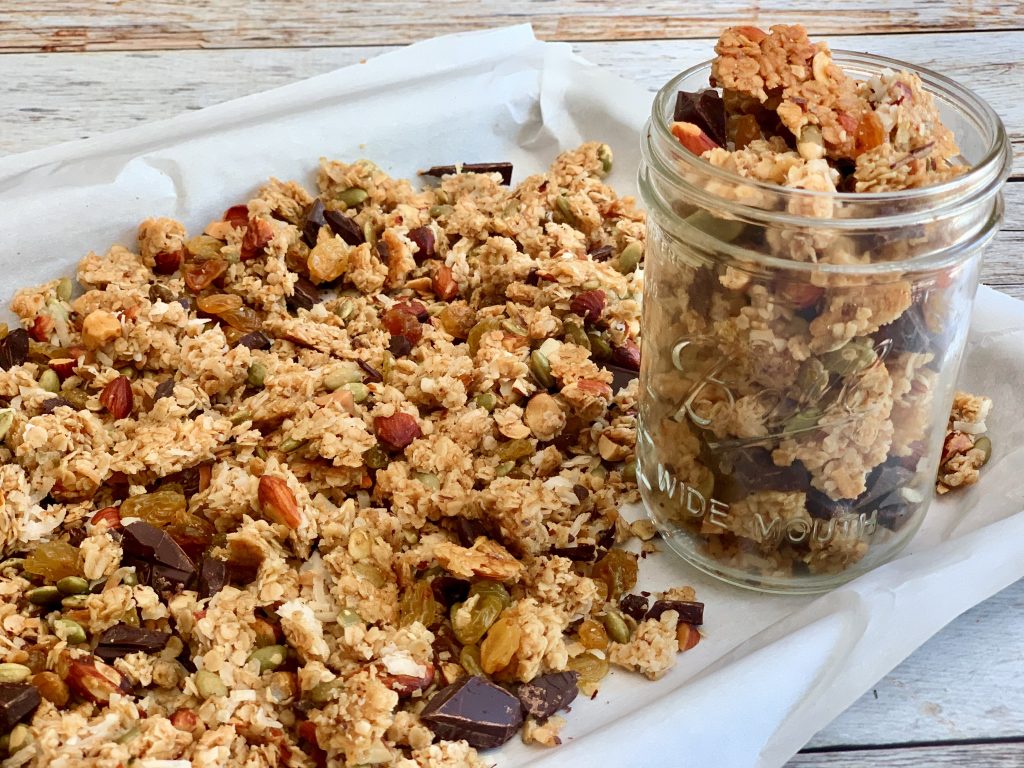 ½ cup coconut oil
½ cup honey
1 tablespoon maple syrup
1 teaspoon vanilla
½ teaspoon cinnamon
½ teaspoon salt
1 pinch nutmeg
3 cups oats
½ cup pepitas (pumpkin seeds)
1 cup almonds, rough chopped
1 cup sweetened coconut
1 cup bittersweet chocolate, rough chopped
1 cup golden raisins
Preheat oven to 350 degrees.
Combine the oil, honey, syrup, vanilla, cinnamon, salt, and nutmeg in a small bowl and whisk to combine.
Combine the oats, pepitas, and almonds in a large bowl.  Stir the wet mixture into the dry until well coated.  Line a rimmed baking sheet with parchment paper and spread the oat mixture on top in an even layer.  Press it down with the back of a spatula.  Bake for 10 minutes.
Remove from the oven and stir in the coconut. Press the granola flat again in an even layer with the back of the spatula.  Bake for 10 minutes more.  Let cool completely for at least one hour or overnight.  Break the cool granola into clumps and stir in the chocolate and raisins.  Store in an airtight container for up to 1 month.
Select multiple categories to narrow your search! Want appetizers made with chicken? Just select both Appetizers and Chicken!