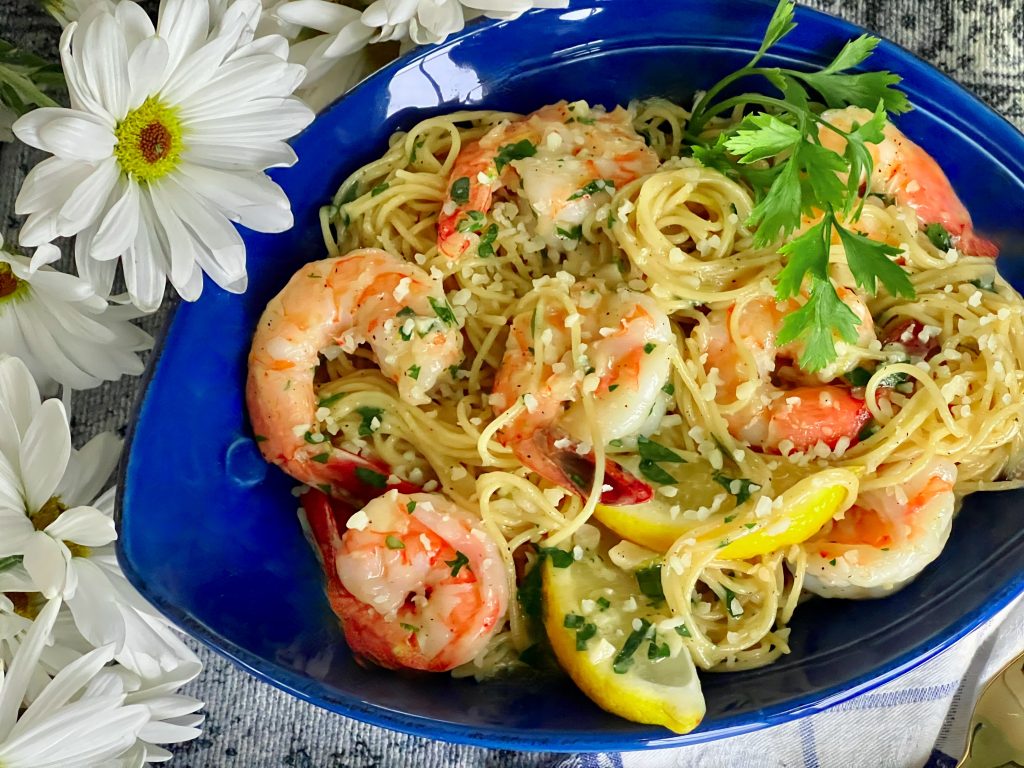 1 stick butter, divided (keep 3 pats cold to finish the pasta)
⅓ cup olive oil
½ cup garlic, chopped
1-pound raw shrimp, peeled and deveined (any size works but I prefer U16/20)
1 cup dry white wine
2 cups seafood or lobster stock (or chicken stock in a pinch)
3 cups water, divided
2 tablespoons fresh squeezed lemon juice (about 1 lemon)
1-pound dry angel hair (capellini) pasta
2 teaspoons salt
1 teaspoon fresh black pepper
½ cup flat leaf parsley, chopped
½ cup grated parmesan cheese, plus more for sprinkling
Combine 5 tablespoon of the butter and the olive oil in a large skillet over medium heat.  Add the garlic and sauté, stirring frequently until soft and fragrant, about 2 minutes.  Do not let garlic brown.
Add the shrimp and cook until pink and just cooked through, about 2-3 minutes depending on the size of the shrimp.  Remove the shrimp from the pan and tent with foil to keep warm.
Add the wine, stock, 1 cup of the water, the lemon juice, the pasta, salt, and pepper to the pan.  Turn the heat to medium high and bring the sauce to a boil while gently tossing the pasta so it does not stick together.  Cover the pan and open to toss the pasta occasionally, so it does not stick together or to the bottom of the pan.  When most of the liquid is absorbed add another cup of the water.  Cover the pan, but continue tossing the pasta frequently as it softens.  When the moisture is mostly absorbed again, add the remaining cup of water and cook until the pasta is al dente in texture and a glossy sauce has formed.
Turn off the heat and stir in the remaining 3 tablespoon of cold butter until melted.  Add the parsley, parmesan, and put the shrimp back in the pan.  Toss until everything is evenly incorporated.
Serve hot, garnished with more parsley and parmesan cheese.
Select multiple categories to narrow your search! Want appetizers made with chicken? Just select both Appetizers and Chicken!