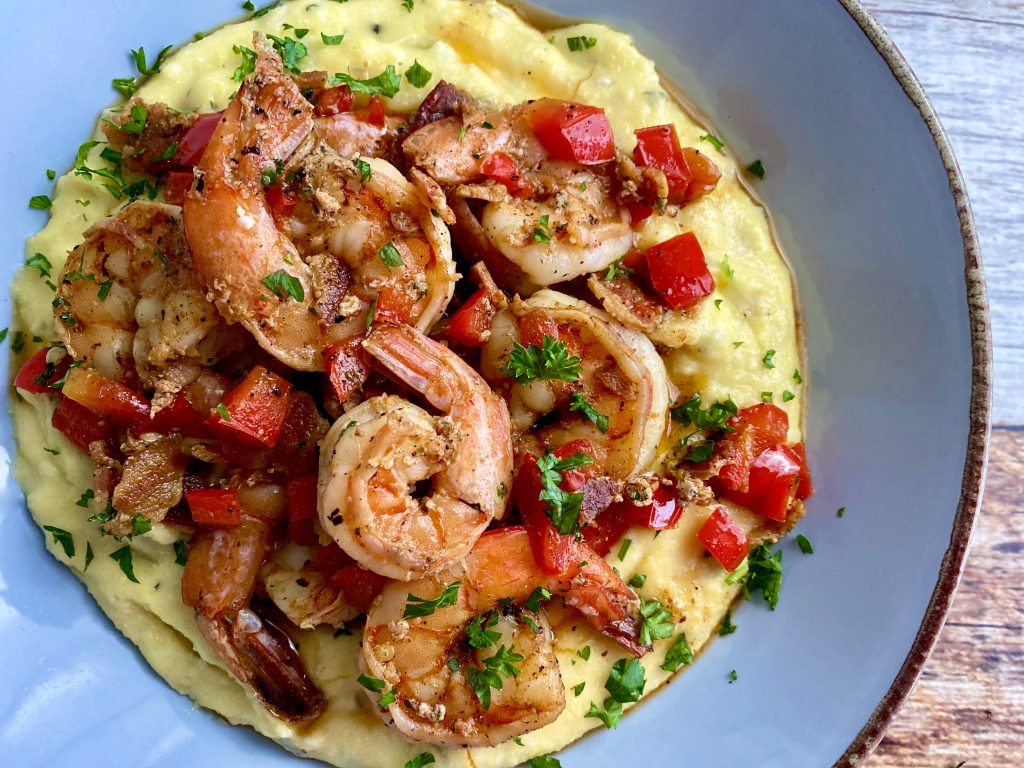 The Grits:
3 cups water
¾ cup white or yellow cornmeal
1 teaspoon salt
2 tablespoons butter
1 small onion, chopped fine
1 tablespoon fresh thyme leaves
1 tablespoon fresh rosemary, chopped
½ cup smoked Gouda cheese, shredded
¼ cup grated Paremsan cheese
¼ cup heavy cream
The Shrimp:
1 pound large raw shrimp, peeled and deveined
2 tablespoons lemon juice
1 tablespoon Dish off the Block Ragin' Cajun Spice Blend
6 slices raw bacon
1 red bell pepper, chopped
⅓ cup seafood or chicken stock
2 tablespoons fresh parsley, chopped
Preheat oven to 350 degrees.
To make the grits, pour the 3 cups of water into an 8" x 8" baking dish (a pie plate works too!).  Whisk the cornmeal and salt into the water and bake uncovered for 40 minutes.
While the grits bake, melt the butter in a small skillet and sauté the onions, thyme, and rosemary until fragrant and the onions are soft.  Remove from heat.
Remove grits from the oven and stir in onion and herb mixture and cheeses until smooth and cheeses are completely melted.  Stir in heavy cream until well-combined and velvety.
While the grits are cooking, combine the shrimp with lemon juice and Cajun Spice in a small bowl and toss to coat.  Let sit for 30 minutes to marinade.
Cook the bacon in a large non-stick skillet until crispy.  Remove to a plate lined with paper towels to drain and chop when cool.  Do not discard drippings in the pan.
Add the red pepper to the bacon drippings and cook over medium high heat until they begin to soften, about 2 minutes.  Turn the heat to high and add the shrimp to the pan and spread in one layer to sear.  Sear 1 minute per side until just pink.  Add the bacon back into the pan and the seafood stock, stirring constantly, for 1 minute and scraping up any brown bits on the bottom of the pan until a light sauce forms.
Serve the shrimp mixture over the grits, drizzled with some of the sauce, and garnished with chopped parsley.
Select multiple categories to narrow your search! Want appetizers made with chicken? Just select both Appetizers and Chicken!