RIGATONI WITH SUMMER SQUASH MEDLY IN A PESTO ALFREDO CREAM SAUCE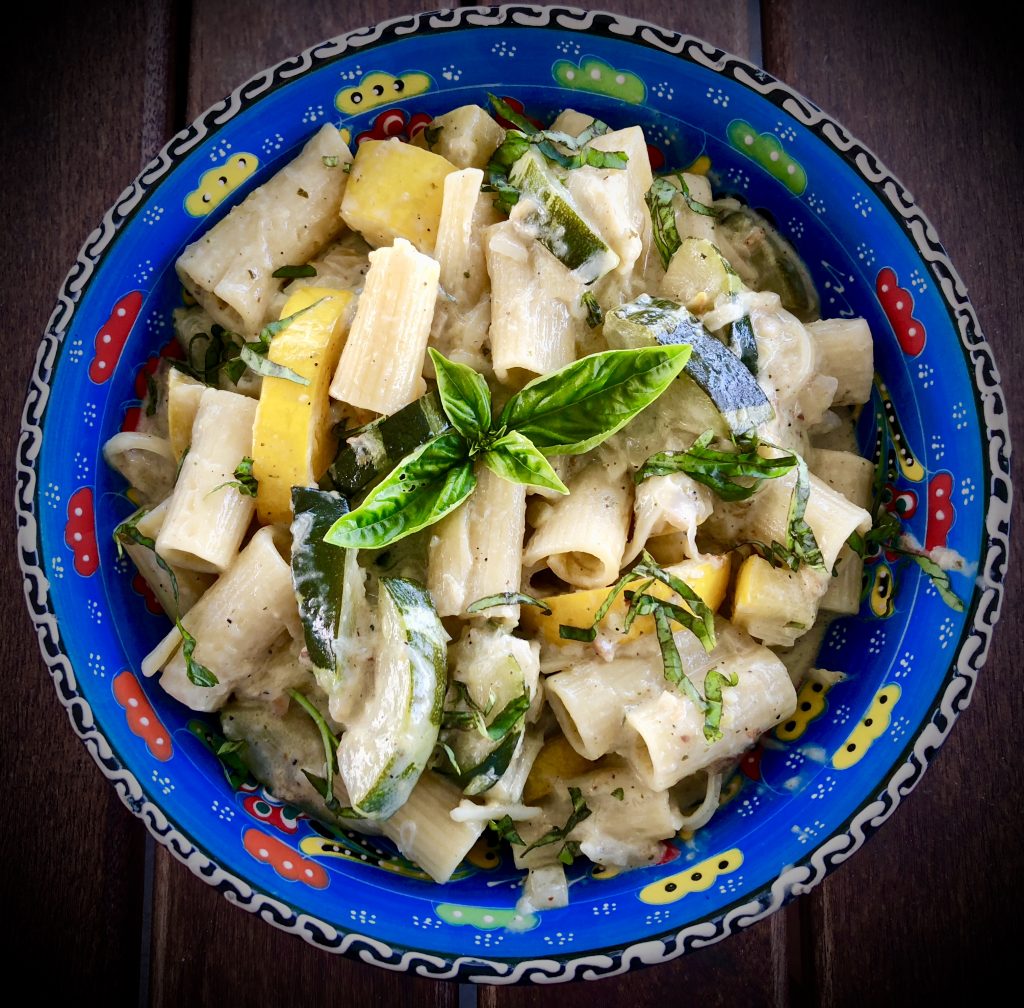 3 tablespoons olive oil
1 large onion, chopped
10 cloves garlic, peeled and chopped
6 cups summer squash (yellow, zucchini, paddy pan, etc…),  cut into half moons  (large seeds removed if the squash are very large)
1 teaspoon salt
1 teaspoon black pepper
2 cups heavy cream
¼ cup pesto
1-pound rigatoni pasta, cooked al dente according to package directions
½ cup grated or shredded parmesan cheese (plus more for sprinkling
Fresh basil for garnish
Heat the olive oil in a large skillet with sides over medium high heat.  Add onions and garlic and sauté until soft and fragrant.  Add the squash, salt, and pepper and continue to cook, stirring frequently, until squash is tender when pierced with a fork (but not mushy).
Add the heavy cream and pesto.  Bring the sauce to a boil and let cook for about 5-7 minutes, stirring frequently, until sauce is reduced and thickened to coat the pasta.  Add parmesan cheese.
Add the cooked pasta to the pan and toss to coat.  Serve hot, garnished with more parmesan and basil leaves.
This is a really versatile dish where you could add other fresh vegetables like broccoli, pea pods, carrots, asparagus, etc…  Just cook until tender and follow the directions above.
Select multiple categories to narrow your search! Want appetizers made with chicken? Just select both Appetizers and Chicken!