COLORS OF CHRISTMAS TOFFEE COOKIES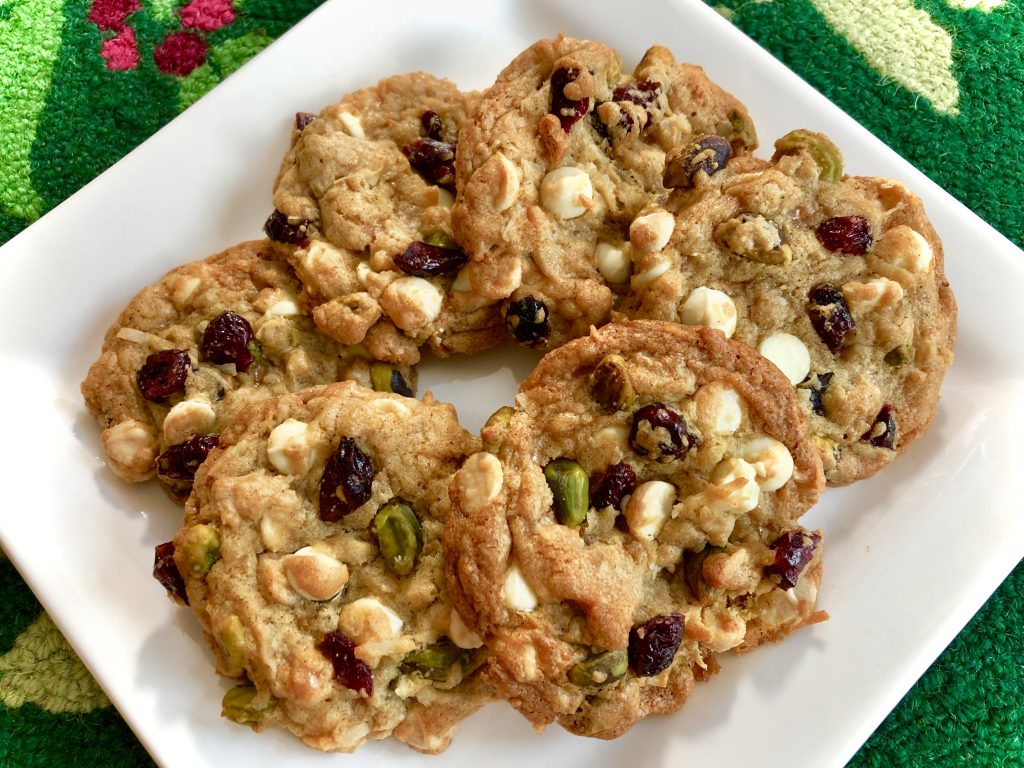 2 sticks butter
1 cup light brown sugar, packed
⅓ cup sugar
2 large eggs
2 teaspoon pure vanilla extract
2 cups flour
1 teaspoon baking soda
1 teaspoon salt
1 teaspoon cinnamon
1 ½ cups flaked coconut
1 cup toffee bits
1, 12 ounce bag white chocolate chips
1 ½ cups dried cranberries
1 cup shelled pistachios
Preheat oven to 325 degrees.
Heat butter in a medium sauce pan over medium high heat, stirring frequently, until it foams and turns a golden-brown color, about 6-7 minutes.  Pour into a large bowl and let cool to room temperature.
Add the brown sugar, granulated sugar, and vanilla to the butter and, using an electric mixture beat until well combined, about 30 seconds.  Add eggs, one at a time, and beat for a minute until smooth and a creamy light brown color.
Combine flour, baking soda, salt, cinnamon, and coconut in a separate bowl.  Combine the wet and dry ingredients and stir until just combined
Fold in the toffee bits, white chocolate chips, cranberries, and pistachios.
Drop rounded tablespoons of dough onto ungreased non-stick baking sheets 3" apart.
Bake for 12 minutes until edges are browned but centers are still soft.  Let sit for 10 minutes before removing from baking sheets.
DEVOUR!  You will love the flavor and texture of these yummy chewy cookies dotted with Christmas red, green, and white!
Select multiple categories to narrow your search! Want appetizers made with chicken? Just select both Appetizers and Chicken!