OLIVE ROSEMARY SKILLET BREAD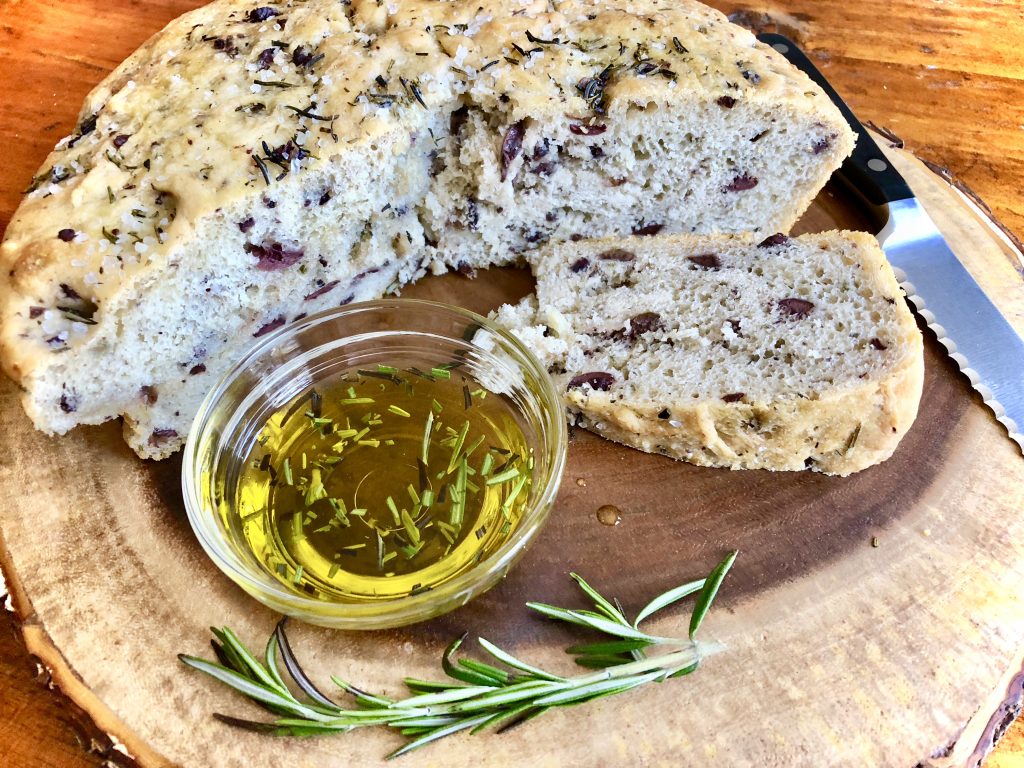 2 cups warm water, 115-120 degrees
1 package active dry yeast
2 teaspoons salt
4 ½ cups flour
1 cup, Kalamata olives, pitted rough chopped and patted dry with a paper towel
3 tablespoons fresh rosemary chopped
2 tablespoons olive oil
1 tablespoon coarse sea salt
In the bowl of a stand mixer, combine water and yeast and let sit for 5 minutes until foamy.  Add 2 cups of flour and put mixer on low until combined.  Add olives and 2 tablespoon of the rosemary and one more cup of flour and mix.  Gradually add remaining flour.  Cover and let rise for 1 hour until doubled in bulk.
Add one tablespoon of the olive oil to a 10" cast iron skillet and spread all over with your fingers.  Keeping the remaining oil on your hands (to avoid dough sticking) turn the dough out of the bowl and into the skillet.  Cover and let rise for 30 minutes.
Preheat oven to 400 degrees.  Brush the top of the dough with olive oil and sprinkle with remaining rosemary and sea salt.
Bake for 30 minutes, until lightly browned.  Remove from oven and turn bread on to a cool rack right away.  The bread should sound hollow when you knock on the bottom with your knuckles.  Let cool slightly and serve warm or cold.
Delicious with good olive oil and hummus!
Select multiple categories to narrow your search! Want appetizers made with chicken? Just select both Appetizers and Chicken!