OVERNIGHT BLUEBERRY FRENCH TOAST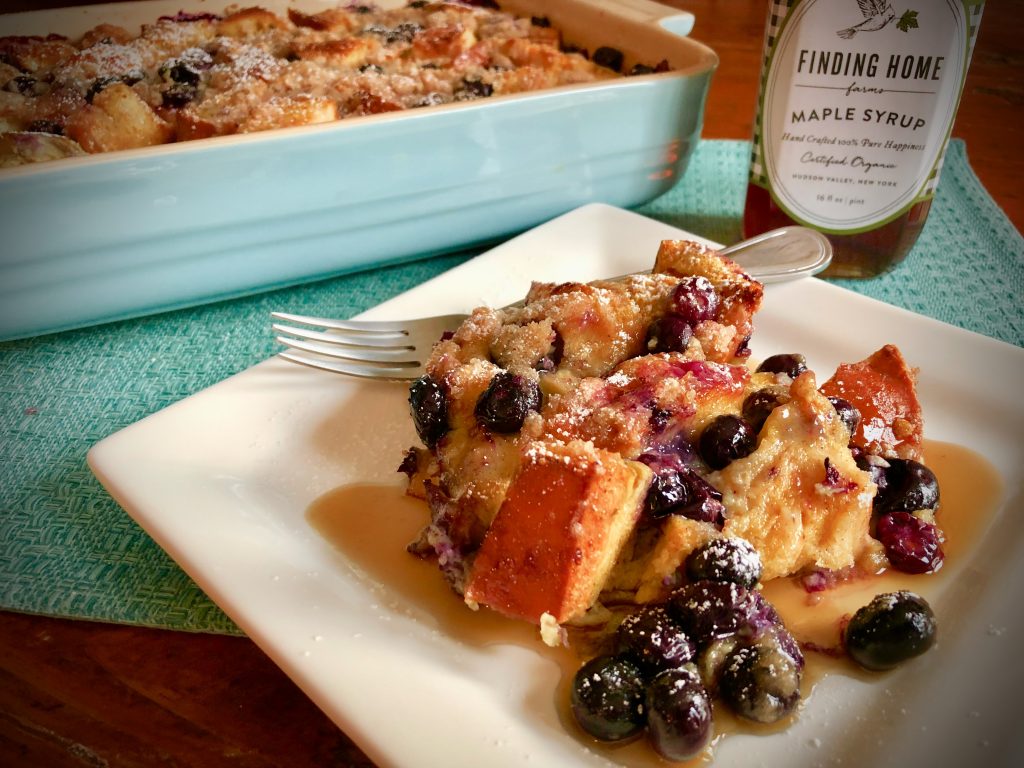 1 loaf Italian bread
1 pint blueberries
8 eggs
1 cup milk
1 cup heavy cream
1 heaping teaspoon cinnamon
1 tablespoon brown sugar
1 teaspoon salt
1 tablespoon vanilla
The Crumb Topping:
½ cup sugar
¼ cup flour
½ teaspoon cinnamon
½ stick butter, chilled and cut into bits
Preheat oven to 350 degrees.  Cut the bread into 2-3" chunks and place on a baking sheet.  Cook the bread in the oven for 10-15 minutes until toasty, but still soft in the center.  Place the toasted bread in a greased 9" x 13" baking dish.  Sprinkle the blueberries over the top.
Whisk the eggs with milk, cream, cinnamon, brown sugar, salt, and vanilla in a large bowl.  Pour evenly over the bread and blueberries, pressing gently to make sure the bread is all immersed in the egg mixture.
In a small bowl combine all of the crumb topping ingredients, using your fingers until mixture resembles coarse meal.  Sprinkle the topping evenly over casserole.  Cover with saran wrap and refrigerate overnight.
Preheat oven to 375 degrees.  Bake for 30 minutes, until beautifully browned and set in the center.  Dust with powdered sugar and serve with maple syrup on the side.
Select multiple categories to narrow your search! Want appetizers made with chicken? Just select both Appetizers and Chicken!