MUSHROOM AND CHICKEN SORT-OF-STROGANOFF PASTA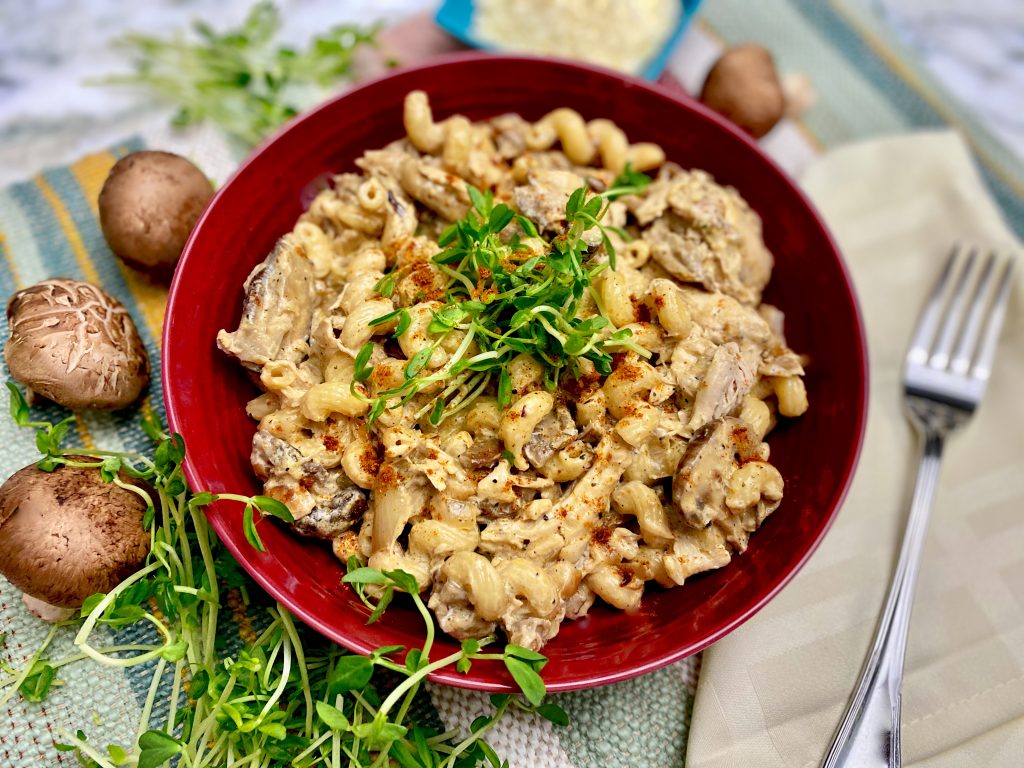 2 tablespoons olive oil
1 large onion, chopped
6 cloves garlic, chopped
1-pound wild mushrooms, sliced or chopped (depending on the type of 'shroom)
1 ½ teaspoons salt
1 ½ teaspoons black pepper
2 teaspoons paprika
1 teaspoon Dish off the Block Ciao Bella Italian Spice Blend
1 tablespoon Worcestershire sauce
1 teaspoon Dijon mustard
¼ cup dry sherry (or dry white wine)
2 cups heavy cream
1 cup sour cream
½ cup grated parmesan cheese
2 cups cooked chicken, shredded into bite size pieces*
1-pound pasta, cooked al dente to package directions
Heat the olive oil in a large deep skillet over medium high heat.  Add the onions and garlic and cook for 2 minutes until soft and fragrant.  Add the mushrooms, salt, pepper, paprika, and Italian seasoning to the pan and cook for 5-7 minutes, stirring frequently until the mushrooms begin to brown and caramelize.
Add the Worcestershire, Dijon, and sherry to the pan and cook for 1 minute, stirring, until the sherry is absorbed.  Add the heavy cream and sour cream, stirring to combine.  Bring to a boil.
Keep the sauce at a low boil and add the chicken and parmesan cheese.  Stir to combine and let cook for 1 more minute.  Toss in your pasta to fully coat.  Serve garnished with parsley (I used pea shoots in the photo, but parsley is easier to find!) and sprinkle with more paprika.
*Note – this dish can easily be made vegetarian by omitting the chicken or switch it up use leftover beef or pork cut into bite size pieces.
Select multiple categories to narrow your search! Want appetizers made with chicken? Just select both Appetizers and Chicken!