PISTACHIO CRUSTED COD OVER BEET HUMMUS PUREE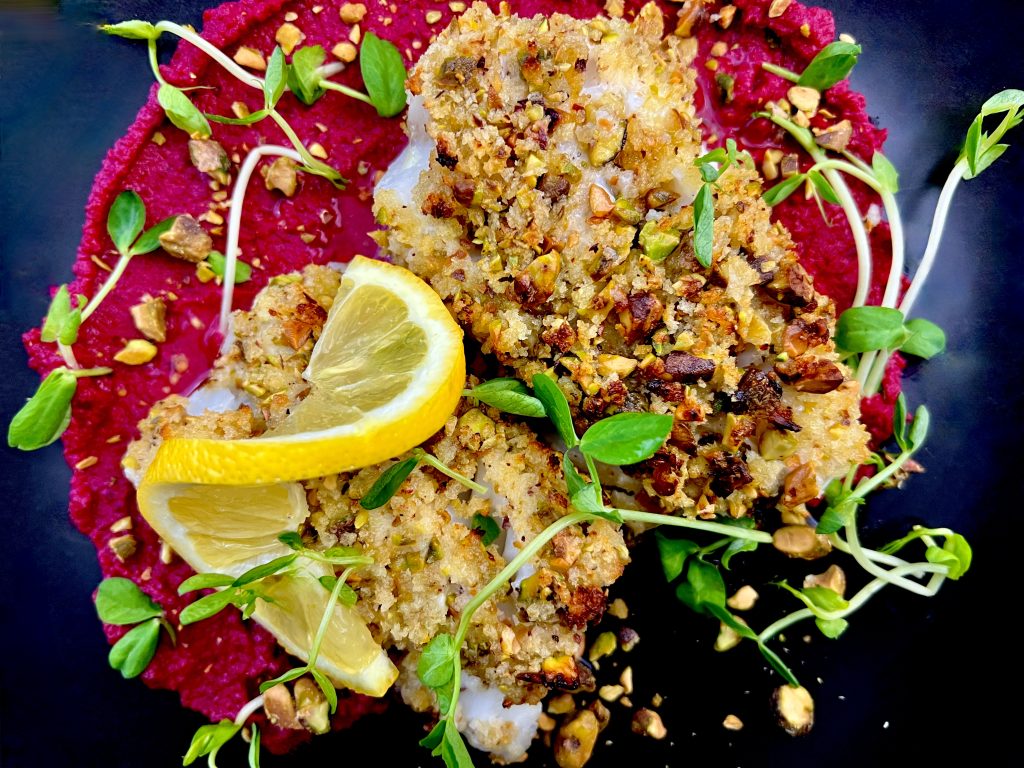 The Hummus Puree:
1 large or 2 small beets (6-7-ounces)
1 large garlic clove, chopped
1, 15.5-ounce can garbanzo beans (chickpeas), drained and rinsed
¼ cup tahini
½ cup olive oil
2 teaspoons Dish off the Block Ciao Bella Italian Spice Blend
½ teaspoon salt
4 tablespoons lemon juice (1 lemon)
½ cup olive oil
The Fish:
2-pounds cod filets, skinned (or other mild white fish or salmon)
½ teaspoon salt
¼ teaspoon black pepper
2 tablespoons mayo
½ cup pistachios, chopped (plus more for garnish)
½ cup panko breadcrumbs
½ cup butter, melted
4 tablespoons lemon juice (1 lemon)
2 tablespoons olive oil
Pea sprouts, chopped parsley, or basil leaves for garnish
Cut the greens off the beet, leaving about 1-2" of the stems attached to the root (reserve the greens for another use).  Place the beet in a large saucepan and cover it with water.  Bring to a boil and cook for 45 minutes to 1 hour until the beet is very tender when pierced with a knife.  Drain and cover with cold water.  When the beet is cool enough to handle rub the skin off under cold running water.  Rough chop and place in the bowl of a food processor along with the remaining hummus ingredients.  Process for 2 minutes until smooth, stopping a couple of times to scrape down the sides with a spatula.  If you like the hummus a little thinner, add a few tablespoons of water until you reach desired thickness.  Set aside until ready to serve.
Preheat oven to 375 degrees.
Line a rimmed baking sheet with foil and spray with non-stick spray.  Place the cod filets on the foil and season them with the salt and pepper.  Spread the mayo evenly over the top of the filets.  This will keep your fish moist and act a glue to hold the pistachio crust on the fish.
Combine the pistachios, panko, melted butter, and lemon juice in a small bowl and mix well until well-combined.  Press an even layer of the crust mixture on top of each filet.  Drizzle the tops with olive oil.
Bake for 15-25 minutes until the crust is golden brown and knife slides easily in and out of the center of each filet.  The fish will flake easily with a fork.  Cook time will vary depending on the thickness of the fish.
Serve the fish over the beet puree and garnish with more chopped pistachios, a slice of lemon, and pea spouts (or chopped parsley or basil).
Select multiple categories to narrow your search! Want appetizers made with chicken? Just select both Appetizers and Chicken!