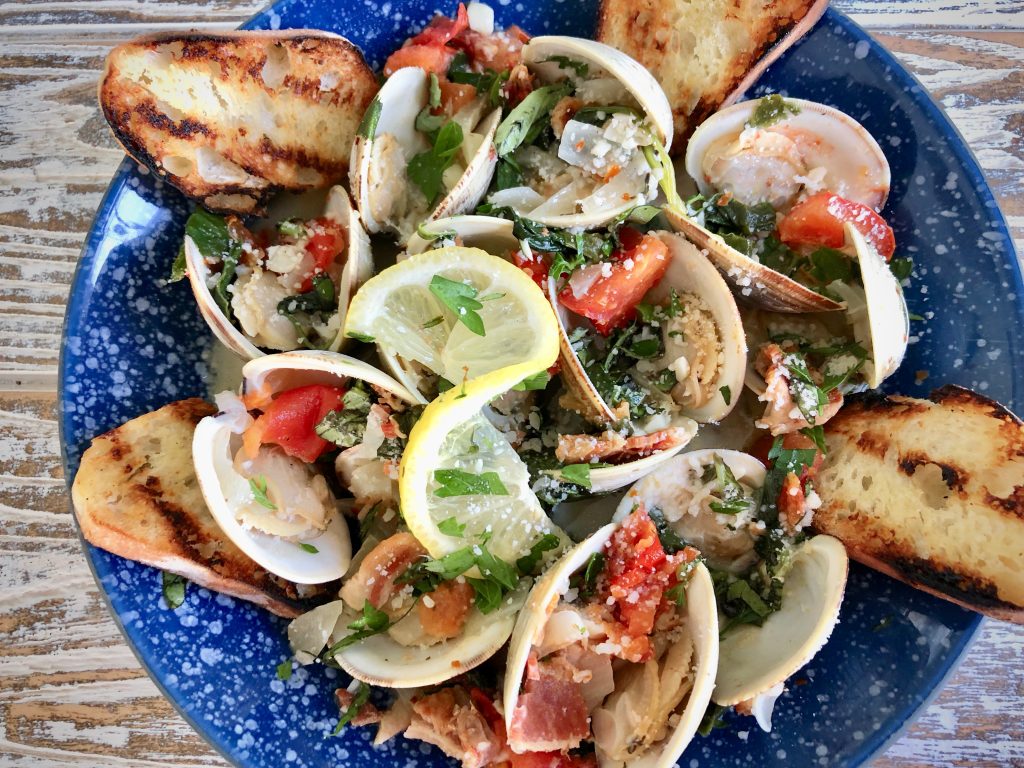 3-pounds fresh littleneck clams
1 large onion, chopped
8 large cloves garlic, peeled and chopped
8-ounces pancetta (or 8 slices of bacon), cooked crisp and chopped
3 large tomatoes, chopped
2 cups baby spinach leaves, packed
1 teaspoon red pepper flake
1 teaspoon salt
1 teaspoon black pepper
1 tablespoon Dish off the Block Ciao Bella Italian Spice Blend
2 cups dry white wine
1 cup heavy cream
⅓ cup olive oil
½ cup grated parmesan cheese
¼ cup fresh basil leaves, chiffonade
¼ cup flat leaf parsley, chopped
1 large French baguette, cut into slices, brushed with olive oil and toasted or grilled
Soak the littlenecks in cold water and lightly scrub the shells to remove any sand or debris.
Place them in a single layer in the bottom of a large deep skillet. Top evenly with layers of the onion, garlic, bacon, tomatoes, spinach, red pepper flake, salt, pepper, and Italian seasoning.
Pour wine evenly over the top, followed by cream and then olive oil.
Cover the pan and bring to a boil over medium high heat.  Let cook for 8-10 minutes or until clams begin to open. Open lid and gently toss to mix.  Cover again and lightly boil for another 5-7 minutes until all of the clams are open.
Ladle out portions into bowls. Be sure to get a good mix of all ingredients and a lot of broth in each bowl. Serve with toasted bread for sopping up the juices… my favorite part!
Select multiple categories to narrow your search! Want appetizers made with chicken? Just select both Appetizers and Chicken!