HOISIN HONEY SALMON OVER SHRIMP AND PAPAYA RICE NOODLES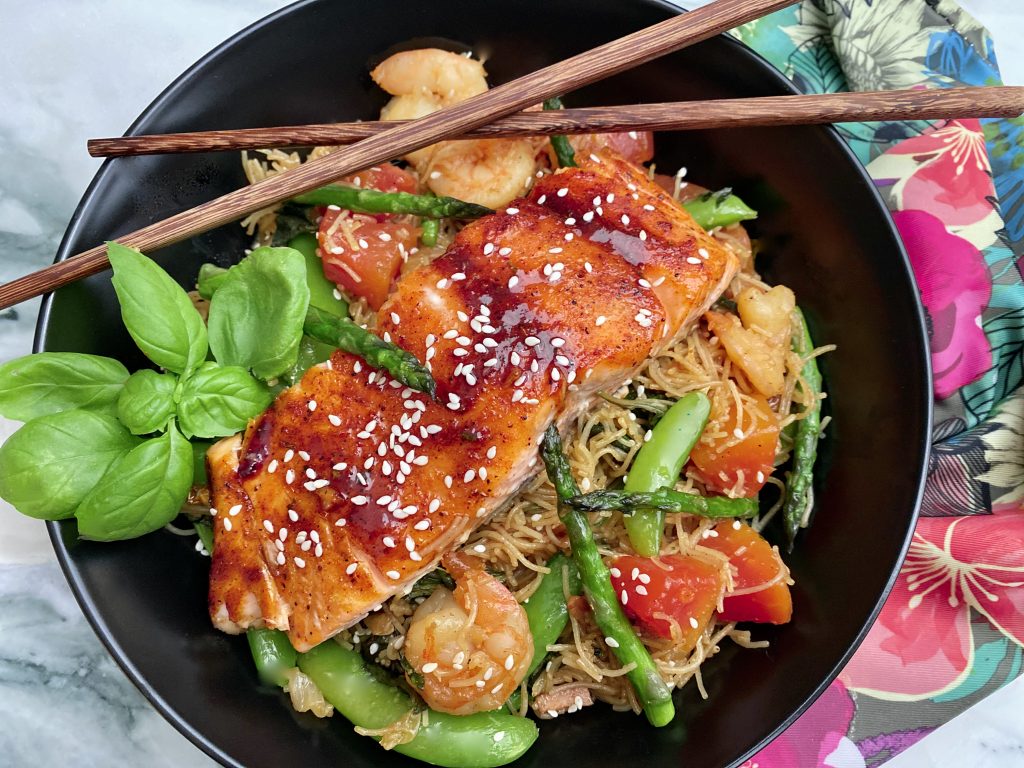 The Salmon:
1 ½ pounds salmon filet
2 teaspoons Dish off the Block Ragin' Cajun Spice Blend
1 tablespoon hoisin sauce
1 tablespoon honey
The Noodles:
2 tablespoons olive oil
1 large onion, chopped
6 garlic cloves, chopped
2 tablespoons fresh ginger root, minced
½ cup SPAM, chopped (or ham or bacon, chopped)
1, 15 ounce can chopped papaya, drained (or 2 cups fresh papaya or mango, chopped)
½ pound small shrimp, peeled and deveined
½ teaspoon salt
½ teaspoon black pepper
1, 8.8 ounce package vermicelli or thin rice noodles
2 cups chicken stock
1 teaspoon sesame oil
2 tablespoons soy sauce
1 tablespoon hoisin sauce
1 tablespoon honey
1 cup pea pods
1 cup asparagus tips, in 3" pieces
½ cup fresh basil leaves, chopped
2 teaspoons sesame seeds
Preheat oven to 425 degrees
Cut your salmon into portion size pieces and place them on a baking sheet lined with foil. Rub the Cajun seasoning all over the tops of the filets.  Whisk the hoisin and honey together in a small bowl and brush it over the tops of the filets.  Place in the oven and cook for 12-14 minutes until a fork slides easily in and out of the center of each piece and the fish flakes with a fork. The center of each piece should be slightly translucent for medium-doneness.  Tent with foil and keep warm until ready to serve.
Heat the olive oil in a large deep skillet over medium high heat and cook the onions, garlic, and ginger until soft and fragrant, stirring frequently, about 4-5 minutes.  Add the SPAM and cook 2 minutes more until it begins to lightly brown.
Add the papaya, shrimp, salt, and pepper to the pan and cook for 2 more minutes.  Add the noodles and chicken stock to the pan and cook, stirring and tossing, until the noodles are softened and most of the liquid is absorbed, about 3 minutes.
Combine the sesame oil, soy sauce, hoisin, and honey in a small bowl and whisk until smooth.  Add to the sauce to the pan along with pea pods, asparagus, and basil.  Continue to cook, tossing to coat everything.  Cook until the pea pods and asparagus are bright green and tender, but still a little crisp, about 3 minutes.
Serve the noodles with all of the goodies in bowls and top with one piece of the salmon.  Sprinkle with sesame seeds and devour!!
Select multiple categories to narrow your search! Want appetizers made with chicken? Just select both Appetizers and Chicken!