HADDOCK WITH PANKO SHRIMP CRUMBS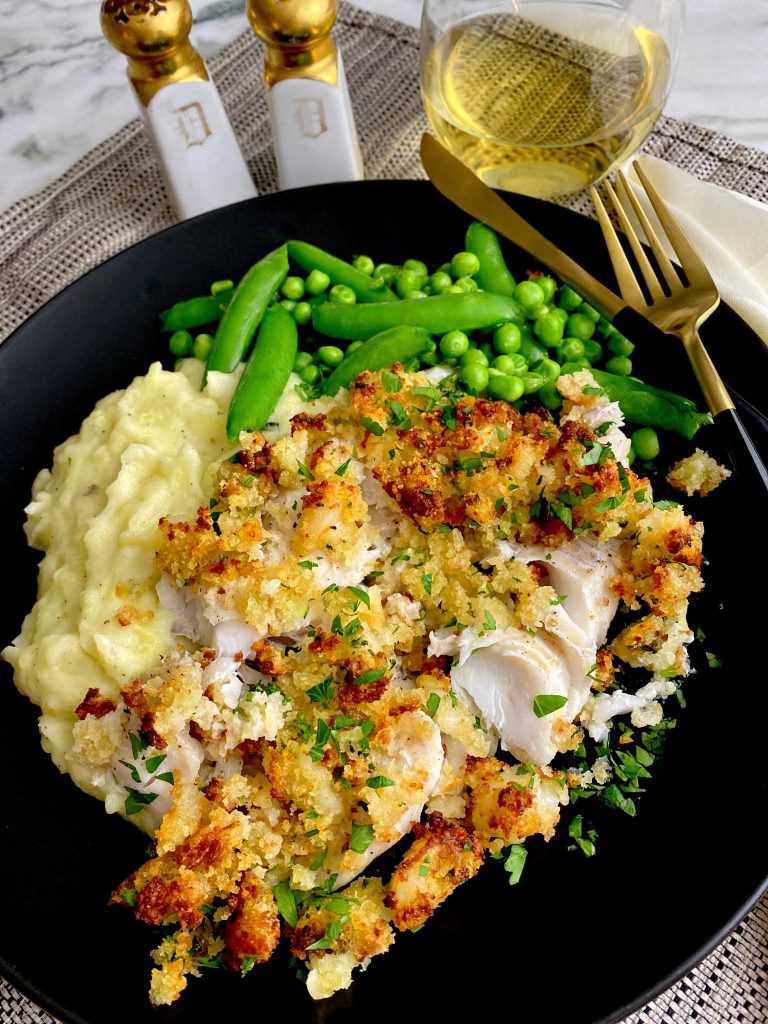 2-pounds haddock filets, skinned (or cod, bass, salmon, etc…)
½ teaspoon salt
¼ teaspoon black pepper
1 stick butter
6 garlic cloves, chopped
½-pound raw shrimp, chopped
2 cups panko breadcrumbs
½ cup parmesan
¼ cup fresh parsley, chopped
1 lemon, cut into wedges
Preheat oven to 375 degrees.
Lay the filets on a foil-lined baking sheet sprayed with non-stick spray.  Season with the salt and pepper.
Melt the butter in a large saucepan and add garlic.  Cook for 1-2 minutes until soft and fragrant.  Add the shrimp and cook for 1 minute more until the shrimp start to turn pink.  The shrimp will not be cooked through and will continue cooking in the oven.  Add the panko, parmesan, and parsley to the pan and stir until the panko is fully coated and begins to lightly brown.
Top the fish with evenly the breading.  Bake for 12-18 minutes until the fish is just cooked through in the center and flakes easily with a fork.  Cooking time will vary depending on the thickness of the filets. Squeeze the lemon wedges all over the fish and serve hot, garnished with more parsley.
Select multiple categories to narrow your search! Want appetizers made with chicken? Just select both Appetizers and Chicken!