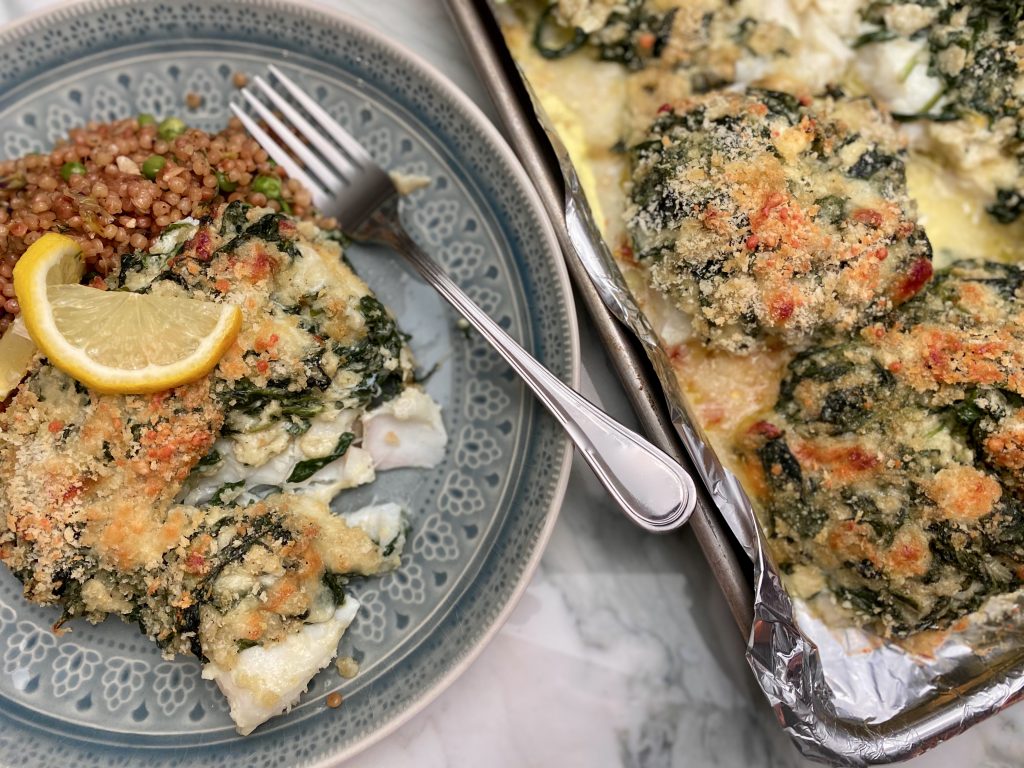 4 tablespoons butter, divided
12 cloves garlic, chopped
1 pound baby spinach leaves
8 ounce bar cream cheese, softened
½ teaspoon salt
½ teaspoon black pepper
1 ¼ cups panko breadcrumbs, divided
1 cup shredded mozzarella cheese
2 – 2 ½ pounds haddock filets
⅓ cup grated parmesan cheese
2 tablespoons olive oil
Melt 4 tablespoons of the butter in a large deep skillet over medium high heat.  Add the garlic and cook, stirring until fragrant, about 1 minute (do not let the garlic burn!).  Add the spinach to the pan and cook, folding the garlic into the leaves until they are just wilted.  Add the cream cheese and cook stirring until combined.  Turn off the heat.
Add the salt, pepper, 1 cup of the panko, and shredded mozzarella to the pan and mix until just combined.
Line a rimmed baking sheet with foil and coat with non-stick spray.  Cut the haddock into portion size pieces and place on the foil.  Top the filets evenly with the spinach mixture.  Sprinkle the remaining panko crumbs on top followed by the parmesan cheese.  Melt the remaining 2 tablespoons of butter and drizzle over the top.
Bake for 20-30 minutes (depending on thickness of the filets) until golden brown and fish flakes easily with a fork in the center of each piece.  Serve with rice, couscous, or really anything… no one will notice the side dish because that fish is so dang delicious!
Select multiple categories to narrow your search! Want appetizers made with chicken? Just select both Appetizers and Chicken!