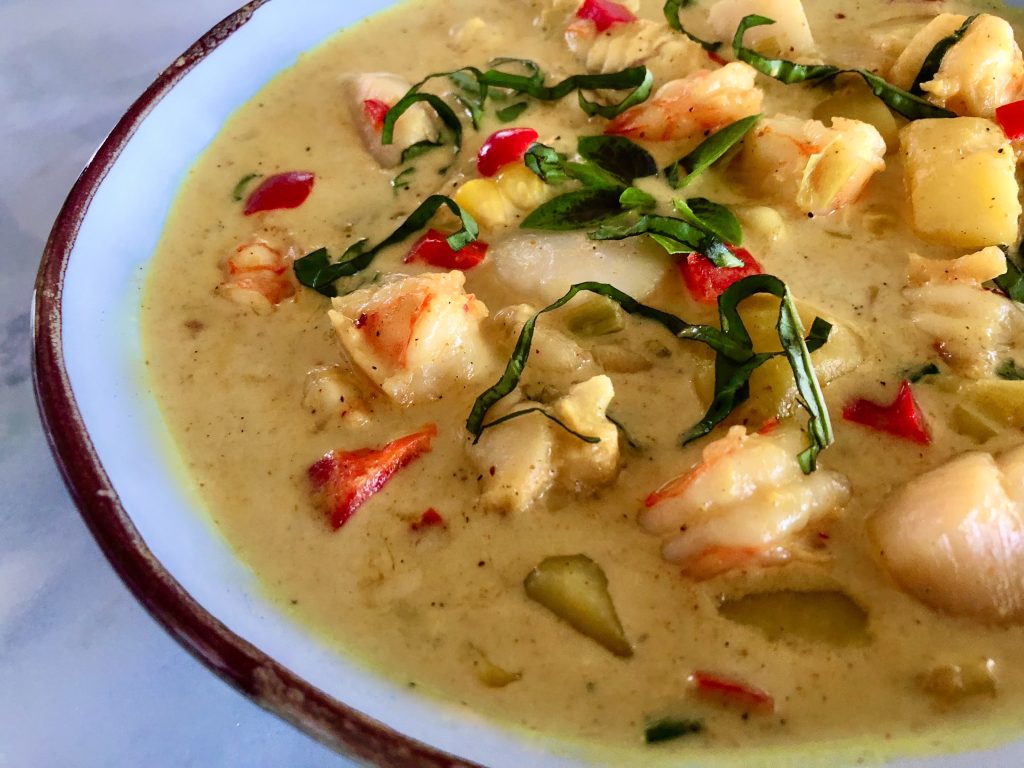 1 stick butter
2 large leeks, chopped white and light green parts
5 cloves garlic, chopped
3 tablespoons curry powder
1 tablespoon flour
1 teaspoon Old Bay seasoning
1 teaspoon red pepper flakes
2 teaspoons black pepper
1 teaspoon salt
2 cups seafood or fish stock
1-quart heavy whipping cream
2.5-pounds Yukon gold potatoes (about 5 large)
1-pound shrimp, shelled and deveined, cut into 1-2" pieces if they are large
1-pound monk fish (or other firm white fish like halibut, haddock, striped bass, etc…), cut into bite size chunks
½-pound sea scallops, cut in half if large
1 red bell pepper, chopped
2 cups frozen corn
1 ½ cups cooked lobster meat, chopped into bite size chunks
½ cup fresh basil, chiffonade (plus more for garnish)
Melt the butter in a large stock pot or Dutch oven (6-8 quart) over medium heat.  Add the leeks and garlic to the pan and sauté until soft and fragrant, about 5 minutes, stirring frequently.  Add the curry, flour, Old Bay, red pepper flakes, black pepper, and salt to the pan and stir to combine, cooking for about 2 minutes.
Add the seafood stock and heavy cream to the pan and bring to a light boil and let cook for 5 minutes, stirring frequently while the liquid begins to thicken.
Peel the potatoes and cut into 1-2" cubes.  Place them in a large saucepan and cover with water.  Bring to a boil and let cook until the potatoes soften but are not completely cooked through.  Drain and set aside.
Add the shrimp, monk fish, and potatoes to the pot and let cook until shrimp turn bright pink about another 5 minutes.  Add the scallops, red pepper, corn, and basil to the pot and continue on low simmer for 15 minutes, stirring frequently.  Stir in the lobster meat just before serving.
Serve hot, garnished with more basil.
Select multiple categories to narrow your search! Want appetizers made with chicken? Just select both Appetizers and Chicken!