ASIAN FUSION PULLED PORK PIZZA PALOOZA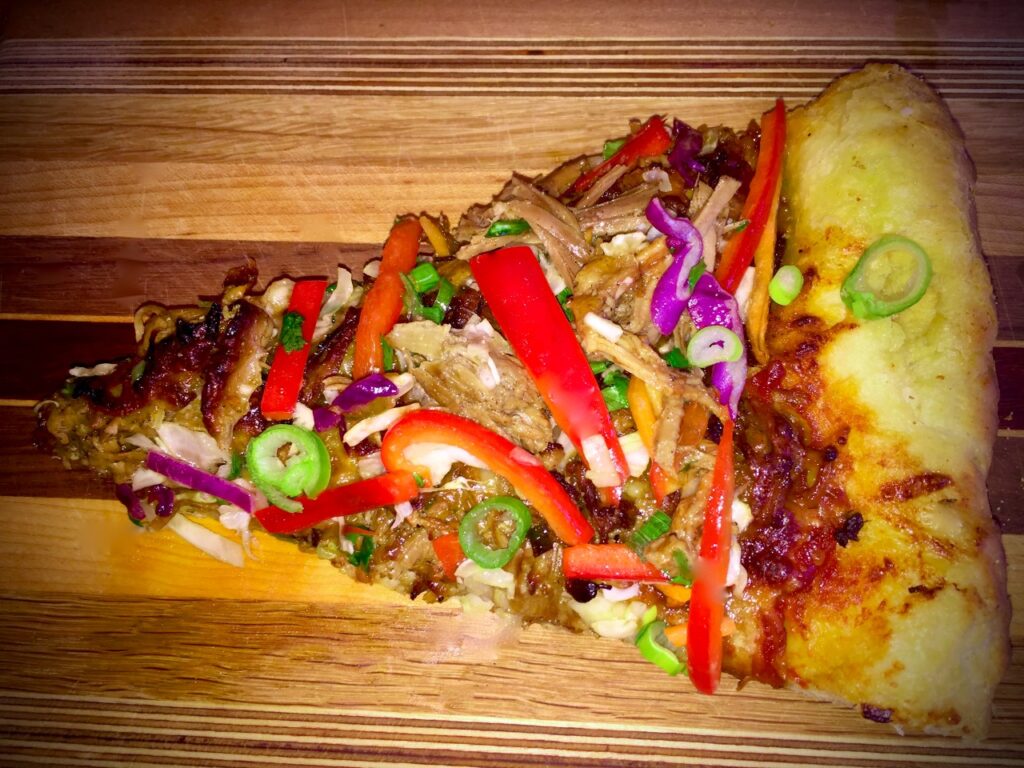 Pizza Dough
2 tablespoons olive oil (plus 2 teaspoons to oil the bowl)
1 tablespoon honey
1 ½ cups warm water (110-115 degrees)
1 packet yeast
2 teaspoons salt
3 ½ – 4 cups flour
Pizza Sauce
1, 14.5 ounce can chopped tomatoes
3 tablespoons. hoisin sauce
3 cloves garlic chopped
1 jalapeño
¼ cup heavy cream
Pulled Pork
1, 7-9 pound whole, bone-in pork shoulder (butt) roast
1 tablespoon salt
1 tablespoon black pepper
2 teaspoons cinnamon
3 tablespoons flour
¼ cup olive oil
1, 2 inch piece of fresh ginger, peeled and thinly sliced
6 garlic cloves, crushed
2 cinnamon sticks
1 large onion, chopped
½ teaspoon crushed red pepper flakes
½ cup packed brown sugar
½ cup sherry
1 bottle of beer
½ cup soy sauce
1 cup orange juice
2 tablespoons hoisin sauce
1 tablespoon honey
¼ cup corn starch
Cheese
1 cup mozzarella, shredded
½ cup Asiago, shredded
Slaw
2 cups cole slaw mix
1 large red pepper cut into matchstick size slivers
½ cup cilantro, chopped
2 scallions, chopped
¼ cup corn oil
¼ cup rice wine vinegar
2 tablespoons sugar
½ teaspoon salt
Pizza Dough
Place olive oil, honey, and water into the bowl of a stand mixer. Mix with a spoon to disolve the honey. Sprinkle the yeast on top of the liquid mixture, stir, and let sit for 5-10 minutes until yeast becomes foamy.
Add salt and 2 ½ cups of the flour. Mix using the dough hook attachment. Gradually add as much of the remaining flour as needed until a ball forms. Empty dough onto a floured countertop and knead for 8-10 minutes until dough is smooth and elastic adding flour as needed if sticky.
Place dough in a greased bowl and cover with a clean kitchen towel. Let rise in a warm spot for 1 hour until doubled in bulk.
Knead dough briefly and divide into 2 equal parts and form balls. Let rest for 30 minutes under a clean kitchen towel. If you are not using both balls, refrigerate each ball in a plastic bag sprayed with cooking spray for up to 5 days.
Pizza Sauce
Place all of the ingredients into a large sauce pan and bring to a boil over medium heat. Let boil until syrupy and reduced by half. Set aside.
Pulled Pork
Preheat oven to 325 degrees.
Trim pork shoulder of the rind and any excess fat. Combine the salt, pepper, cinnamon, and flour and rub all over the pork.
Heat olive oil in an 8 quart Dutch oven over medium-high heat and add pork. Sear pork to brown on all sides and transfer to a plate.
Add ginger, garlic, cinnamon sticks, onion, red pepper flakes to the Dutch oven and saute over medium heat until fragrant and onions are translucent. Add pork back to the pan along with brown sugar, sherry, beer, soy sauce, and orange juice. Add as much water as need to bring the liquid ⅓ of the way up the side of the pork. Bring to a boil.
Cover the Dutch oven and place in the preheated oven. Cook for 3-3 ½ hours until meat is fork tender and falls off the bone, turning meat over once about half way through.
Remove from oven and transfer pork to a platter. Shred the pork with 2 forks and cover with foil to keep warm.
Skim any excess fat from the cooking liquid and pour the broth through a strainer. Add the 2 tablespoons of hoisin and the honey to the broth and bring to a boil.  Mix the corn starch with ½ cup of water and stir into the broth.  Cook, stirring, for 3-5 minutes until sauce thickens and has a silky consistency.  Pour this mixture back over the shredded pork.
Slaw
Mix cole slaw, red pepper, cilantro, and scallions in a large bowl. In a small jar, combine the corn oil, vinegar, sugar and salt.
Shake well to mix. Toss the slaw salad with the dressing and set aside.
Pizza
Preheat oven to 425 degrees Fahrenheit and set rack to the lowest position in your oven. Place pizza stone on the rack to heat (for at least 30 minutes) while you prepare the fixin's!
Roll out the dough into a 14 inch round with slightly thicker edges to form a crust.
Spread the tomato hoisin sauce all over the dough leaving the thicker edges exposed. Top with 1 ½ cups of the pulled pork followed by the shredded cheeses. Brush the exposed crust with olive oil.
Using a peel, transfer the pizza into the oven and onto the heated pizza stone. Bake at 425 for 12-15 minutes until bubbly and the crust is browned.
Remove from oven and top with 1 cup of the slaw mixture
Cut into slices and serve.  Serves 8.
Select multiple categories to narrow your search! Want appetizers made with chicken? Just select both Appetizers and Chicken!