BLACKBERRY GLAZED DUCK BREASTS OVER SWEET POTATO MASH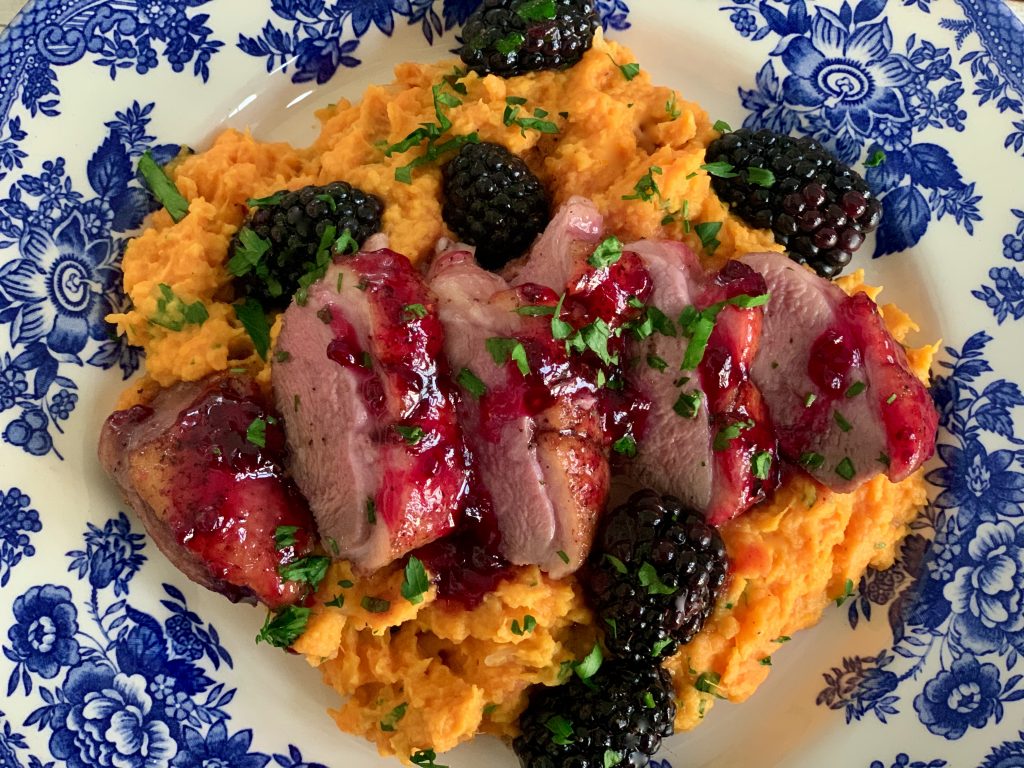 Sweet Potato Mash:
4-pounds sweet potatoes, peeled
1 onion, chopped
1 stick butter
2 teaspoons salt
2 teaspoons black pepper
⅓-½ cup sour cream
Blackberry Glaze:
¾ cup blackberry jam or preserves
¼ teaspoon red pepper flakes
¼ cup blackberry brandy
Glazed Duck:
8, 7-ounce duck breasts
2 teaspoon salt
1 teaspoon black pepper
2 tablespoon olive oil
Garnish:
1 pint fresh blackberries
¼ cup fresh parsley, chopped
Preheat oven to 350 degrees.
Cut the sweet potatoes into large, evenly sized chunks about 3".  Place in a large metal pot with the onions and cover in cold water.  Bring to a boil and cook until the sweet potatoes are very tender when pierced with a fork.  Drain in a colander and place back in the pot.  Add the butter, salt, pepper, and ¼ cup of the sour cream to the pot.  Whip with an electric mixer until smooth, scraping down the sides periodically and slowly adding additional sour cream as needed to create a creamy texture.  Cover and keep warm until ready to plate.
To make the glaze, combine the blackberry jam, red pepper flakes, and blackberry brandy in a large saucepan.  Cook, stirring, over medium heat until the jam melts and begins to bubble up.  Turn off heat and set aside.
Dry the duck breasts thoroughly with paper towels and trim any excess fat, leaving skin intact.  Using a sharp knife, score the skin of the duck breast in parallel diagonal slashes about 1" apart, taking care, not to cut the flesh under the skin.  This will allow the fat to render and create a crispy skin.
Season the duck breasts on both sides with the salt and pepper.  Place the breasts, skin-side down, in a COLD cast iron skillet that has been drizzled with the olive oil.  Turn the heat to medium high and let the breasts cook until the skin is crispy brown and most of the fat has rendered, about 5-7 minutes.  Flip to the flesh side and cook for 2 more minutes. Drain the fat from the pan (reserve the rendered fat for future use).
Transfer the breasts, skin side up, to a 9" x 13" baking dish and place in the oven for 8-10 minutes, until temperature registers 120 degrees.  Brush the glaze (you may need to warm it up to melt again) over the duck breasts and turn to coat and place back in the oven for 5-10 minutes.  When the internal temperature reaches 130 degrees remove from oven.  Cover with foil to keep warm.  Let rest for 10 minutes.
Slice each breast across the grain into medallions and serve over the sweet potato mash and top with extra glaze.  Garnish with fresh blackberries and chopped parsley.
Select multiple categories to narrow your search! Want appetizers made with chicken? Just select both Appetizers and Chicken!