BACON, GREEN PEPPER, AND CLAM STUFFIES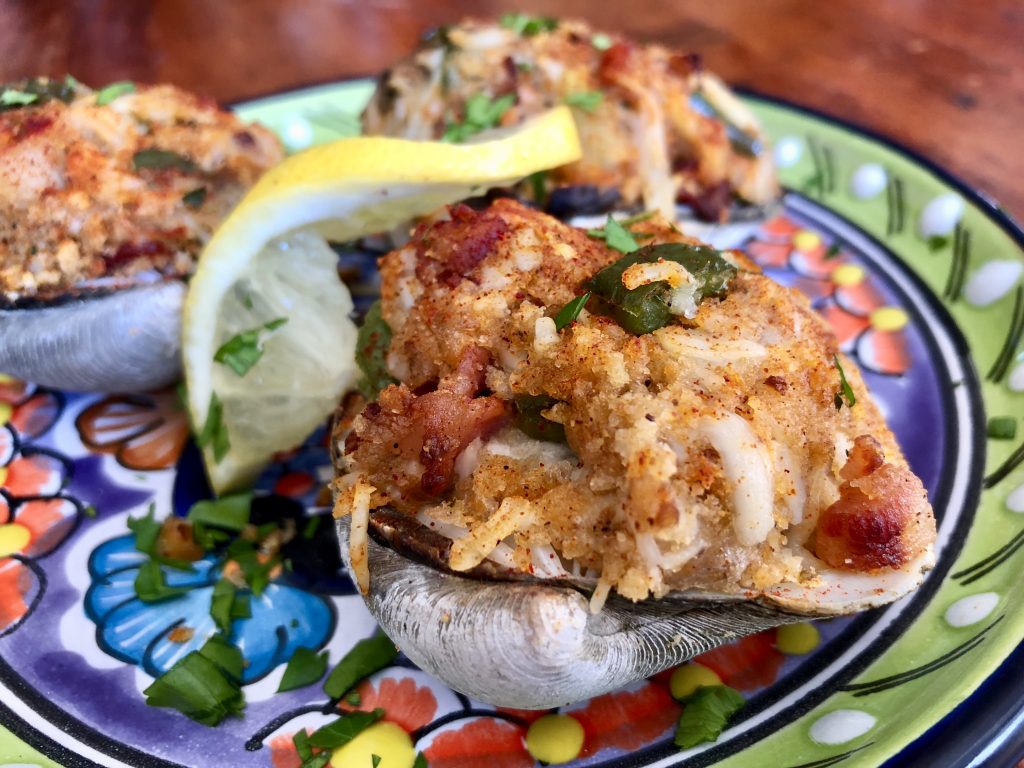 15 cherrystone clams
1 bottle beer
8 slices bacon, chopped
1 large onion, chopped
6 large garlic cloves, chopped
1 large green pepper, chopped
½ teaspoon salt
1 teaspoon black pepper
½ teaspoon red pepper flakes
1 cup Italian flavored breadcrumbs
1 cup panko breadcrumbs
½ cup parmesan cheese
2 cups shredded mozzarella cheese
1 teaspoon paprika
Lemon wedges
Scrub the clam shells under cold, running water with a vegetable brush to remove any sand or debris.  Place the clams in a large frying pan with sides in one layer.  Pour the beer over the clams and cover the pan with a lid.  Place on medium high heat and let steam until the clams all open.  You may need to vent the lid to prevent boiling over.
Remove the clams from the pan.  Strain the broth in the pan through a fine sieve and set aside.  Chop the clam meats into small pieces and place the shells on a foil-lined cookie sheet.
Wipe out any residue in the pan and add the bacon, cooking over medium high heat until bacon begins to brown and crispy.  Add the onions, garlic, green pepper, salt, black pepper, and red pepper flakes to the pan.  Continue cooking for 3-4 minutes until onions and peppers are soft and begin to get brown and lightly caramelize.  Set aside and let cook for 10 minutes.
Stir in the chopped clams, both Italian and panko breadcrumbs, parmesan cheese and mozzarella along with 1 cup of the reserved clam stock.
Fill each clam shell with a mound of the filling and dust the tops with paprika.  Bake at 350 for 20 minutes.  Squeeze lemon juice all over the cooked stuffies and devour!
Select multiple categories to narrow your search! Want appetizers made with chicken? Just select both Appetizers and Chicken!