4 NAPKIN CRANBERRY-ASIAN STICKY RIBS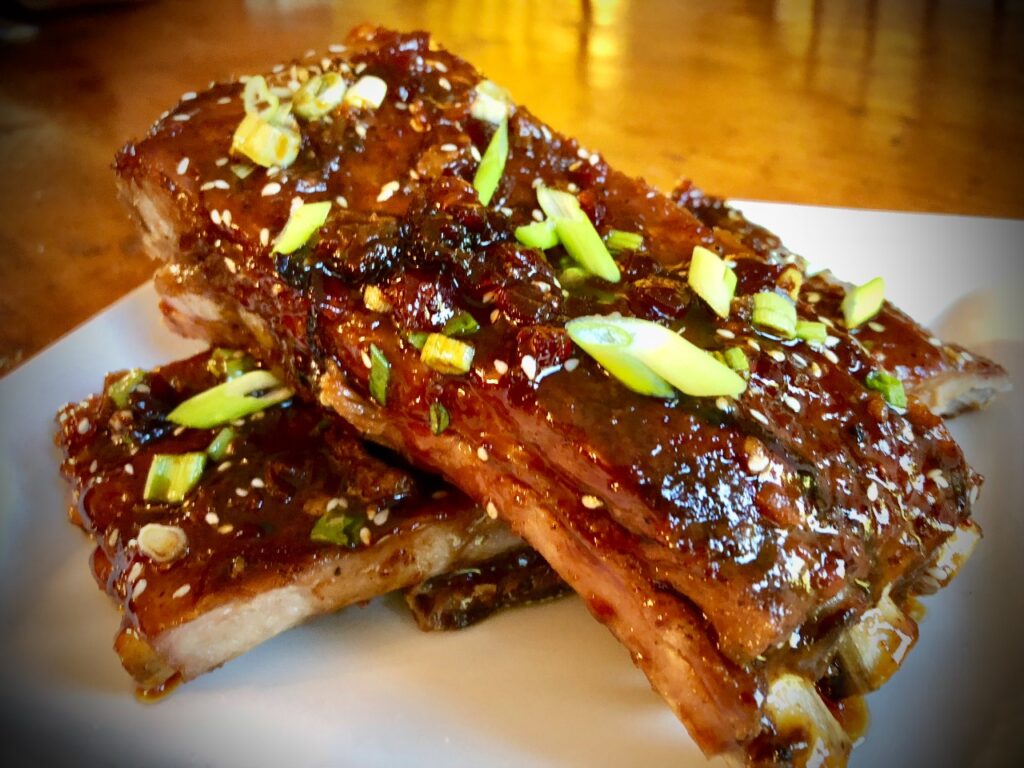 2 tablespoons Dish off the Block Ragin' Cajun Spice Blend
3 tablespoons brown sugar
5-pounds pork belly ribs
1, 8-ounce jar Cape Cod Cranberry Harvest Cranberry Ginger Jelly
1 tablespoon Dijon mustard
2 tablespoons hoisin sauce
¼ cup rice wine vinegar
Combine the Cajun spice blend and brown sugar in a small bowl.  Rub the ribs all over with the spice and sugar mix.  Let marinade for 3 hours or overnight.  Bring to room temperature 30 minutes before cooking.
Preheat oven to 325 degrees.  Place the ribs in a large baking dish, in one layer, and cover tightly with foil.  Bake for 1 ½ hours.
While the ribs are cooking, combine the jelly, Dijon, hoisin, and vinegar in a small saucepan.  Cook for 3 minutes over medium heat, stirring frequently until reduced by ⅓.
Remove ribs from the oven and brush with the sauce, reserving about ½ cup.  Increase the oven temperature to 375 and cook ribs, uncovered, for an additional 30 minutes.
Remove from oven and brush with the remaining sauce.  Garnish with sesame seeds and scallions.
Get your napkins ready – you're going to need at least 4!
DEVOUR!!
Select multiple categories to narrow your search! Want appetizers made with chicken? Just select both Appetizers and Chicken!