After a more than 20 year respite from painting, I sat down in my kitchen this past fall, dusted off my paint brushes, cracked open some brand new tubes of paint, and started a painting of the beautiful Block Island bluffs.
I could not have imagined exactly how cathartic and calming it would be to let my creative juices flow again.  I was recently retired from a company I built from the ground up – OrthoLite.  My first baby, OrthoLite, and absolute passion for 20 years, took me all over the world, experiencing different cultures, learning about business and manufacturing, and at the end owning factories in China, Vietnam, and Indonesia, employing over 1000 people globally, selling over 500 million pairs of insoles per year to companies like Nike, Adidas, Clarks, Timberland, Converse, and many more.
Now, it was time to get back to those passions that I embraced as a younger me, when I had the time.  Painting and cooking topped that list and I couldn't wait to build a new business and life around those passions.  I was starting a cooking and lifestyle blog and painting was a perfect compliment.
After posting some of my paintings on Facebook, I receveid a call from a friend at the Spring Street Gallery (https://www.springstreetgallery.com) January, asking if I would be interested in having a show as a 'guest artist' at the gallery.  Without hesitation, I embraced the thought and the opportunity.
The next 6 months would be filled with acrylic landscapes, oceans, beaches and everything I dreamt about that embodied a Block Island summer.  Each painting reminded me of a song, many from my childhood on the island, so began to create a playlist, naming each painting after the iconic song that played in my head while I painted it.  This would also be how I named each painting and became the the theme of the show "Summer Breeze" – Seals & Croft 1972 (https://www.youtube.com/watch?v=MsW8rXPcnM0) .
The opening was scheduled for July 24th and I had a lot of work to do in preparation.  I had not had a gallery show since the early nineties, freshly out of Syracuse with a degree in Illustration, when I had annual shows at the Ragged Sailor Gallery on Block Island.
As the time neared,  paintings were framed (https://www.facebook.com/noreastframeworks/) and invitations sent…
We hung the show the night before the opening, carefully planning the placement of each painting to create an eye-catching flow.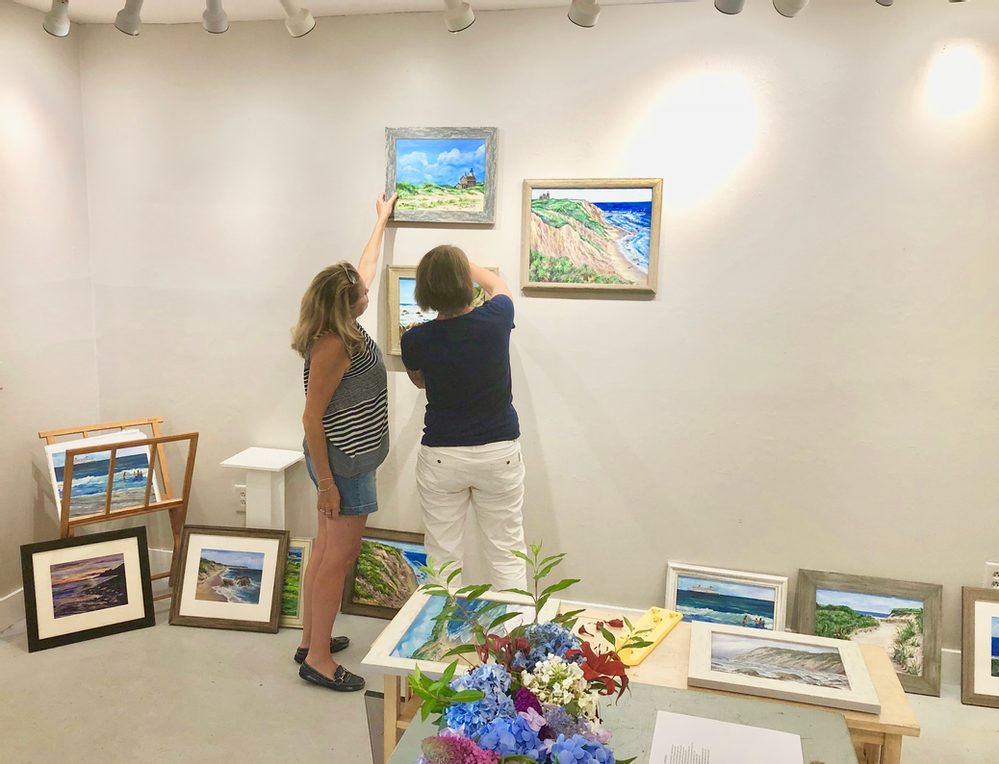 The Block Island Times ran an article announcing the show and we were ready to go!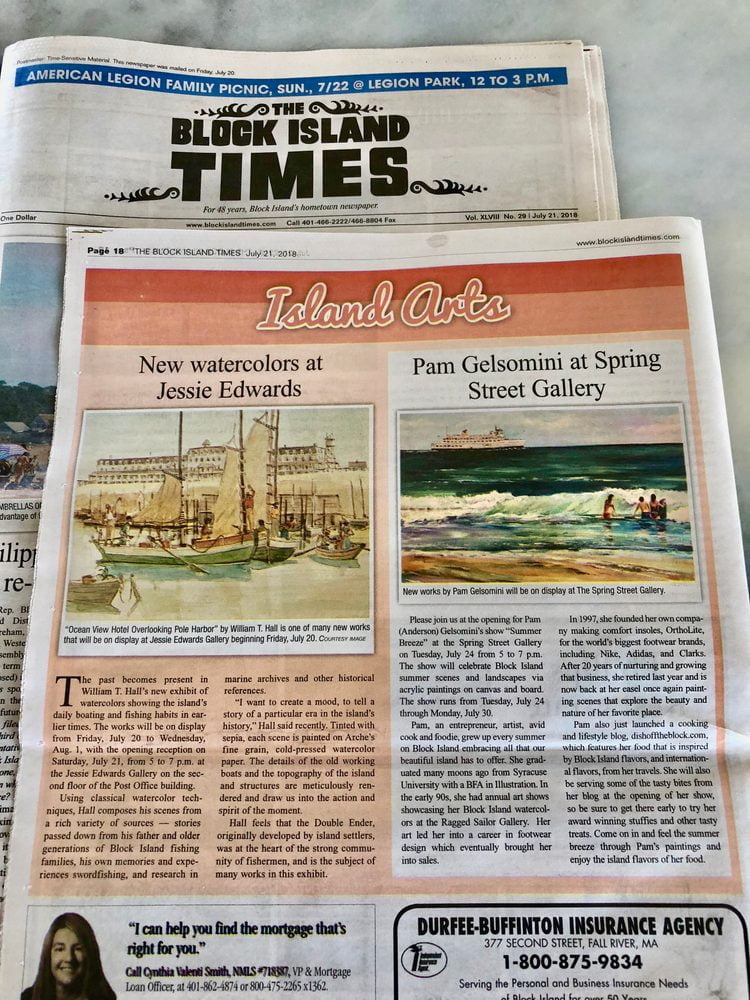 The last detail, was the menu for the opening.  I had some press in the Block Island paper about Dish Off the Block (dishofftheblock.com), so the food would be a draw and people would be expecting some good eats!  I landed on several items that were small and could be easily noshed with a glass of wine in one hand walking around the gallery.  The menu included my award Stuffies (mini version), Shrimp Cocktail Bruschetta, Spicy Grilled Corn Dip (always a crowd pleaser), Zucchini Triangles, and Gelsomini Bruschetta (one of my first prize winning recipes many moons ago)!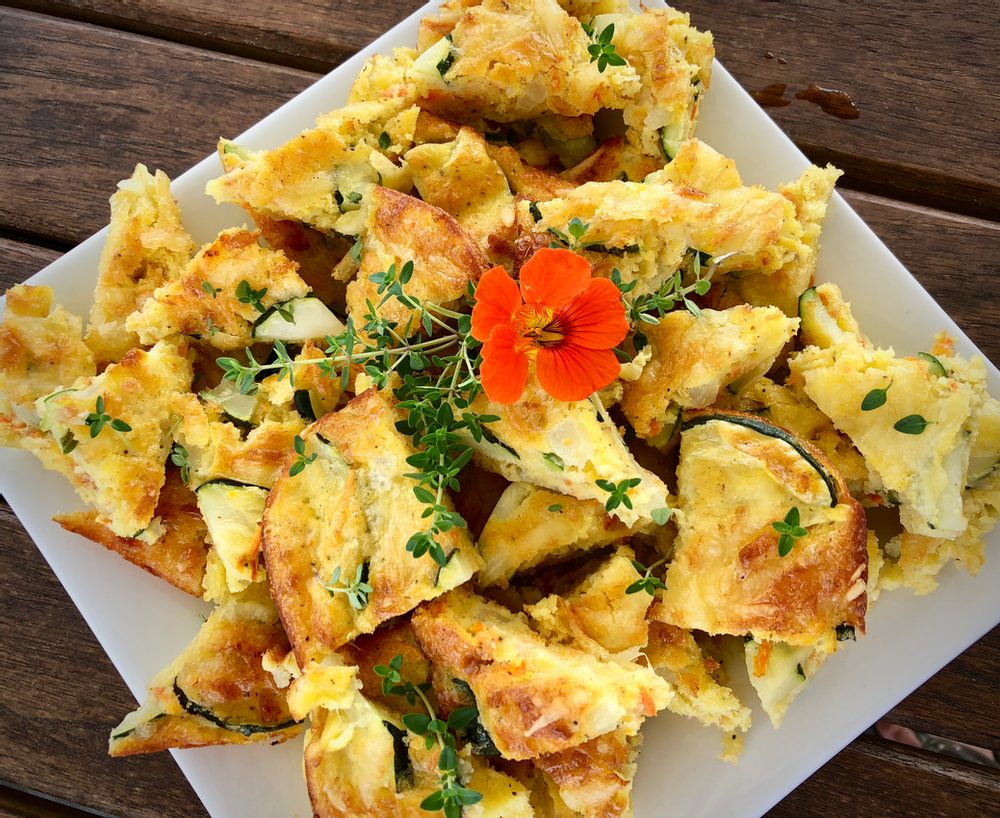 The big night finally arrived and I had an amazing turnout.  It was a gorgeous evening and everyone casually perused the show and enjoyed a glass of wine and some delicious bites.  Months of hard work turned into a lovely, successful evening with friends, family, and strangers alike.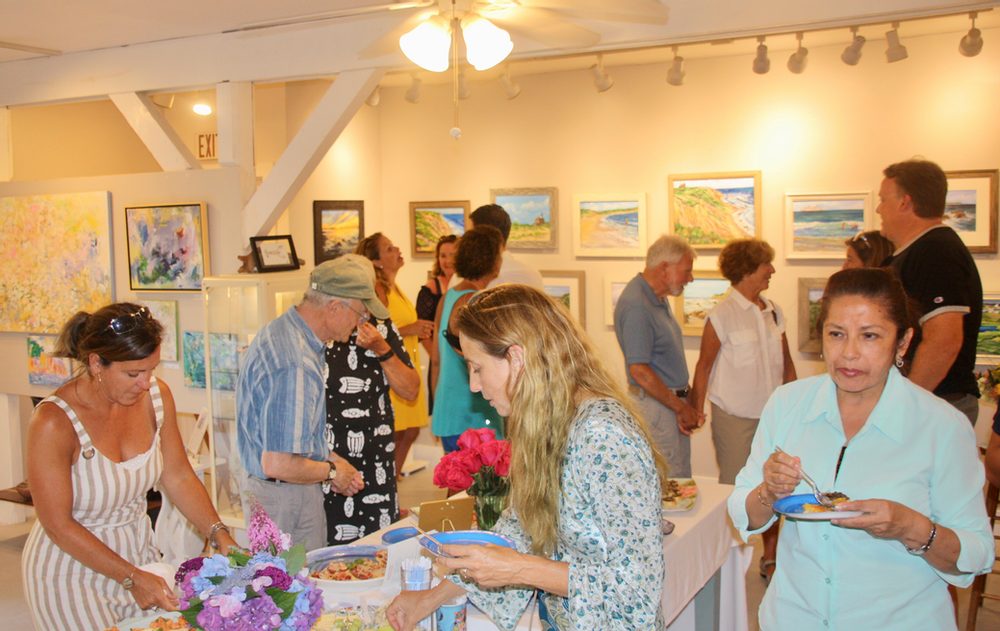 So ,just in case you missed it, here are the paintings…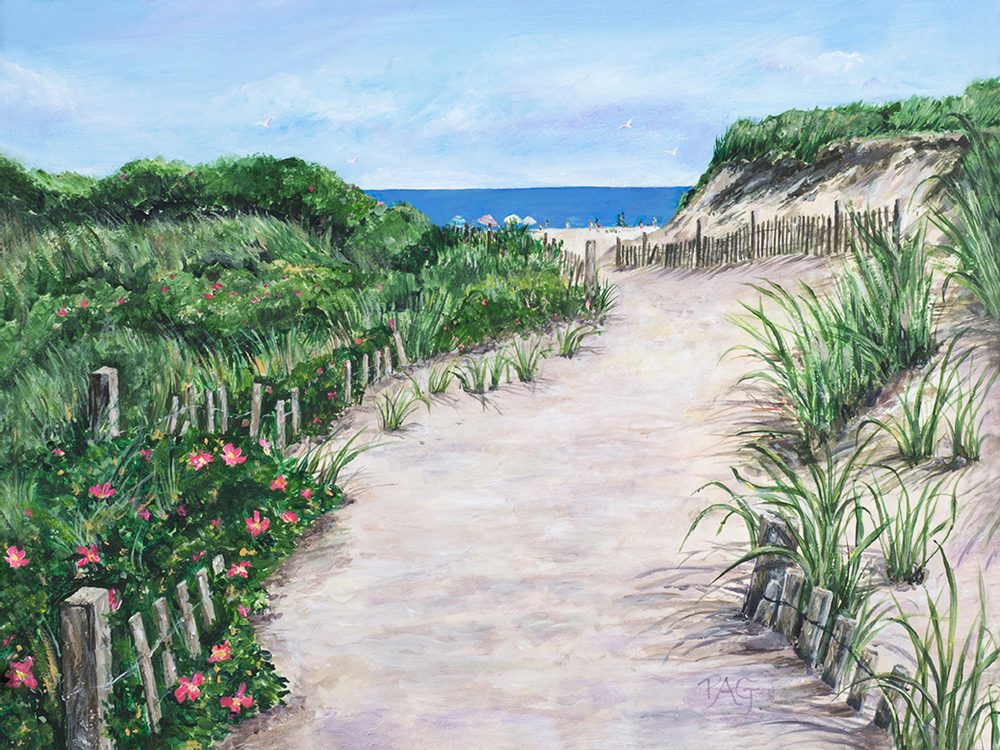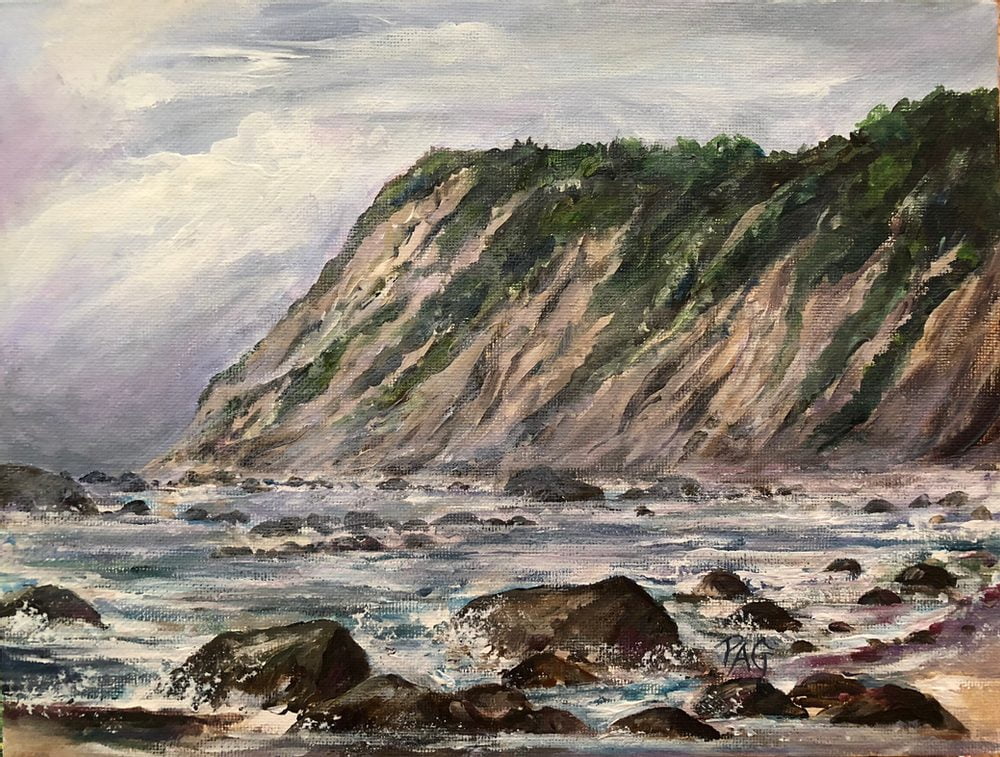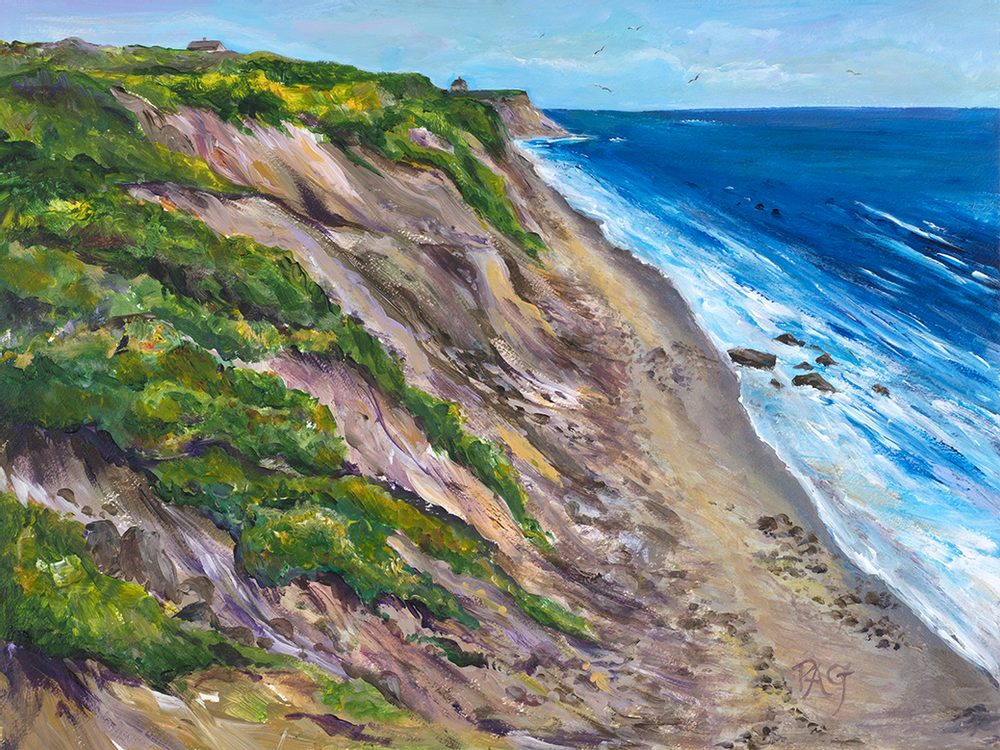 So now, I ponder what to paint next and what to cook next… As you can see the food was as much a hit as the paintings…