Since the launch of DOB this year, I have had so much cool feedback and, most recently, lots of people asking… "Do you have any great Thanksgiving recipes?". Well, of course I do! Scroll down for a delicious bevy of Turkey Day treats! Spoiler alert… you may want to break out the spandex before you get started!!
I don't make and abundance of appetizers on Thanksgiving since we are preparing for a BIG meal and don't want to fill up but this simple dip has been on the table at virtually every holiday of my life (that's a lot of holidays)! My grandmother, affectionately called Becky, put this unassuming, but addicting dip on the appetizer menu every year. It takes 2 minutes to throw together and will be gobbled up in just about the same amount of time.
Spinach balls are a classic old recipe and a great 'small bite' … and the best thing about these apps, besides the flavor, is that you can make them weeks in advance. Just follow the recipe and then freeze them (on cookie sheets first, then put in ziplock bags), and just pop them in the oven on Thanksgiving Day!
This treat along with the clam dip, a cheese platter, and some chilled cocktail shrimp are the perfect kick off to your Thanksgiving feast.
THE TURKEY! The star of the show!! I highly recommend you brine your turkey. This can be done a couple of days in advance and will yield a very JUICY BIRD! If you are making a big bird in the 20-23 pound range, I find the best container to use for brining is a storage tub like you can buy at Target or Walmart. You will want a tub just a little bigger than your bird, with a cover. If you live in New England the temp is 40 or lower outside, you can store your turkey there. Otherwise you will need to refrigerate so make room! You won't regret this step!
When you are ready to cook, place fresh sage leaves under the skin of the bird for umami goodness in the breast meat. Liberally season with salt and pepper and baste every 30 minutes for a golden bird! I like to cook the stuffing in the bird with apples, sage, thyme, celery, onion and dried cranberries.
THE PERFECT PAN GRAVY! Watch below to see the foolproof way to make a gravy with no lumps!! The trick – a slurry! Check it out:
THE STUFFING! Best Supporting Actor!! I usually make 2 stuffings. One goes inside the bird and has traditional elements like onion, celery, apples, and raisins. The other is usually something with a twist. This Oysters Rockefeller Stuffing is one I created a couple of years ago. My father grew up with oyster stuffing every Thanksgiving so this pays homage to that tradition, but with an added twist! Your guests will love it!
THE SIDES! This ain't your grandma's green bean casserole. This recipe puts the old holiday classic on steroids. You will LOVE this dish and your guests will groan over the rich sauce, crispy onions, and fresh, slightly crisp haricot vert (impress your guests and use this fancy word for green beans)!
THE SQUASH! This recipe will 'squash' any preconceived thoughts on how good winter squash can taste. This savory dish is super easy to make and super yummy to eat! It's not just for Thanksgiving any more, folks…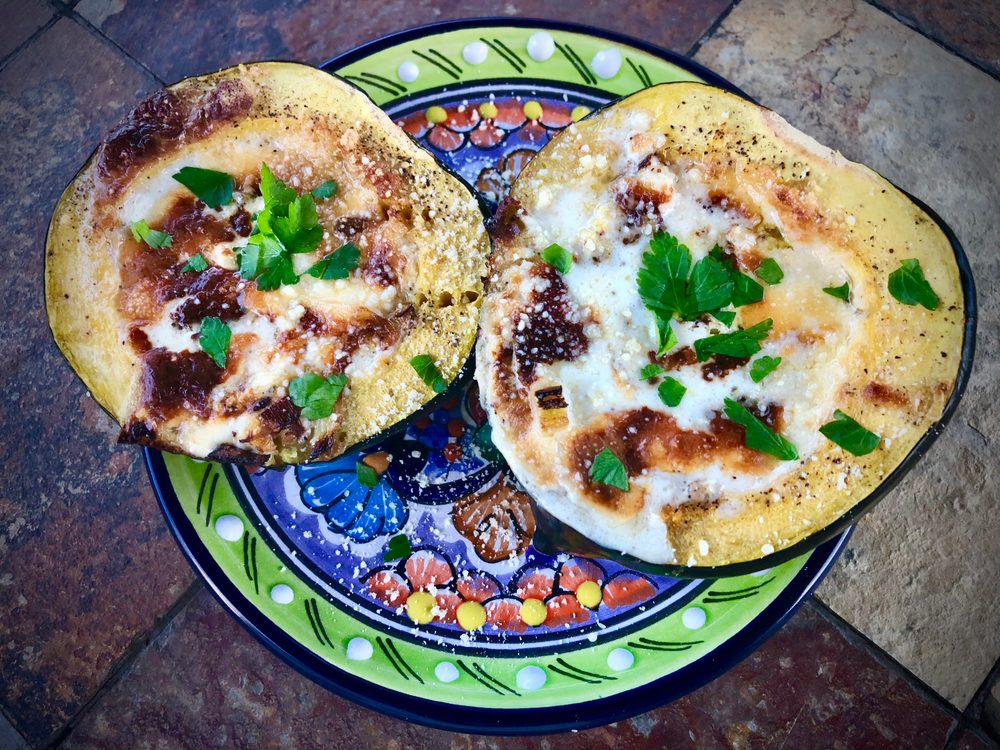 THE MASHED POTATOES!! To me, this is the most important dish of the day. When people ask me what would I request for my last meal?… First and foremost are my grandmother, Becky's, mashed potatoes. The secret? Chop one onion and boil with the potatoes! No one will know why they taste so good as the onions melt into the potatoes when you whip them, but OH MAN THEY ARE GOOD!! Use Yukon gold… cook until fork tender, add 1 stick cold butter for 5 pounds of potatoes, salt and pepper… Slowly add milk as you whip with electric beaters. Try not to eat them all as you 'test for seasoning'….. Dare you!
THE SALAD! This salad POPS with flavor and brings Brussel sprouts to a whole new dimension! Shaved sprouts, apple, fennel, dried cranberries, candied nuts, and goat cheese dance in a luscious honey mustard viniagrette and add a bright note to heavy meal (and don't tell anyone, but it's really good for you too)!
THE PIE!! Need I say more? IF you have room and followed the instructions at the beginning of this blog – you are wearing spandex – you will not be able to resist this classic Thanksgiving closer! Have it ala mode or the 'old Yankee' way with a slice of cheddar cheese!
THE WINE!! Thanksgiving dinner can be heavy and the wine should be light and somewhat acidic to cut through the rich gravy and rich hearty sides. Because turkey has both dark and light meat, you can go with a white, such as a pinot gris, or a light red, such as pinot noir. Rosé is all the rage and also pairs beautifully with this holiday meal. These are 3 of my favorites and will not disappoint. Don't be afraid to serve the rosé or pinot gris with your appetizers and move on to the pinot noir with dinner.
THE FAMILY…