GREEN BEAN CASSEROLE WITH MUSHROOM SHERRY CREAM SAUCE AND FRIED ONIONS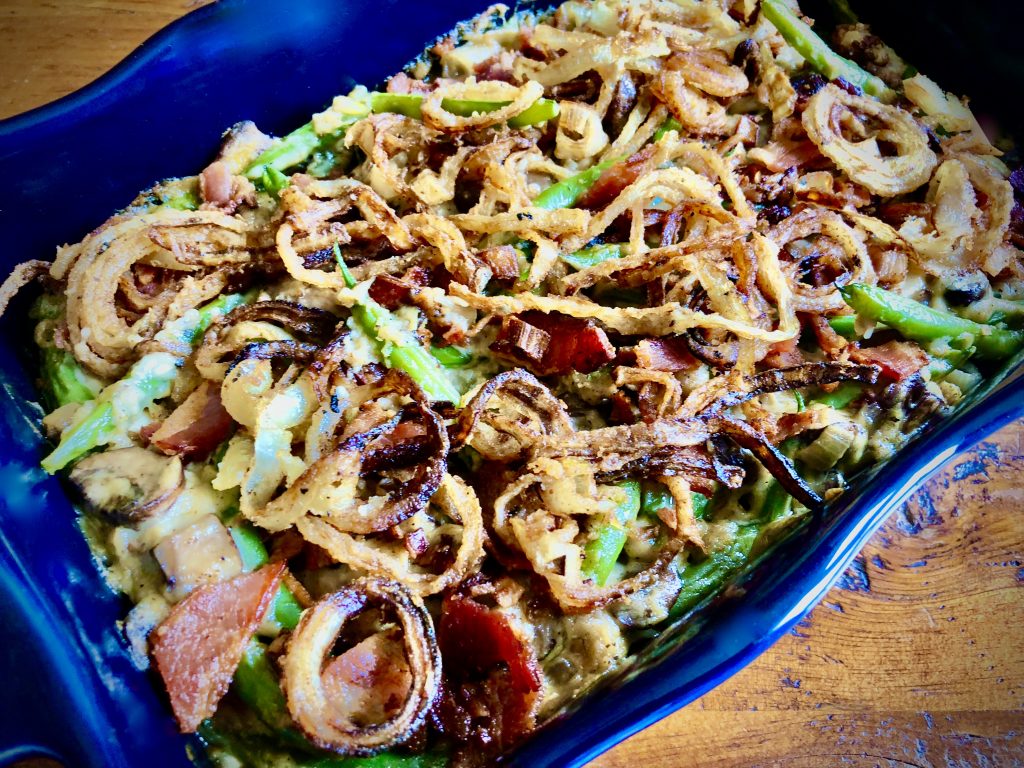 2 pounds fresh green beans, trimmed
½ pound bacon, sliced
1 stick of butter
1 medium onion, chopped
6 large garlic cloves, chopped
1 pound mushrooms, sliced (button, wild, or any combination thereof – I love shitakes)
½ cup sherry
¼ cup flour
1 cup chicken stock
1 cup heavy whipping cream
1 teaspoon salt
1 teaspoon black pepper
vegetable oil for frying
1 large onion
¾ cup flour
1 tablespoon garlic powder
Bring a large pot of salted water to a boil and add green beans. Blanch for 3-4 minutes and drain. Place in a bowl of ice water to stop the cooking process. Drain when cool and set aside.
In a large skillet, cook the bacon until just crisp. Let cool on paper towels and chop into small pieces and set aside. Drain all but 2 tablespoon of the bacon grease from the pan.  Add the stick of butter to bacon grease and sauté the onion and garlic over medium heat until soft and fragrant. Add the mushrooms to the skillet and cook until they release their juices and start to lightly brown, about 10 minutes. Add the sherry to the pan and cook for 5 minutes more.
Add the flour to the skillet and mix until combined, creating a roux. Let cook 2 minutes more and then whisk in the chicken stock until smooth, followed by the heavy cream. Season with the salt and pepper.  Cook until the sauce is a thick creamy consistency, about 4-5 minutes, stirring frequently.
Heat 1" of vegetable oil in a large Dutch oven to 325 degrees.
To assemble the casserole, butter a 9" x 13" casserole and place ⅓ of the green beans in the bottom of the dish. Mix the remaining green beans with the mushroom sauce and place in the casserole. Sprinkle with chopped bacon. Bake at 350 for 20-30 minutes until bubbly.
While the casserole bakes, slice the onion in thin rings. Combine the flour and garlic powder in a large ziplock back. Add onions (broken into rings) and shake to coat. Fry the onions in batches until light brown and crispy, about 5-7 minutes per batch. Season with salt right out of fryer and set aside. (Try not to eat them all while the casserole is baking like I do!  Note – the crispy onions can also be made in advance).
Remove the casserole from the oven and top with the fried onions. Bake for 5-10 minutes more.  Note – you don't want the onions to get over browned, just hot and crispy!
Select multiple categories to narrow your search! Want appetizers made with chicken? Just select both Appetizers and Chicken!