Scrolling through Facebook one evening, my eye caught an event called 'Savor' to be held at the Newport Vineyards https://www.newportvineyards.com . Culinary icon and legendary chef, Jacques Pépin, would be hosting an evening which included a 5-course meal prepared by celebrity chefs and paired with the finest wines. The event would raise money for The Jacques Pépin Foundation and The Rhode Island Community Food Bank. The prospect of meeting Jacques Pépin, whom I starting watching on TV as a young girl years ago and who very much inspired my passion for cooking, was beyond exciting. In addition, noshing on a meal created by chefs like Ming Tsai, Rick Moonen, Jeremy Sewall, and Sarah Moulten was a foodie dream come true.
Another draw was that the causes supported by funds raised on this magical evening were genuinely inspiring. The Jacques Pépin Foundation https://jp.foundation is committed to transforming lives through culinary education. Millions of people are unemployed with no skill set with which to enter the workforce. The JP Foundation teaches these skills and creates opportunities for people from all backgrounds. They provide culinary training through community based organizations like the Rhode Island Community Food Bank https://www.rifoodbank.org/ . Their program, Community Kitchen, is a full-time, 14-week unpaid culinary job-training program for low-income and unemployed adults in its 20th year. Each class trains students in cooking skills, food safety, and the life skills needed to acquire and retain a job. More than 80 percent of students graduating secure employment in the food and hospitality industry within a year or less of graduation.
So, my friend Tracy and I headed to Newport on June 7th. The weather was perfect and we were excited to see where the evening would take us. About 200 guests mingled in and around the patio with beautiful views of the vineyard and vines.
(A few photos follow to give you the feel of the evening!)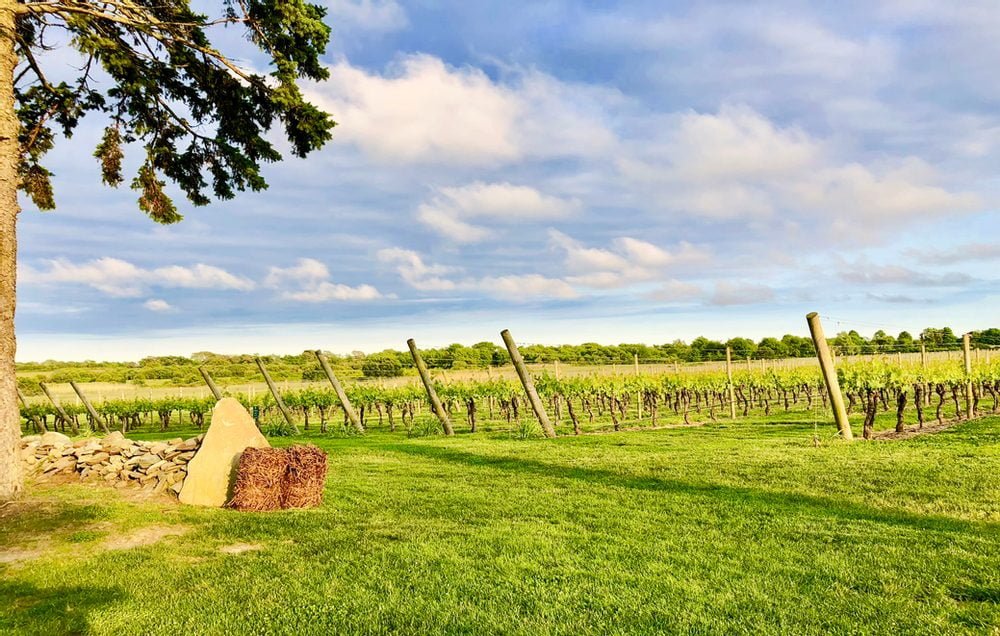 We sipped Prosecco and noshed on passed appetizers including an incredible beef tartar on rye bread. Jacques Pépin, dapper in a colorful bowtie, greeted the guests and I had my first opportunity to meet him!
We headed into dinner with great excitement for the meal ahead. Jacques, also a renowned painter, made a whimsical painting of the menu which was beautifully displayed as we entered the dining room.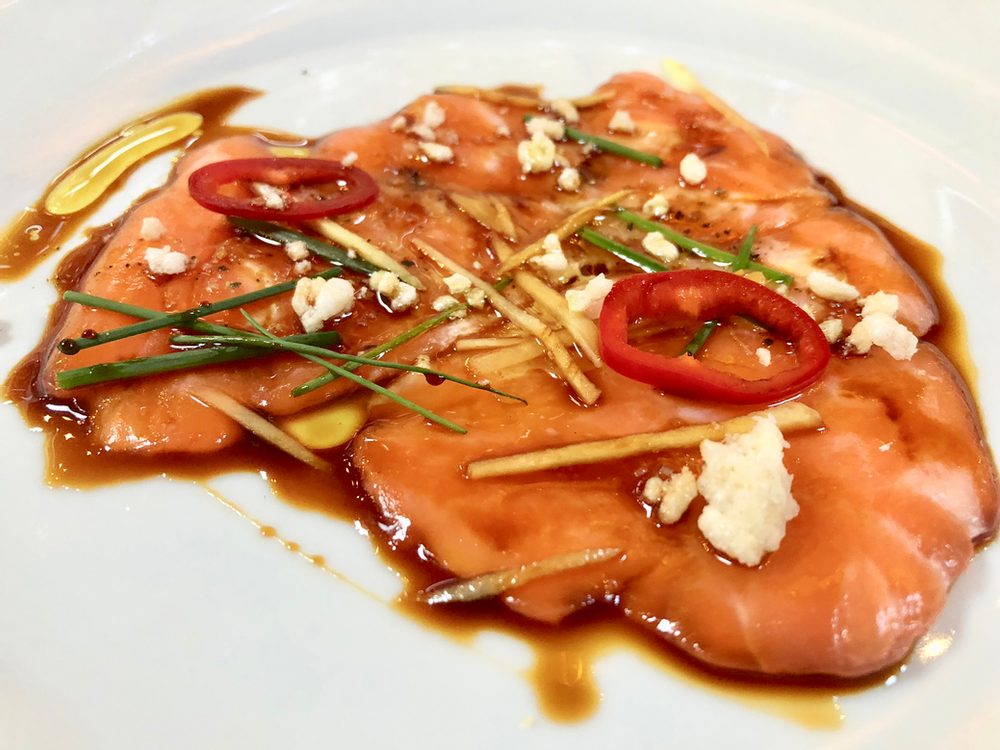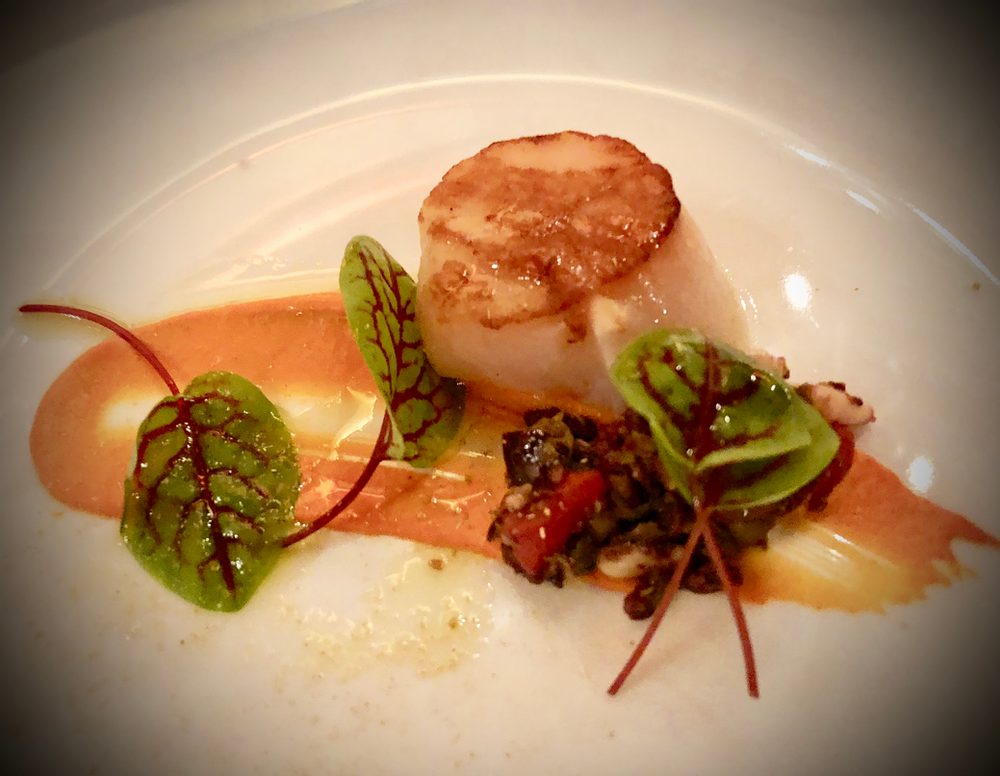 Simply Ming
During the meal service there was a live auction. I already knew the prize I wanted! Myself and a guest would attend a taping of Chef Ming Tsai's show, Simply Ming http://www.pbs.org/food/shows/simply-ming/ , where Jacques would be his guest. I came out of the gate strong and after some back and forth with Ming himself, I took home the prize, but not before Ming threw in dinner after the taping with he and Jacques at his restaurant Blue Dragon https://www.bluedragonbos.com/ in Boston's South End.
Fast forward to the following Monday, and we were headed into Boston to the taping. I was so excited for this day. We were guided to the studio by Ming's assistant which was the penthouse floor of a building in South Boston with gorgeous views of the city. Staffers from Johnson and Wales bustled about preparing the food and equipment for the taping so that everything would be at arm's reach for Ming and Jacques. Camera men took still shots and set up their lighting and the director worked with Ming to line up how the shoot would go. We had the pleasure of meeting Tom Hopkins, who is Jacques photographer and friend for over 35 years.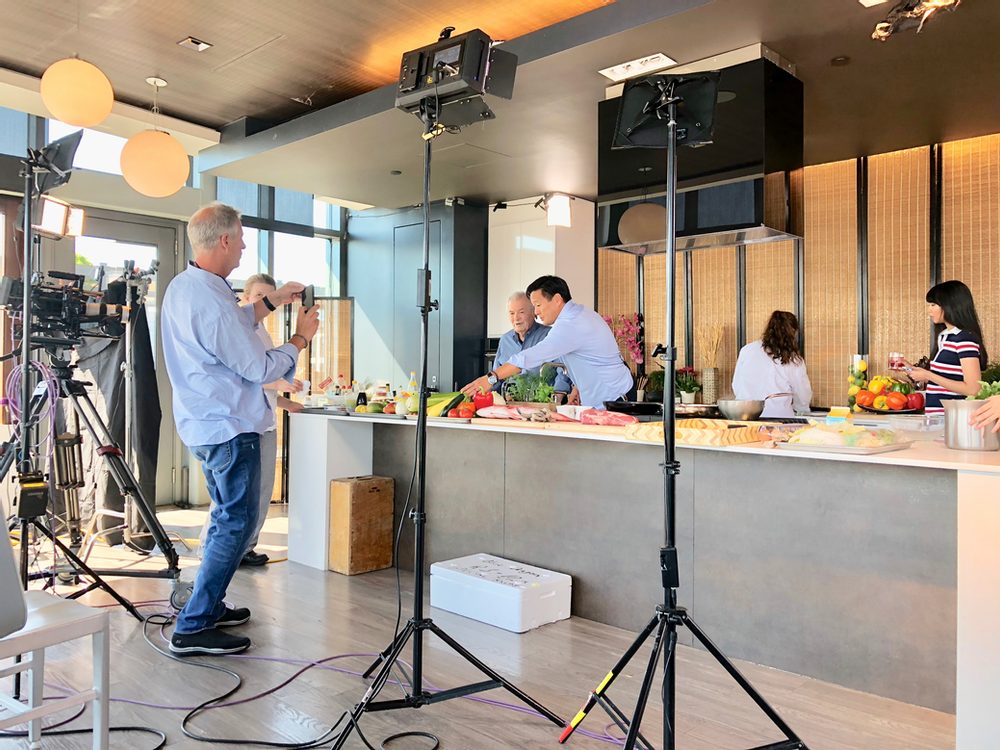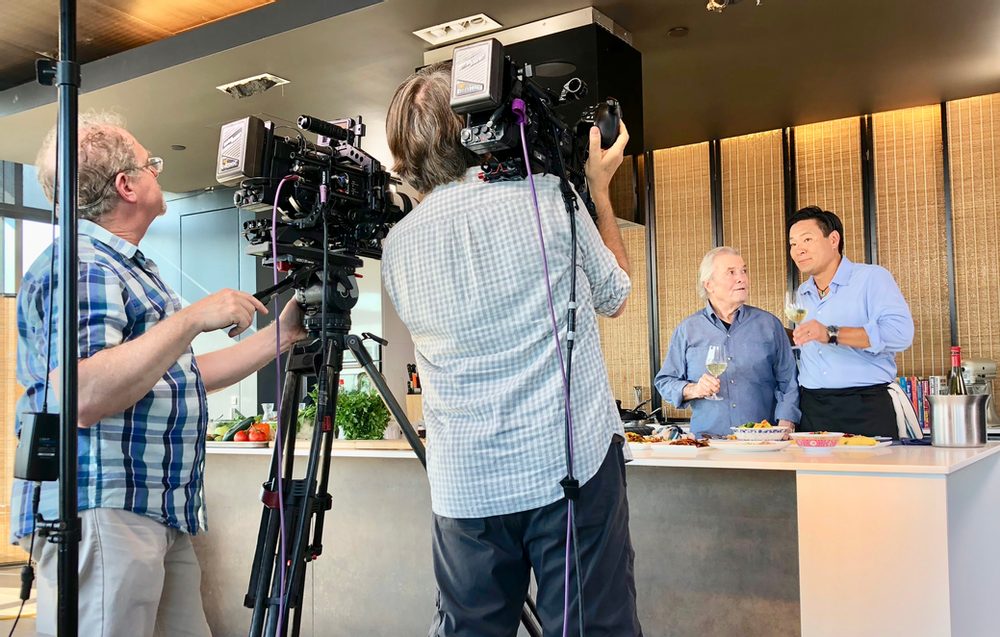 This taping was an impromptu tribute to Chef Anthony Bourdain, a famed bold and honest culinary master, who had sadly taken his life just days before. Ming and Jacques were celebrating Tony's love of food and culture and making several dishes during the episode.
We had front row seating in the small space and taping commenced. They opted to try and work through the whole show in one take and came very close… a feat in and of itself. On top of that, they made 6 dishes in the scant 20 minutes of taping! Incredible! And, we got to taste the food which was delicious. They made a pork scaloppini with apples, sashimi with hot oil and scallions, ratatouille, seared snapper with spring veggies, and curried shrimp over rice noodles, and banana crepes… Did I mention in only 20 minutes??
After the taping, we headed over to Ming's restaurant, Blue Dragon, where we met up with Jacques and Tom for dinner and Ming joined us shortly thereafter. We had had some time to chat with Jacques at the taping and just knew this evening would be one we would never forget. We noshed on a continuous flow of dishes from the Blue Dragon menu including creative duck confit pot stickers, pork and scallion wontons, incredible shrimps, finger licking short ribs, and some of the best fried chicken I've ever tasted…
Jacques and Ming shared great stories about Tony Bourdain and Julia Childs. Conversation flowed easily and the evening felt like any great night, laughing with good friends and family. Jacques was so interesting and so warm to talk to… you would never know he is one of the most famous and revered chefs in the world!!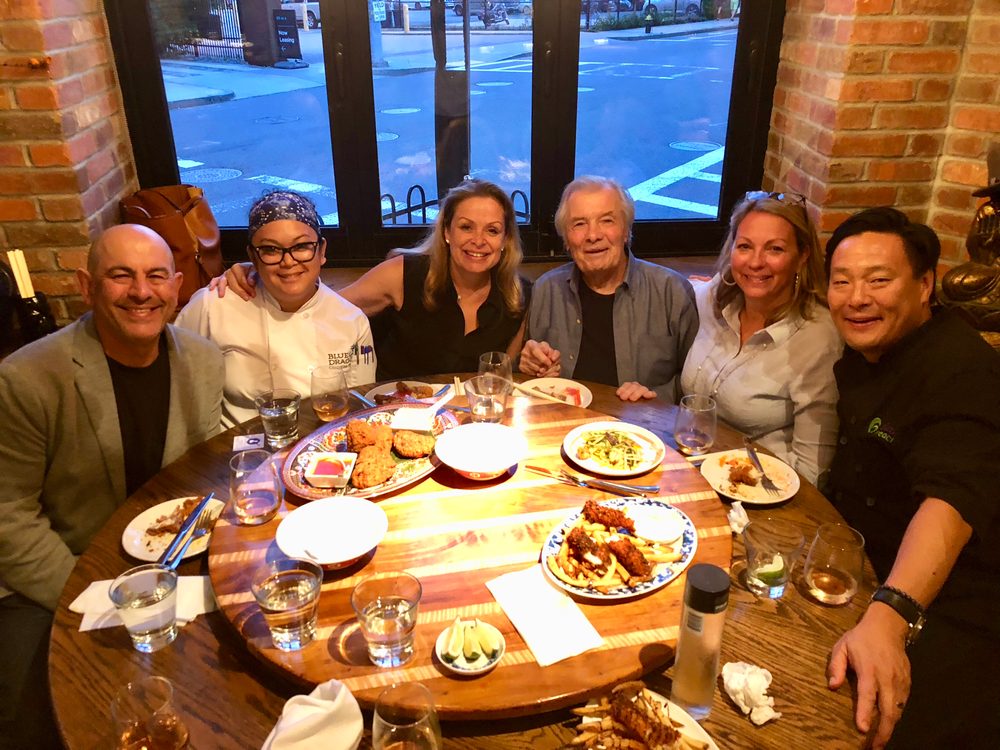 Dinner Guests
Toward the end of the evening, Ming discovered that Simon Majumdar was also in the restaurant and he joined us as well. He was in Boston to do a taping with Ming the next day. This foodie dream night just got better and better!!
After several hours, with full bellies, we said our goodbyes. Jacques went into the kitchen to thank each of the staff for our delicious meal… another gesture that made me admire him all the more…
A dream night it was indeed…