WICKED KILLAHH LOBSTAHH AND HERBACEOUS CHEESE QUICHE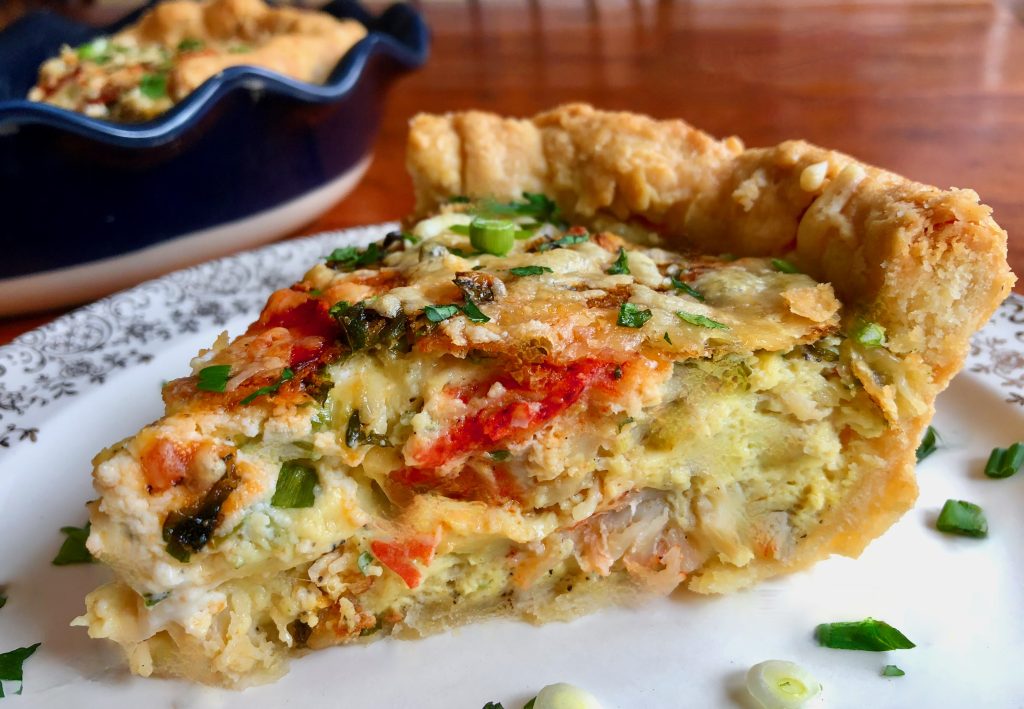 2 cups cooked lobster meat, chopped into bite size pieces
4 tablespoons butter, melted
Pastry for one pie crust (recipe follows or you can use store bought)
4 Eggland's Best large eggs
1 cup heavy cream (+ 2 tablespoon for glazing the pie crust)
1 tablespoon flour
1 teaspoon salt
1 teaspoon black pepper
2 tablespoons chopped tarragon leaves
2 tablespoons chopped parsley
1, 5.2-ounce package Boursin Garlic and Herb cheese
½ + ⅓ cup Swiss cheese, shredded, divided
⅓ cup scallions
Pie Crust (for 2 crust pie)
½ teaspoon salt
3 cups flour
½ cup cold shortening
½ cup butter
1 egg
8 tablespoons ice water
1 teaspoon vinegar
Preheat oven to 375.
Toss the lobster meat in melted butter and place in the refrigerator or freezer to let butter congeal (harden) on the lobster meat.
Prepare and chill the pie crust (or use a store-bought crust).   Roll the pie dough out on a floured surface to a 12" disc.  Place in a 10" pie plate and crimp the edges.  Brush with the 2 tablespoon of heavy cream.
In a large bowl, combine the eggs, 1 cup heavy cream, flour, salt, black pepper, tarragon, and parsley.  Whish vigorously until well combine and set aside.
Evenly layer the lobster meat in the bottom of the pie crust.  Break up the Boursin into chunks and layer over the lobster, followed by ½ cup of the Swiss cheese and scallions.  Pour the egg mixture over all and bake for 30 minutes.  Remove from the oven and sprinkle with the remaining ⅓ cup of Swiss.  Return to the oven and bake for an additional 25-30 minutes or until set in the middle.
Let rest for 15-20 minutes.  Slice and serve.
Pie Crust
Mix the flour and salt in a large bowl.
Cut in shortening with a pastry blender or 2 knives until the mixture is crumbly and resembles coarse meal.
Beat the egg, vinegar, and water together in a separate bowl.
Using a fork, add the egg mixture to your other ingredients and combine until the whole mass forms a ball-like shape and sticks together, somewhat.  You may have to add additional small amounts of water until dough will form a ball.  However, make sure not to "overdo it" and ruin your flaky crust. The consistency should hold together but still have visible chunks of butter and shortening in the dough.
Break dough into 2 pieces and form each into a disc. Wrap in saran wrap and chill for at least 1 hour.  You will only need one disc for this one crust quiche recipe.  The other can stay in the fridge for up to 4 days.
Select multiple categories to narrow your search! Want appetizers made with chicken? Just select both Appetizers and Chicken!