WASABI CRUSTED TUNA STEAKS OVER EDAMAME AND PEAPOD FRIED RICE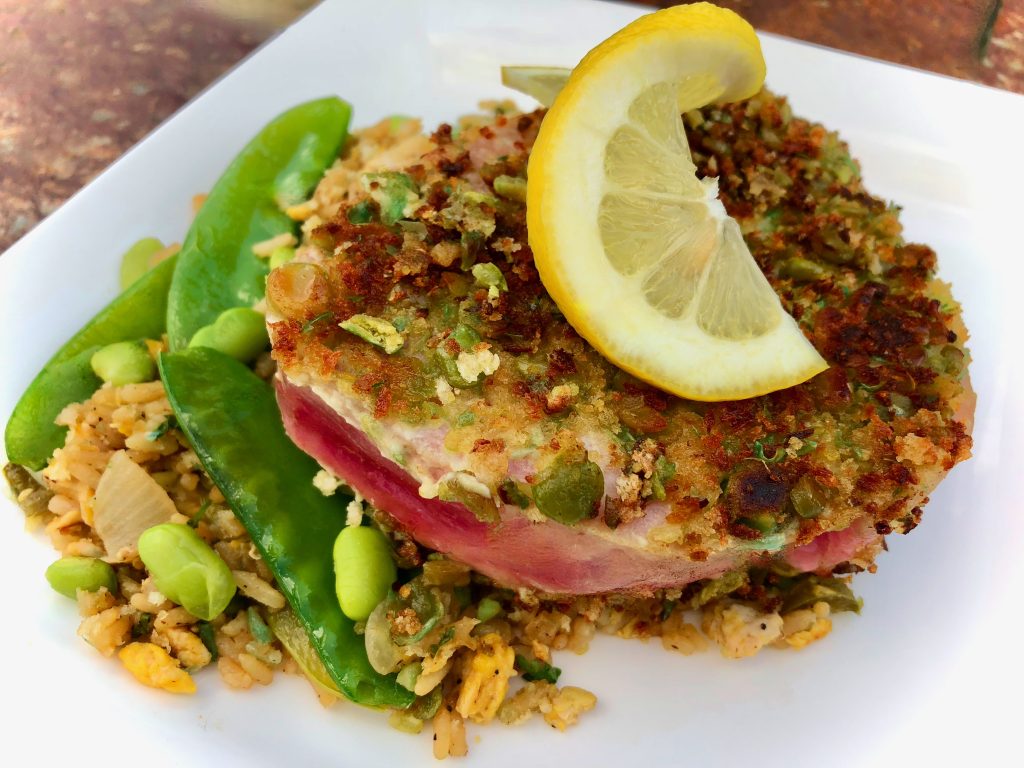 Marinade:
⅓ cup soy
1 lemon, juiced (about 2-3 tablespoon)
1 tablespoon fish sauce
¼ cup rice wine vinegar
3-pounds fresh tuna steaks
3 tablespoons olive oil
3 tablespoons butter
Wasabi Pea Coating:
2 tablespoons Hellmann's Light Mayonnaise
3 garlic cloves, minced
1 teaspoon ginger, grated on a microplane
1 tablespoon wasabi cream
1 cup wasabi peas
1 cup panko breadcrumbs
Edamame Fried Rice:
3 tablespoons olive oil
3 tablespoons butter
1 small onion, chopped
5 garlic cloves, chopped
1 jalapeño, chopped (seeds included)
1 teaspoon ginger
5 eggs
1 teaspoon salt
1 teaspoon black pepper
3 cups cooked rice
1 cup pea pods, strings removed
1 cup edamame
2 tablespoons soy sauce
3 tablespoon oyster sauce
1 tablespoon rice wine vinegar
¼ cup cilantro, chopped
Lemon
Combine the marinade ingredients in a large ziplock bag and add tuna steaks.  Marinade for 1 hour.
Remove steaks from marinade and pat dry.  Heat oil and butter in a large skillet to over medium high heat.
Mix mayo, garlic, ginger, and wasabi cream in a small bowl.  Spread half of the mixture in a thin layer over one side of each tuna steak.
Pulse the wasabi peas in a food processor until a powder forms with some small chunks remaining.  Mix the panko breadcrumbs with the wasabi peas and press half of the mixture into the wasabi mayo on each tuna steak.  Place the steaks, crust side down in the frying pan.  Spread the remaining mayo mixture over the other side of the tuna steaks and press the remaining wasabi pea crumbs into the mayo.
Cook the steaks for about 3 minutes until golden brown and gingerly flip to the other side and cook for 3 minutes more.  The tuna will be rare (red) in the middle.  If you prefer a more well-done steak, lower the heat after cooking the first side and cover that pan and cook for 5-7 minutes until desired doneness.  Set aside covered with foil to keep warm until ready to serve.
For the rice, heat olive oil and butter in a large non-stick skillet.  Sauté onions, garlic, jalapeño, and ginger over medium high heat until soft and fragrant.  Push the onion mixture to one side of the pan and add the eggs.  Scramble the eggs until just cooked through and break into small pieces.  Mix in the onion mixture and add salt, pepper, and rice.  Cook for 3 minutes, stirring frequently.
Add pea pods, edamame, soy, fish sauce, and rice vinegar to the pan and cook for another 3 minutes, stirring frequently, until pea pods are bright green and slightly tender (but still crisp).  Toss in cilantro.
Serve tuna on top of rice with a slice of lemon.
Select multiple categories to narrow your search! Want appetizers made with chicken? Just select both Appetizers and Chicken!