NEPTUNE'S STUFFED CHICKEN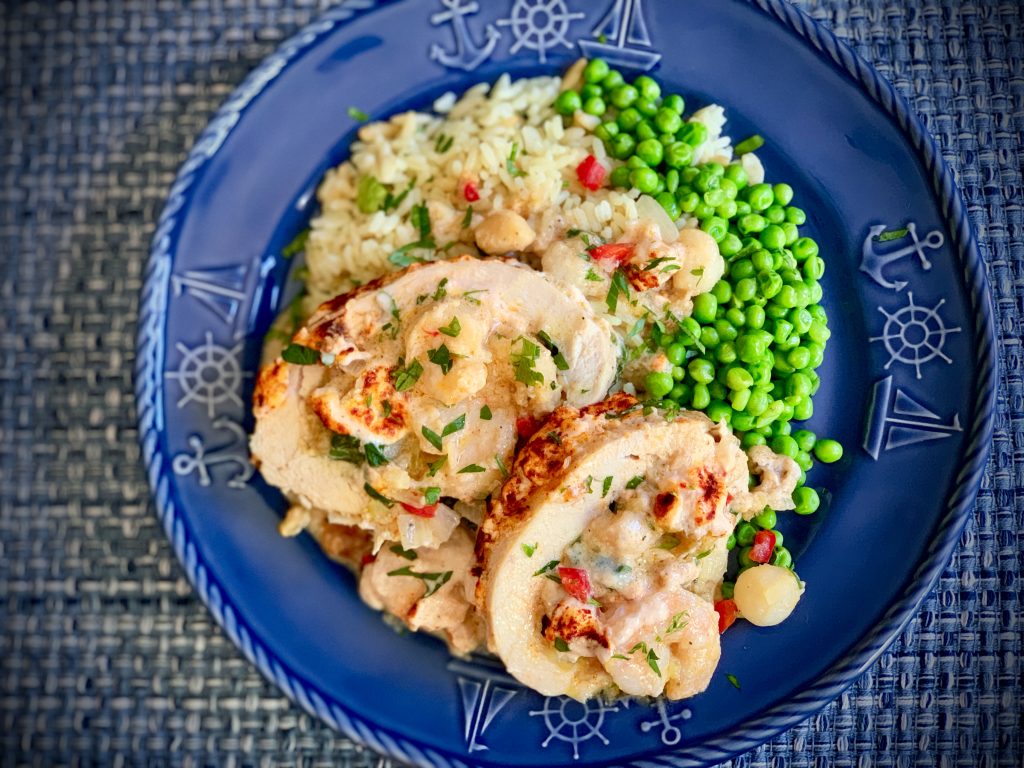 8 chicken breast halves
¾ cup butter (1 ½ sticks)
1 small onion, chopped
½ cup celery, minced
1 pound medium size raw shrimp, shelled and deveined, cut in half lengthwise
½ pound bay scallops
20 Ritz crackers, crushed
1 cup seasoned breadcrumbs
Juice from one lemon
¼ teaspoon black pepper
¼ teaspoon garlic powder
2 cups fresh baby spinach leaves
1 can Campbell's Cream of Shrimp soup
¾ cup sour cream
½ cup white wine
1 teaspoon paprika
¼ cup fresh parsley, chopped
Preheat over to 375 degrees.
Place each chicken breast in a ziplock bag and pound with a mallet to flatten to even thickness all over (about ½ ").  Set aside.
Melt butter in a large skillet.  Sauté onion and celery until soft. Add shrimp and scallops and cook until just barely cooked through.  Add crackers, breadcrumbs, lemon juice, pepper and garlic powder to pan and mix until well combined.  Let stuffing cool completely (this can be done a day in advance).
Lay the pounded chicken breasts out on a large cutting board and liberally salt and pepper both sides.
Divide the stuffing into 8 parts.  Place ¼ cups of the spinach leaves on each breast. Place a mound of stuffing in the middle of each breast and roll jellyroll style.  Place each breast, seam side down, in a greased 9" x 13" baking dish.
In a small both whisk together the Campbell's soup, sour cream, wine, and parsley.  Pour evenly over the chicken breasts.  Sprinkle with paprika.
Bake for 45 minutes to 1 hour or until chicken is just cooked through.  Remove from oven, garnish with parsley, and serve over rice pilaf.  Delicious!!!
Select multiple categories to narrow your search! Want appetizers made with chicken? Just select both Appetizers and Chicken!