SWEET POTATO AND BEET HASH WITH SUNNY SIDE EGGS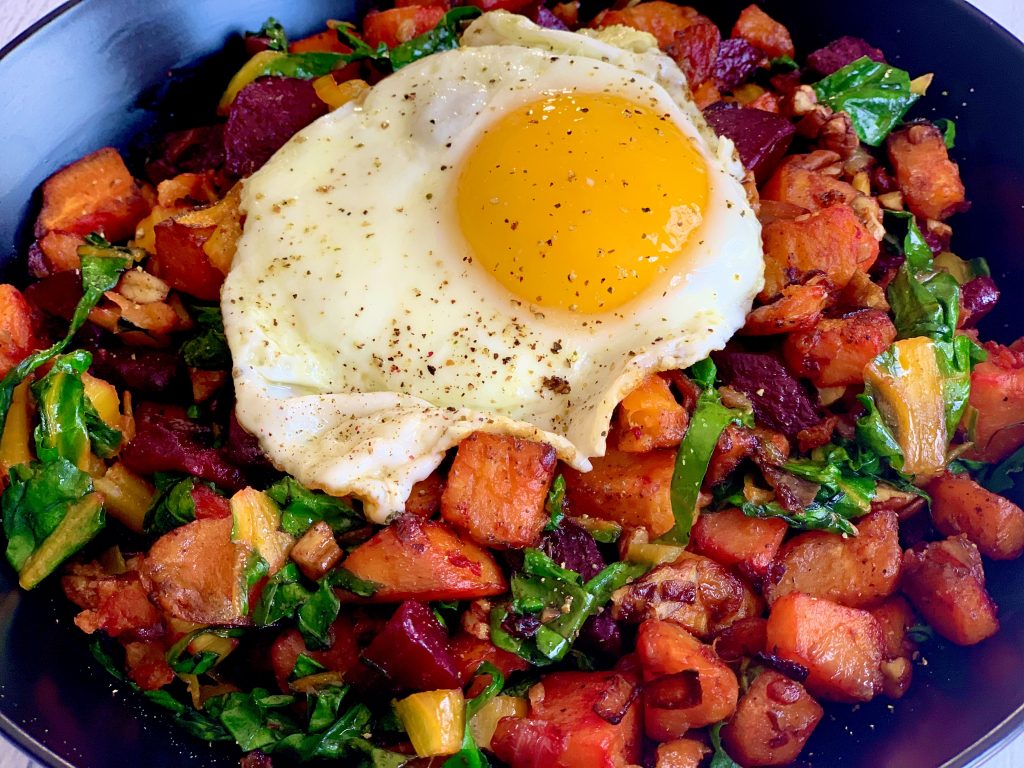 1 large or 2 medium beets
3 tablespoon olive oil
1 onion, chopped
1 large or 2 medium sweet potatoes, chopped into ½" dice, about 4 cups
1 teaspoon salt
1 teaspoon black pepper
½ cup pecans, rough chopped
3 cups rainbow Swiss chard, rough chopped (or you can use the beet greens if they are in good shape)
4 eggs, cooked sunny side up, over-easy, or poached
Cut the greens off the beets, leaving about 2" of stem attached to the beet.  Reserve the greens for another use.  Cover the beets with cold water and bring to a boil.  Cook for 40-50 minutes, depending on the size of the beets, until they are tender and a knife slides in and out easily.
Cover the beets with cold water and, using your hands, rub the skin off under cold running water.  The skin will easily slide off the beets, but work quickly so you don't stain your hands.  Chop the beats into ½" dice and set aside. Should be about 2 cups diced.
Heat the oil in a large frying pan over medium high heat and sauté onions until fragrant.  Add the sweet potatoes and cook, stirring occasionally until the potatoes are coated and begin to lightly brown.  Season with the salt and pepper and press the potatoes into one layer in the pan.  Cover and cook for 2 minutes without touching the pan. Toss the potatoes and press into a single layer again, cover and let cook for 2 more minutes without touching.  The potatoes should be getting golden and caramelized.
Add the chopped beets and pecans to the pan and toss again.  Flatten into a single layer, cover and cook 1 minute.  Toss and flatten again, cover for 2 final minutes.  The sweet potatoes should be tender on the inside and crispy on the outside with beautiful caramelization.
Toss in the Swiss chard and cook for one more minute until the chard is wilted. Test for seasoning.
Serve a heaping bowl of hash topped with one or two fried eggs.  YUM!
Select multiple categories to narrow your search! Want appetizers made with chicken? Just select both Appetizers and Chicken!