SPAGHETTI SQUASH CHICKEN BURRITO BOWLS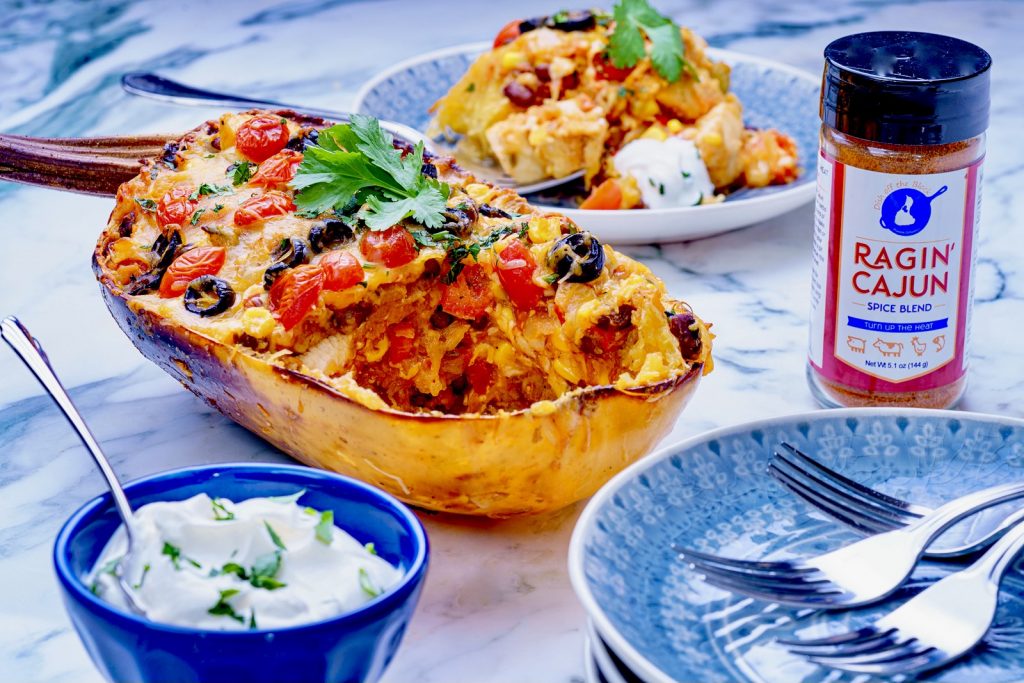 The Squash:
1 spaghetti squash
2 tablespoons olive oil
1 teaspoon salt
½ teaspoon black pepper
The Chicken:
1 tablespoon olive oil
2 boneless, skinless chicken breasts (about 1 pound)
3 teaspoons Dish off the Block Ragin' Cajun Spice Blend
¼ teaspoon cumin
The Filling:
1 medium onion, chopped
1 small green bell pepper, chopped
1 jalapeño, chopped including seeds
1 small red bell pepper, chopped
1 cup frozen corn, thawed
1, 10.5-ounce can black beans, drained and rinsed
1 cup salsa (your favorite brand)
2 ¾ cups grated cheddar cheese
½ cup tomatoes, chopped
The Garnish:
¼ cup cilantro leaves, chopped
½ cup sour cream
2 limes, cut into wedges
Preheat oven to 375 degrees.
Cut the spaghetti squash in half lengthwise and scoop out the seeds in the center with a spoon and discard.  Drizzle 2 tablespoon of the olive oil over the cut side of the squash and sprinkle with 1 teaspoon each of the salt and pepper.  Place cut-side down on a foil-lined baking sheet.  Bake for 40-45 minutes until very tender when pierced with a fork.  Let cool for 10-15 minutes until you can handle with your hands.  When cool enough to handle, shred the squash with a fork and set aside.
While the squash cooks.  Heat the olive oil in a large deep skillet.  Cut the chicken breast into 2-3" cubes.  Combine the Cajun spice mix and cumin in a small bowl and stir to combine.  Sprinkle the spice mixture over the chicken and rub it in to coat on all sides.  Add the seasoned chicken to the hot oil and cook about 2 minutes per side until just cooked through.  Remove the chicken from the pan, reserving the drippings and set aside.
Add the onion, green bell pepper, and jalapeño to the pan and sauté until soft and fragrant.  Add the red bell pepper to the pan and cook for 2 more minutes.  Remove from heat and add the shredded squash to the pan along with the corn, beans, salsa, and chicken.  Stir to combine.  Add 2 cups of the shredded cheddar cheese to the pan and mix well.
Scoop the squash mixture back into the squash shells and top with the chopped tomatoes and remaining cheese.  Place back in the oven and bake for 15-20 minutes until the cheese is melted and bubbly.
Garnish with cilantro and serve with sour cream and lime wedges on the side.  DEVOUR!!
Select multiple categories to narrow your search! Want appetizers made with chicken? Just select both Appetizers and Chicken!