OVERNIGHT EGG, HASHBROWN, AND BACON BREAKFAST CASSEROLE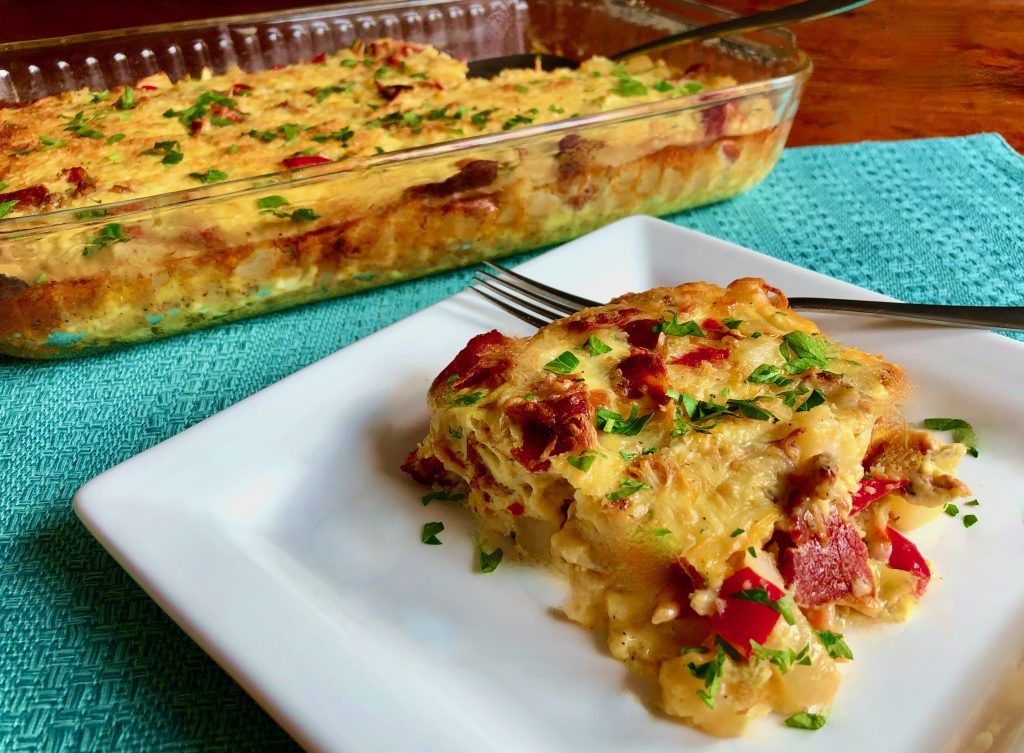 4 tablespoons butter
1 large onion, chopped
1-pound frozen hashbrowns, defrosted
1 small red bell pepper, chopped
1-pound bacon, cooked crisp and chopped
8 eggs
¾ cup heavy cream
1 teaspoon salt
1 teaspoon black pepper
2 cups shredded cheddar jack cheese
¼ cup chopped parsley for garnish
Melt the butter in a large skillet and add onions.  Cook until soft and fragrant.  Add the hashbrowns and red pepper to the skillet.  Cook until potatoes begin to lightly brown, stirring frequently, about 5 minutes.
Spread the hashbrown mixture evenly in a 9" x 13" baking dish that has been prepared with non-stick cooking spray.  Sprinkle the bacon evenly on top of the hashbrowns.
Whisk the eggs with heavy cream, salt, and pepper in a large bowl.  Add the cheese to the eggs and pour the whole mixture into the casserole.  Make sure the cheese is evenly spread throughout the eggs.  Cover with plastic wrap and refrigerate overnight.
Preheat oven to 350 degrees.  Bake casserole for 45-50 minutes until set in the middle.  Cut into squares and garnish with parsley.
Select multiple categories to narrow your search! Want appetizers made with chicken? Just select both Appetizers and Chicken!