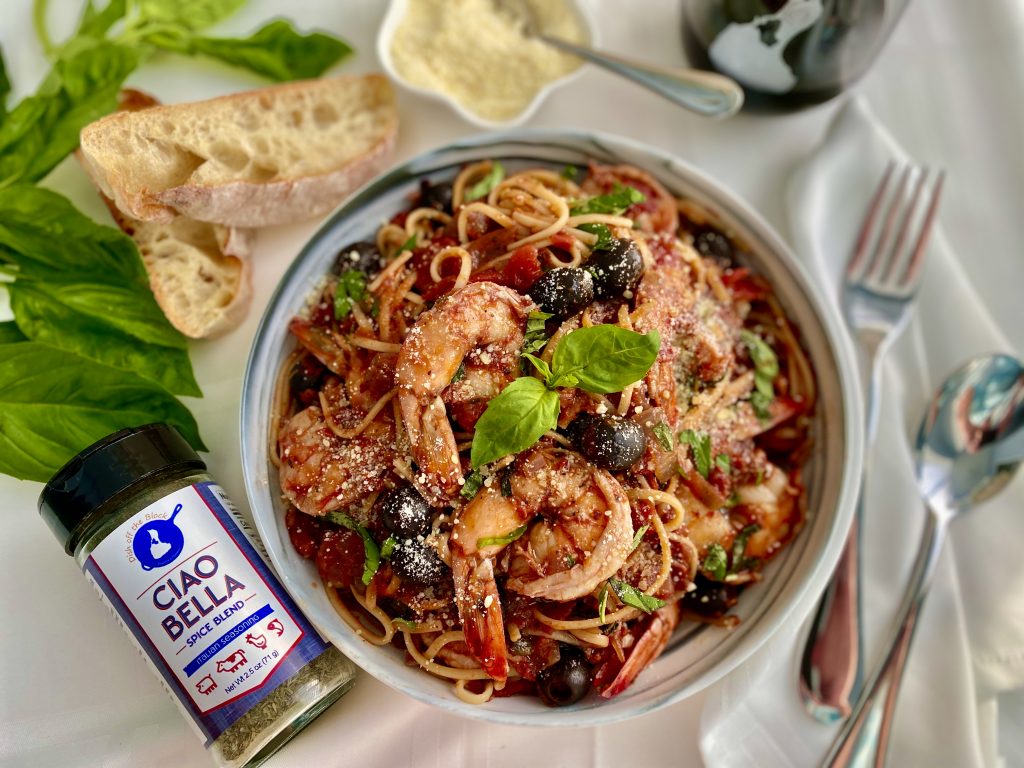 3 tablespoons olive oil
1 large onion, chopped
6 large garlic cloves, chopped
1, 2-ounce can anchovy filets
1, 28-ounce can San Marzano whole tomatoes
1, 28-ounce can tomato puree (leftover or jarred sauce works here as well)
1 ½ tablespoons Dish off the Block Ciao Bella Italian Spice Blend
1 tablespoon sugar
2 teaspoon salt
1 teaspoon black pepper
2 teaspoons red pepper flakes
1 cup red wine (good quality – so you can drink the rest!!)
1 ½-pounds  raw shrimp, peeled and deveined
4 tablespoons capers
Juice and zest from one lemon
1, 6-ounce can black olives, drained (or jar of Kalamata olives)
¼ cup fresh basil, chiffonade
1-pound pasta, cooked al dente (spaghetti, tagliatelle, fettuccine, all work well with this sauce)
Heat olive oil in a large skillet with sides over medium high heat.  Sauté onion and garlic until soft and fragrant.  Add the anchovies, including the oil, and stir until they dissolve.
Add whole tomatoes, puree, Italian seasoning, sugar, salt, black pepper, red pepper flakes, and red wine to the pan.  Bring to a low boil and let cook for 20-30 minutes, crushing the whole tomatoes with a spatula or wooden spoon and stirring frequently to let the flavors meld and sauce reduce slightly.  You can cook longer to further develop the flavors but reduce heat and cover the pan.
Add the shrimp (with any juices), capers, lemon, and black olives to the pan and cook for another 5 minutes until the shrimp are pink and cooked through.  Just before serving, stir in the fresh basil.
Serve sauce tossed with the al dente pasta with grated parmesan on the side.  Devour!
Select multiple categories to narrow your search! Want appetizers made with chicken? Just select both Appetizers and Chicken!