SCALLOP HOT BROWN BITES WITH KENTUCKY BOURBON AND SMOKED GOUDA MORNAY SAUCE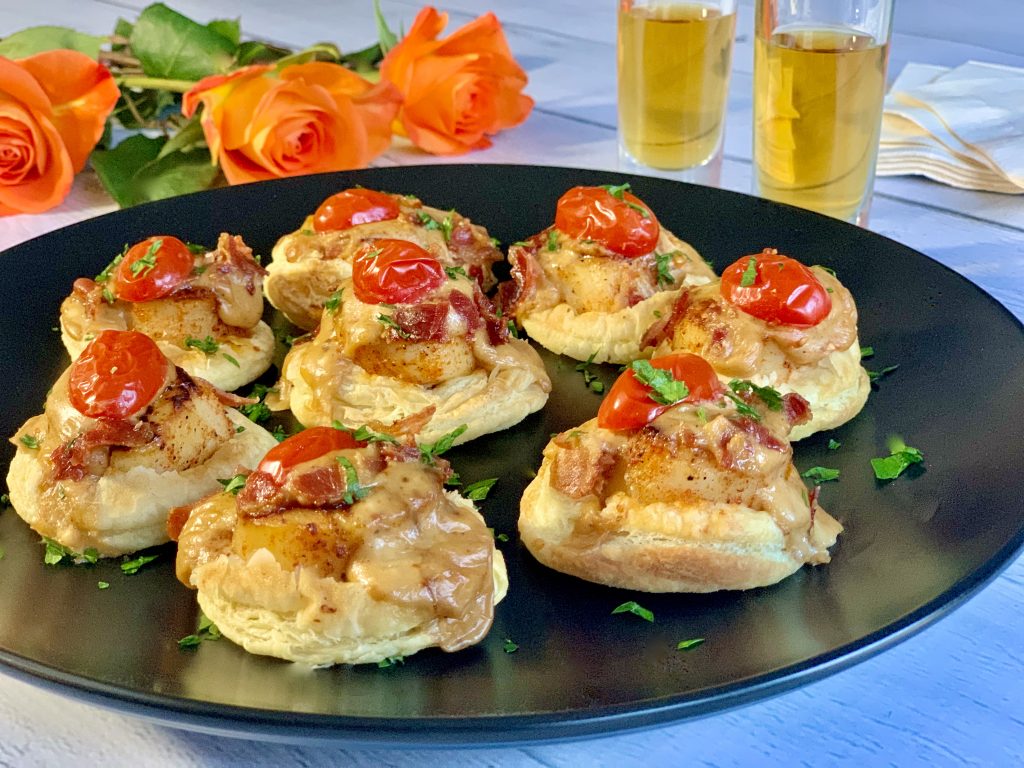 6 slices raw bacon
1, 17.3-ounce package frozen puff pastry dough (2 sheets), thawed
2 pounds sea scallops
1 teaspoon salt
½ teaspoon black pepper
1 teaspoon paprika
1 teaspoon garlic powder
2 tablespoons butter
1 tablespoon flour
1 tablespoon + 1 teaspoon Kentucky bourbon
1 cup light cream
¾ cup shredded smoked gouda cheese
1 pint cherry or grape tomatoes, cut in half
2 tablespoons flat leaf parsley, finely chopped
Preheat oven to 400 degrees.
Heat a deep cast iron skillet over medium high heat.  When the skillet is hot, add the bacon slices and cook until crisp, about 5 minutes, turning halfway through cooking.  Remove the bacon from the skillet, chop into small pieces and set aside.  Empty the bacon fat from the skillet and set aside, leaving a thin layer in the skillet to cook the scallops.
Place one of the thawed puff pastry sheets on a lightly floured countertop and roll into a 12" x 12" square.  Using a 3" biscuit cutter, cut 16 rounds out of the puff pastry sheet and then repeat this process with the other sheet, resulting in 32 rounds.  Place the dough rounds onto foil-lined baking sheets prepared with non-stick spray.  Brush the tops lightly with the reserved bacon fat.  Bake for 8 minutes until puffed, but not finished cooking.  Set aside.
Place the scallops on paper towels and pat dry.  Remove the small muscle on the side of the scallop if it is still attached and discard.  Combine the salt, pepper, paprika, and garlic powder in a small bowl.  Spread this season mixture over the scallops and toss with your hands until scallops are evenly covered.
Heat the pan with the thin layer of bacon fat drippings over medium high heat.  When the pan is very hot, add the scallops in a single layer.  You may need to do this in 2 batches depending on the size of your pan.  Do not crowd the scallops.  Cook for 1 minute on the first side until they are browned and caramelized.  Flip and cook for 30 seconds to 1 minute on the second side until barely cooked through.  They will cook again under the broiler so do not overcook.  Remove from the pan and set aside in a bowl or large plate.
Melt the butter in the pan drippings and add the flour scraping up the brown bits with a whisk.  Add the bourbon and cream, continuing to whisk up the brown bits until the sauce thickens.  Add any juices that have formed around the scallops and whisk into the sauce.  Remove from heat.  Whisk in the shredded gouda until melted.
Preheat broiler to high.
Place one scallop on each puff pastry round, pressing lightly to secure.  Top each scallop with a dollop of the sauce, about 2 teaspoons.  Top with a halved grape tomato and sprinkle with chopped bacon, lightly pressing into the sauce to adhere.  Place baking sheets under the broiler for 1-2 minutes, until the tomatoes start to blister and the sauce and pastry is lightly browned.
Remove from the oven and place on serving plates, garnished with chopped parsley.  Serve hot.  Oh… and a shot of Kentucky bourbon with this amazing bite will highly elevate the flavors… just sayin'…
Select multiple categories to narrow your search! Want appetizers made with chicken? Just select both Appetizers and Chicken!